Building the right SEO toolkit is the first step to any link building campaign. We need tools for link prospecting, website evaluation, outreach, and keeping everything in the right order. Basically, we need tools for every step of the link building process.
Hence, we need the best link building tools on the market that will meet our needs and save us time and money.
In this piece, we've compiled the best 11 link building tools and laid out their benefits. Whether you're a team of one or twenty or hundreds, this is for you!
Let's dive in!
What is a Link Building Tool?
A link building tool is software that helps link builders and SEOs analyze backlinks to any domain. It provides detailed reports on external and internal links, their quality and quantity, anchor text, and other essential metrics for link building.
It can be a SaaS (software as a service) solution or browser extension, both paid and free.
Link building solutions can also include CRMs and prospecting tools.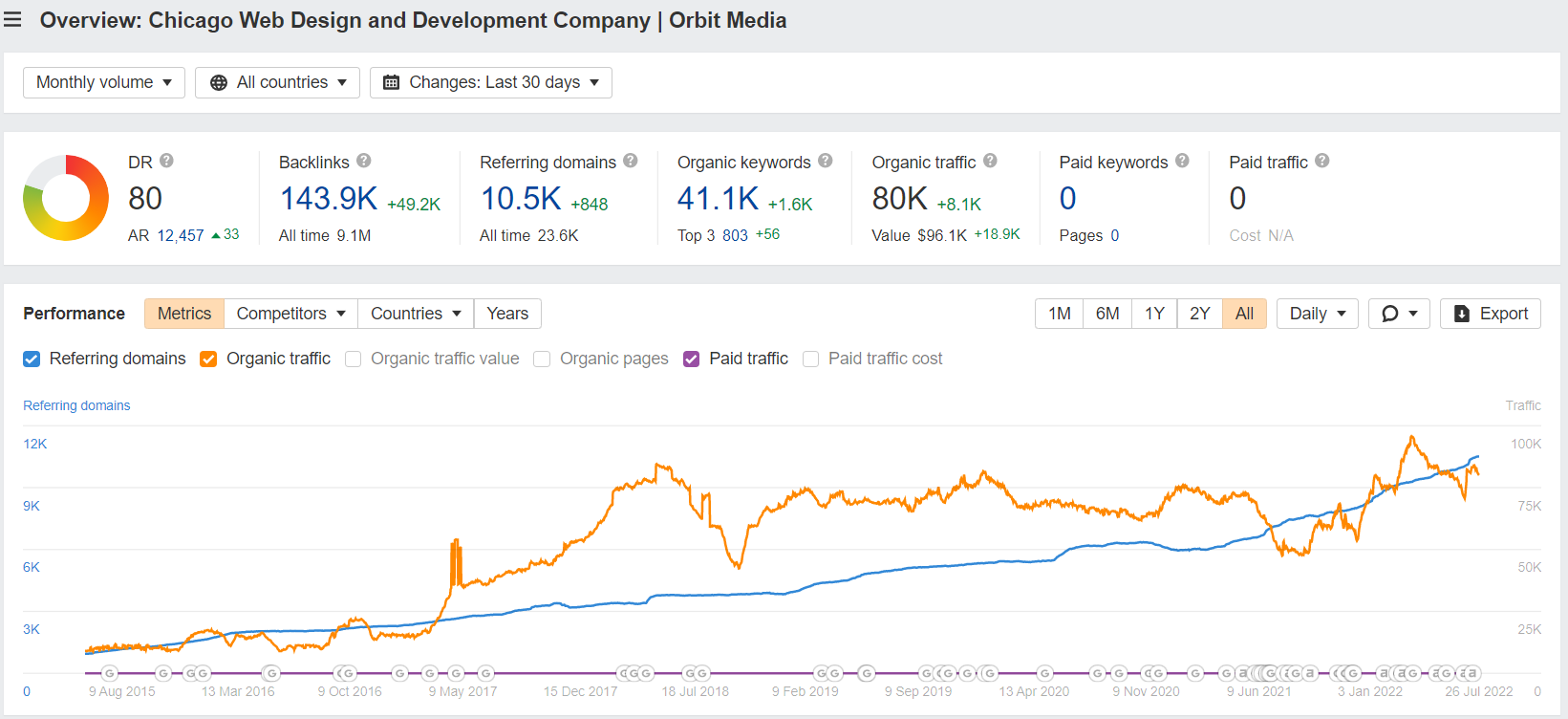 Ahrefs Domain Overview — a link building tool
What are the Benefits of Using a Link Building Tool?
First, let's outline that link building tools come in different categories — CRMs, prospecting, outreach automation, and backlink analysis. So the benefits will vary. However, all the tools have features in common that will impact your business growth. Let's see how.
1. Streamline your link building process
Link building takes great effort to place even one link. If you need to acquire dozens or hundreds of links, which is a typical scenario, you will be dealing with lots of work:
Search and validate websites

Collect webmasters' contacts to reach out to them

Craft email sequences

Launch outreach campaigns

Search for new link building opportunities

And all over again
As if this weren't already enough, each step includes five or more subtasks. Now, you can understand how challenging link building is and how many action items you need to keep an eye on.
Link building tools and checklists help SEOs automate and control the entire link building process. You can keep track of what's done, what's in progress, and what's on hold. With tools, you can streamline your link building efforts and build a so-called link building factory at scale.
2. Save time and money
Link building requires lots of manual work at its core. Tools automate a significant part of it.
For example, you can spend hours searching for websites to link to with Google search operators. Or you can open Pitchbox / NinjaOutreach and create a list of targeted blogs in a matter of clicks.
Taking the weight off your team by reducing manual work will save thousands of dollars every month and increase your team's productivity.
3. Monitor link building results and leverage working strategies
Backlinks are one of the pillars of search engine rankings. If your link building strategy is efficient, your site will grow in the SERPs. But not all links are equally helpful and impactful for a site's ranking.
This is where link building tools come into play. For example, you can use Ahrefs and Google Analytics to monitor what links contribute the most to the website's growth. When you know what works, you can leverage and optimize it.
Now, let's jump to our next part and learn about the best link building tools on the market.
Sidenote: The tools aren't arranged in any particular order. All come with their pros & cons for different tasks and marketing budgets. However, we're going to be honest about our preferences.
Tool #1: PitchBox
PitchBox is an end-to-end link building productivity platform with stunning functionality. If you have lots of work related to backlink building, digital PR, or influencer outreach, PitchBox is a must-have.
Moreover, Pitchbox is our number one tool. We have 20+ link builders that work in Pitchbox.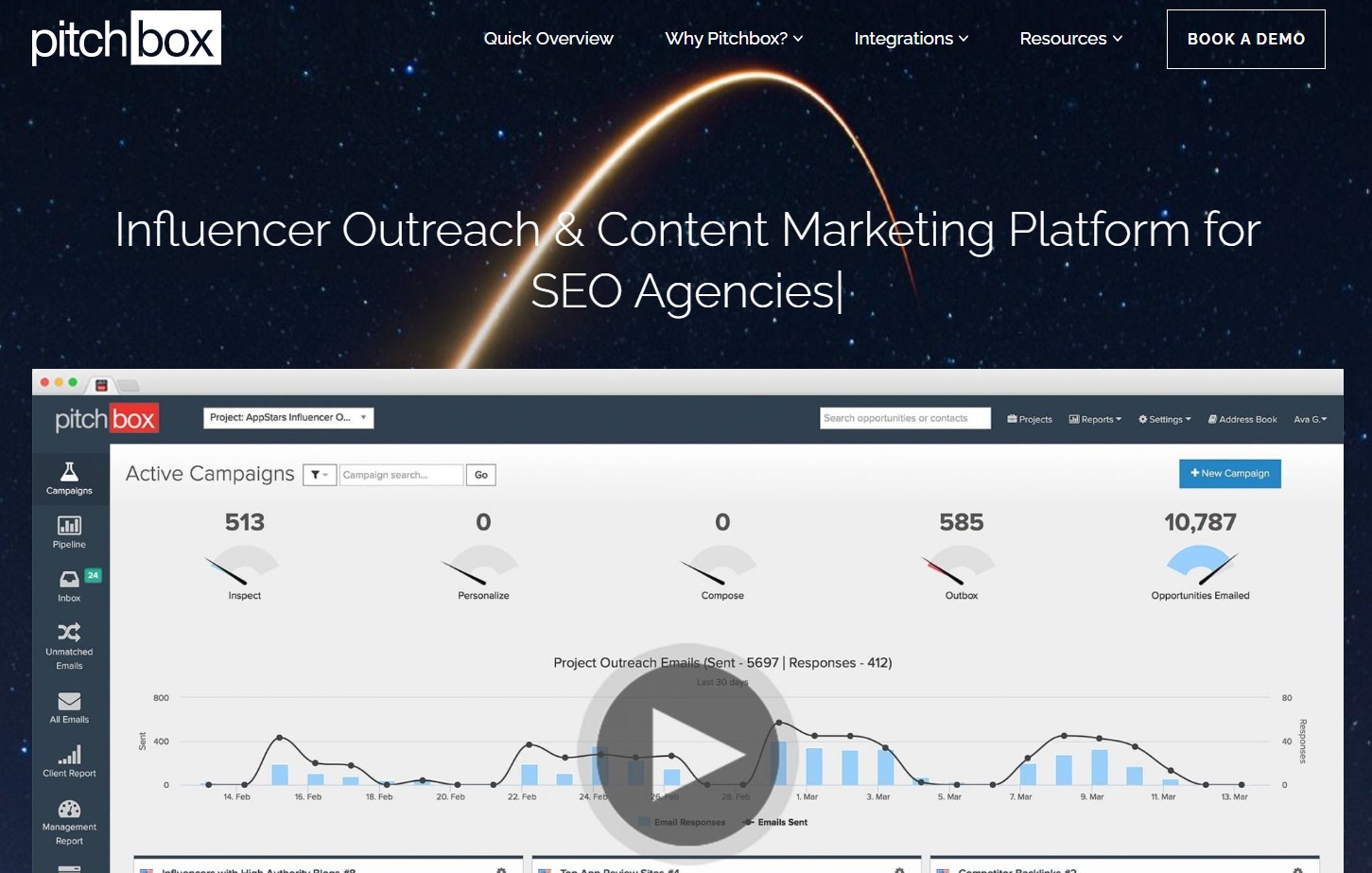 PitchBox homepage
It's impossible to describe all the benefits of PitchBox because there are plenty of them. Let's break down a few of these awesome features.
Full-stack prospecting. Want to find competitors' backlinks, resource pages, or bloggers in your niche all in one place? Say no more! PitchBox is a beast of a machine that scrapes every corner of the web and compiles comprehensive reports of relevant sites.
You have over 20 different prospecting options. Most of them are SERP-based. You can find guest posting opportunities, product review sites that write about similar tools, broken backlinks, advanced operator search, etc.
PitchBox has integrations with top-tier SEO tools like Ahrefs, Moz, Majestic SEO, Semrush, and LinkResearchTools. Connect any tool and get lists of potential websites for backlinks with key SEO metrics included. Simply put, you will get relevant sites and their DA, organic traffic, the number of links, etc., to each.
This drastically speeds up the website's vetting process as you can filter sites out by any important metric and get the final list of prospects within one tool.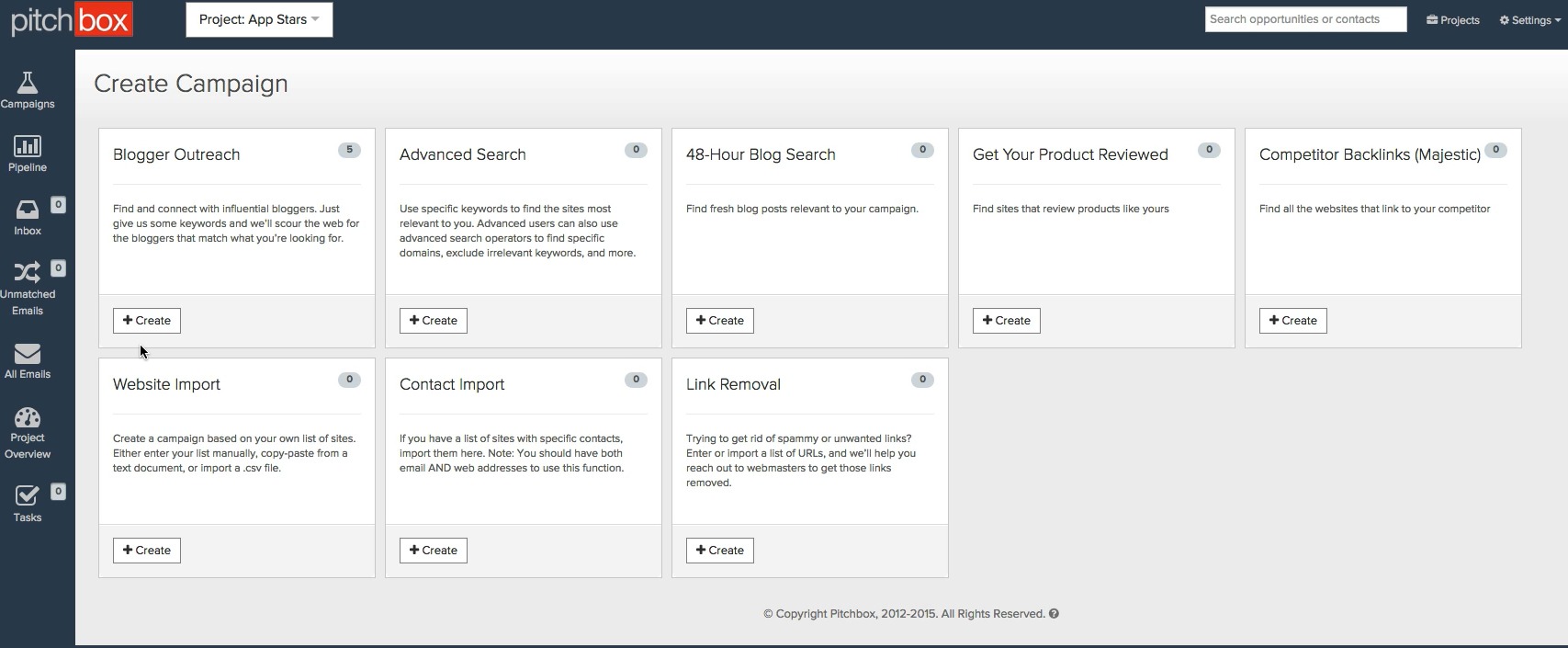 PitchBox's prospecting options by default
Outreach. With PitchBox, you can set up email outreach campaigns with multiple follow-ups and advanced personalization settings. You can also monitor outreach performance with reporting features.
Pitchbox allows you to run endless experiments and compare the efficiency of your email outreach campaigns one by one. They also have a pipeline that showcases how well a particular campaign is executed. Here you can see whether any sites are stuck at particular stages and much more.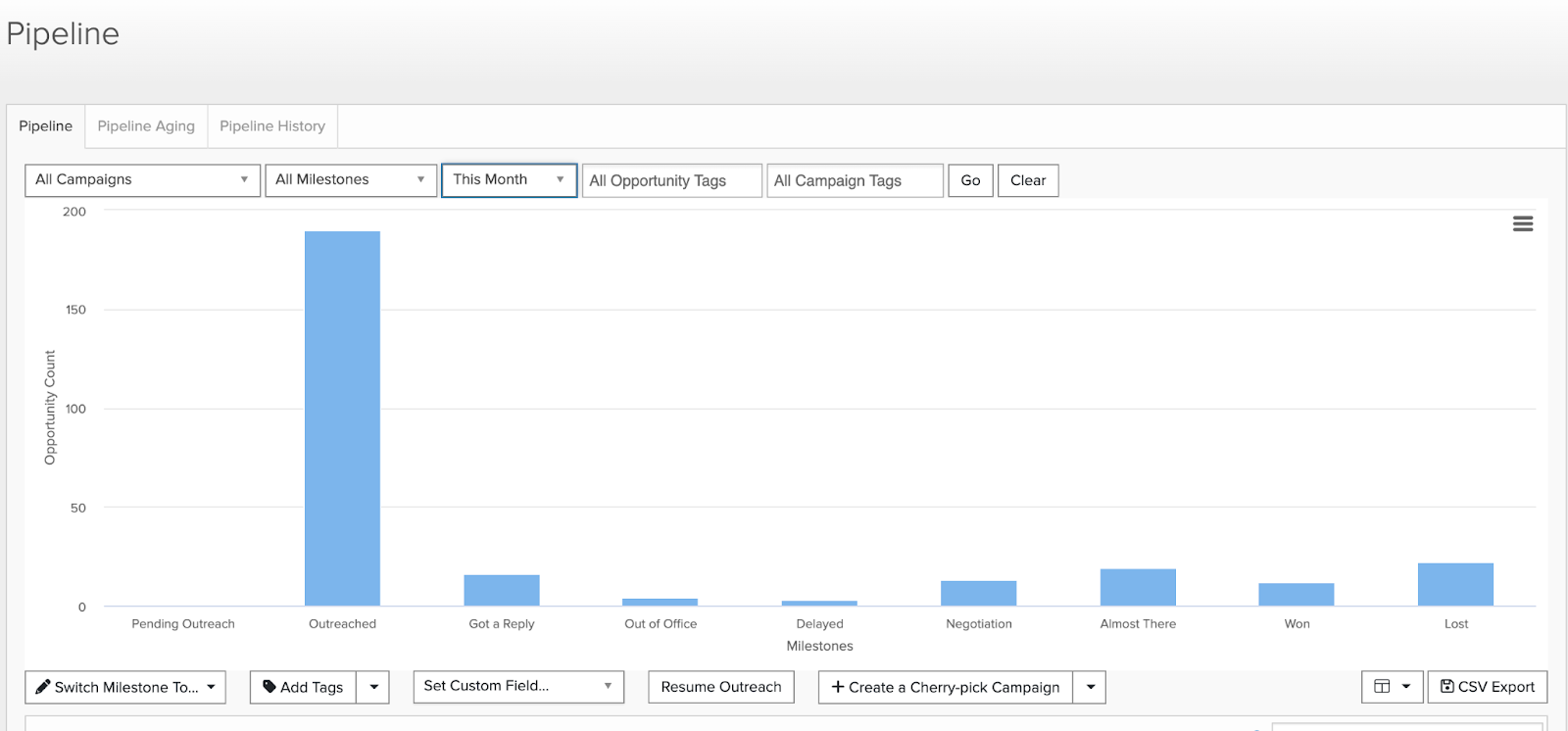 Email outreach pipeline highlighting the winning pitches, PitchBox
CRM. Organize all your email outreach campaigns in one place. It's common for companies to hire a new link builder that starts sending pitches to the same contacts that their colleagues have already sent pitches to. This leads to some serious reputational risks, not to mention the waste of time and resources.
Who is it best for
PitchBox suits medium and enterprise teams that want to streamline their link building process and keep things simple but efficient.
Pricing: To create an account and see what's inside, schedule a personal demo with a salesperson. Based on your needs, you will get custom pricing and a free trial.
Tool #2: Google Alerts
Every PR manager and link builder uses Google Alerts to be notified about new backlink opportunities as soon as they appear. This tool monitors the latest pages on the web (news, blogs, web, books, discussions, or video) 24/7 and provides you with recent mentions of your brand name or any keyword you specified.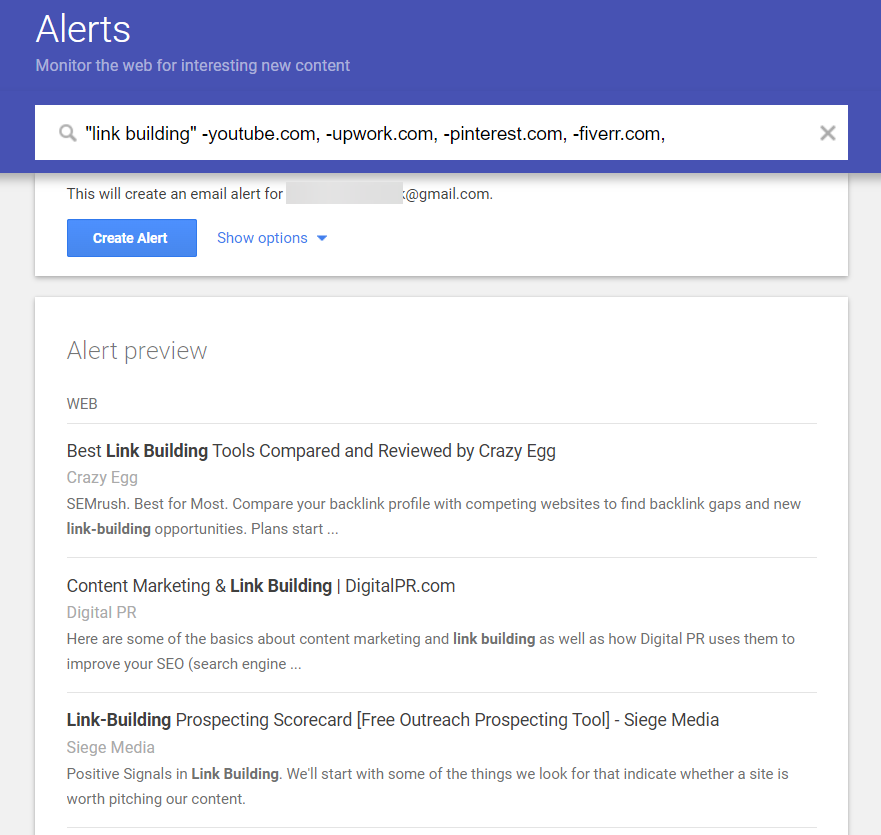 The Google Alerts report
To start off, create a list of keywords you'd like to monitor on the web. Then, simply add this list (up to 1,000 keywords) to Google Alerts and run the search.
You'll be instantly notified when a new relevant piece is live. You can also select building reports once a day/week.
Pro Tip: Use Google search operators to specify your search for Google Alerts. For example, put quotation marks «» around words to monitor documents with an exact keyword match while excluding searches on YouTube, Pinterest, UpWork, etc., with the help of a minus sign.

How to use Google search operators
Who is it best for
Google Alerts is a great tool for everyone who needs to monitor their brand mentions (unlinked brand mentions, too) or find relevant sites to gain links from.
Pricing: Free.
Tool #3: Ahrefs
Ahrefs is a leading tool for backlink analysis and keyword research on the market with a broad range of features.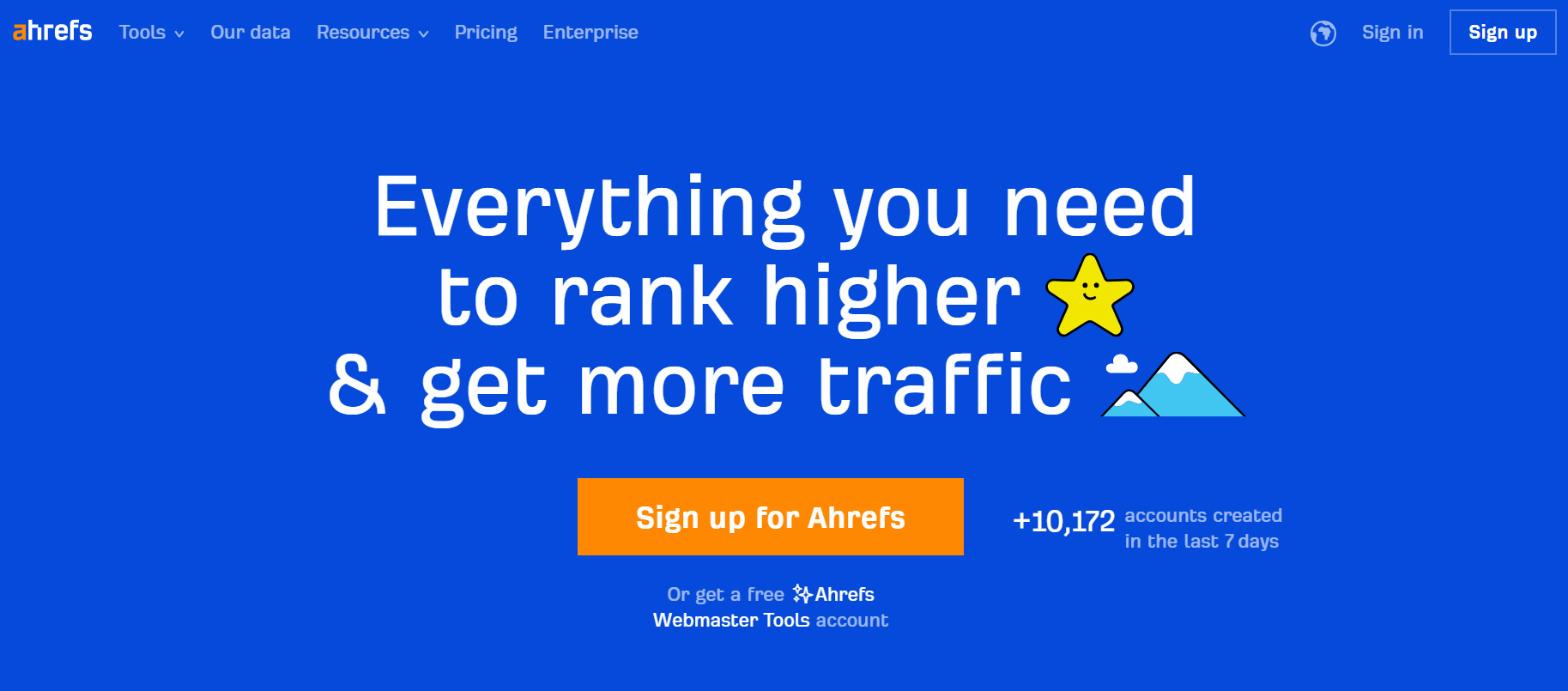 Ahrefs homepage
Ahrefs provides more than 20 features for backlink analysis of any site on the web and dozens of metrics to evaluate website quality for link building. There's no way to cover all the features in this piece, as it requires a separate long read. We will, however, familiarize you with the most crucial and beneficial features.
Backlinks. The report includes all information about backlinks pointing to a given domain:
Referring pages

Anchor text and target URL

Domain Rank and Domain Traffic

Backlink Type

(

regular links, in content, an image in anchor; canonical, redirect, frame)

The number of external links

The number of keywords the referring page ranks for

And more
With this, you can analyze links to your competitors and other niche sites and unlock a myriad of potential link building partners.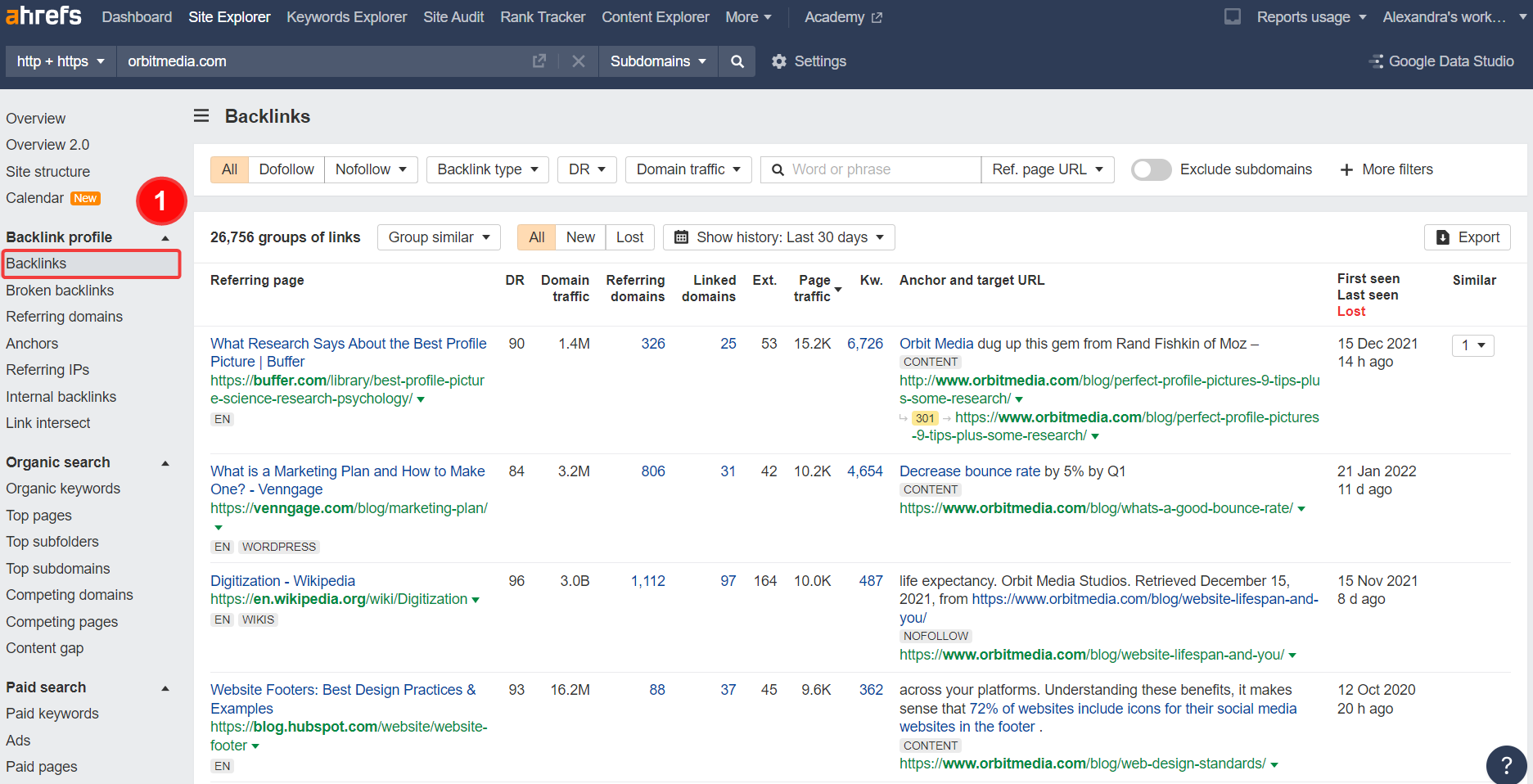 Ahrefs's backlink analysis tool
Broken backlinks. This feature finds broken links within a given domain and lists the number of websites that refer to the broken page. This way, you can uncover hundreds of relevant backlink opportunities in no time. All that's left is to find the contact info of sites' owners and offer them a new piece of content.
The best pages by incoming links. Want to understand what type of content attracts links passively in your industry? This report helps to find competitors' most linked-to pages. Analyze the best pieces by links and create more valuable content.
On top of that, you can investigate referring domains to your competitors and select some of them to link to.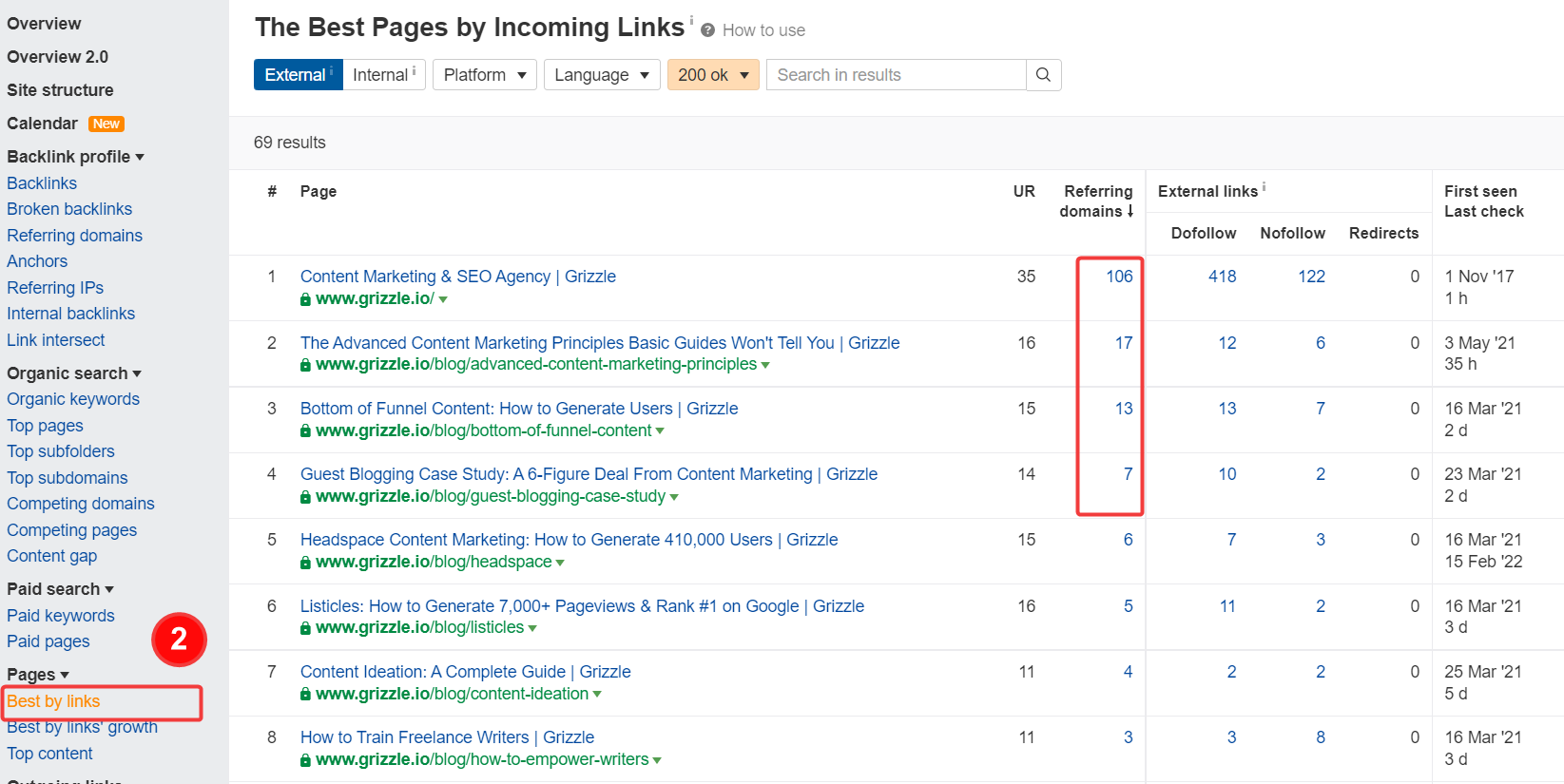 The best pages by incoming links, Ahrefs
Who is it best for
Whether you're an independent link builder or an enterprise-sized team, this is for you! We can barely imagine SEOs who don't use Ahrefs. More than 50 features go beyond backlink analysis and come in handy in every step of SEO optimization, from keyword research to technical audits to rank tracking.
Pricing:
Ahrefs provides free and paid plans. A free plan with limited access is available only for webmasters who can verify website ownership.

Paid plans start at $ 99/mo.
Now it's time to learn another great SEO tool. Let's roll!
Tool #4: Linkody
Linkody is a backlink monitoring tool. It tracks new quality and malicious backlinks on an ongoing basis, so you can react accordingly. But the best thing about Linkody is that you can use it to track links that you've built so far.
What can be more painful for a link builder than losing a link that took them ages to build? In fact, that's the main reason why we use Linkody. We at DigitalOlympus track all our client's links to ensure that what we've done so far remains in the same shape and hasn't been labeled with a nofollow tag.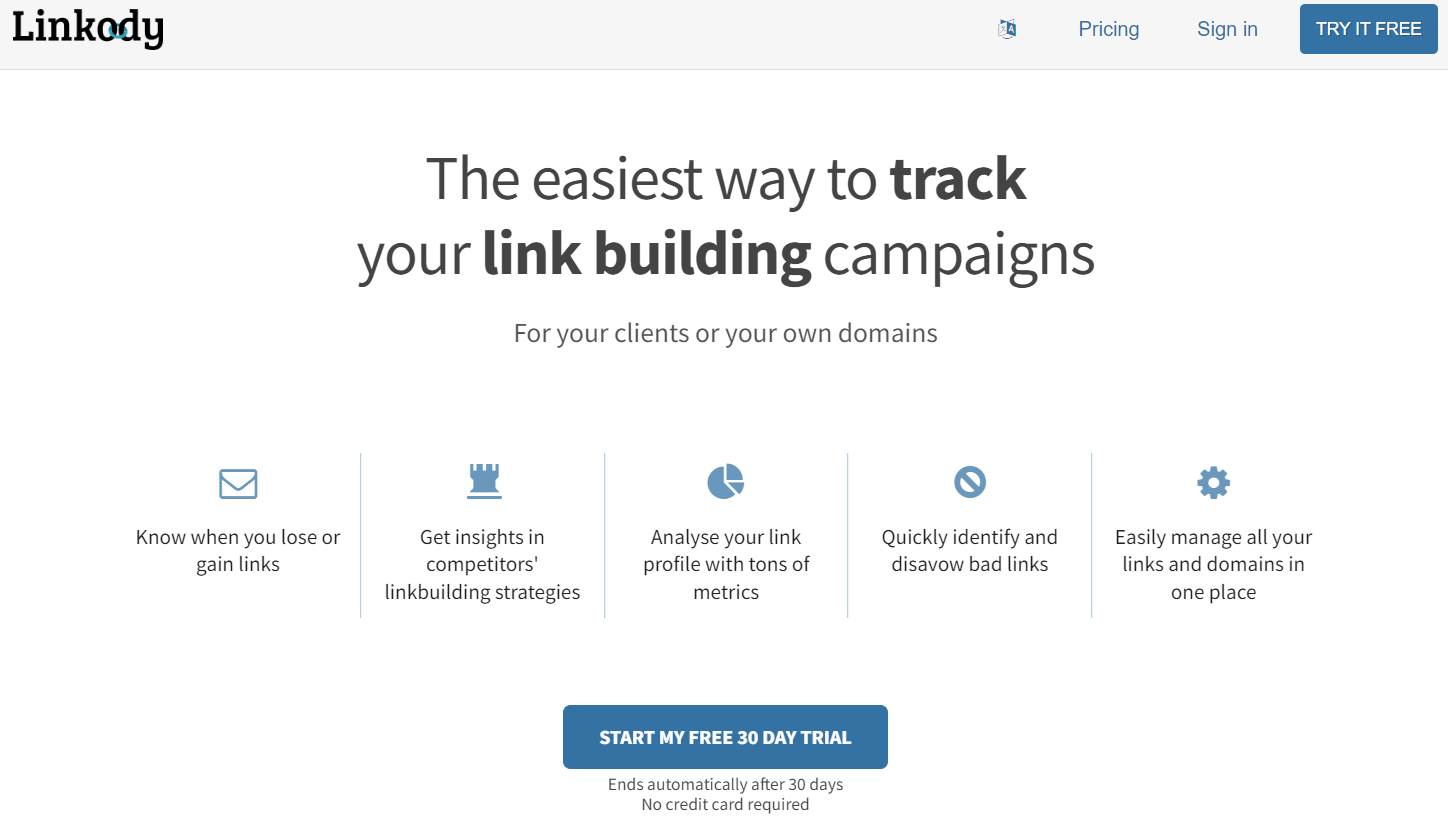 Linkody homepage
Linkody can send alerts straight to your inbox about the links that have any issues (removed, labeled as nofollow, pages that are down, etc.). You can also use Linkody's disavow tool for declining any spammy links.

Linkody dashboard
What's really exciting is that you can launch monitoring not only for your website but also for competitors! Learn what link building strategies your rivals employ and what links they gain.
The only downside of Linkody is that you can't rely on its data blindly. Sometimes the tool reports about issues that don't exist. So, before starting to fix any link, you'd better open a page and double-check its state.
Who is it best for
Linkody is designed for link building agencies or in-house teams that want to keep their finger on the pulse and protect their website from malicious links.
Pricing:
Start using Linkody with

a 30-day free trial

.

Pricing range starts at as little as $ 14.90 mo to $ 153.90 mo.
Tool #5: ScrapeBox
ScrapeBox allows you to automate scraping on the SERP and compile decent lists of prospects' URLs in seconds. Rather than typing every keyword in the search bar and rewriting search operators, now you can run ScrapeBox.
All you need is to come up with relevant keywords for your niche and set up scrapers. Once done, ScrapeBox will begin collecting websites that match pre-defined criteria.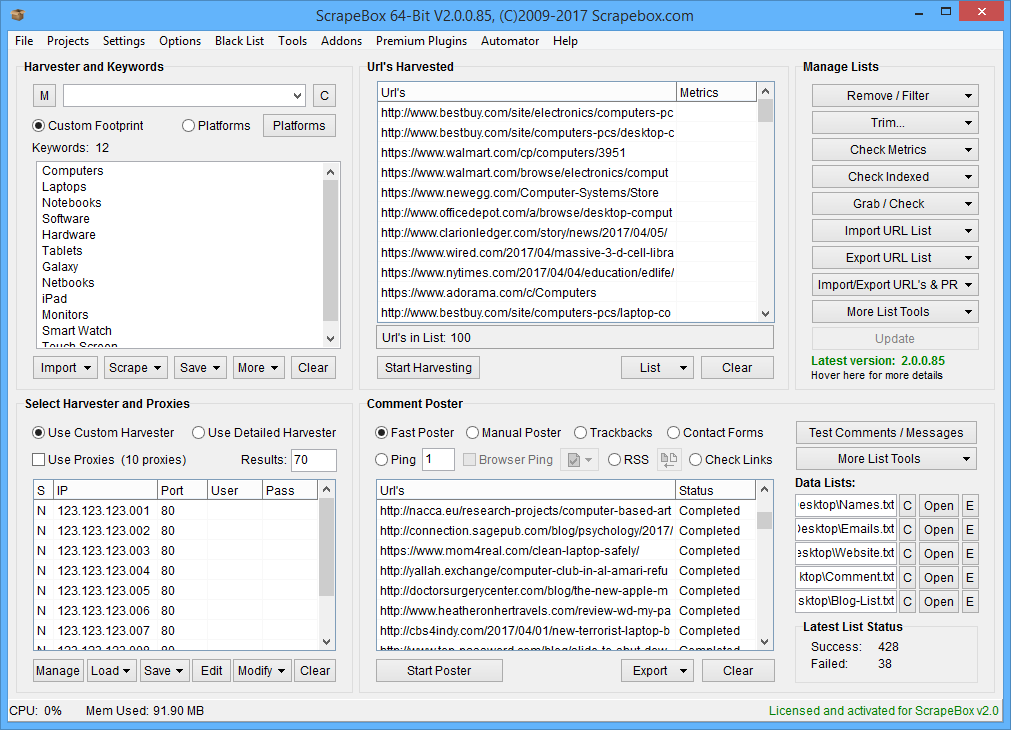 ScrapeBox's interface
Who is it best for
ScraperBox is the top priority for link building agencies, freelancers, and teams that are constantly looking for new backlink opportunities for their projects.
Pricing: ScrapeBox is a one-time purchase. The regular price is $ 197. Sometimes, ScrapeBox offers a time-limited deal for $ 97.
Tool #6: Moz Link Explorer
Moz Link Explorer is a popular backlink checker that coined the term «domain authority» (DA). In turn, DA has been a key metric used by SEOs for a long time to assess backlink quality.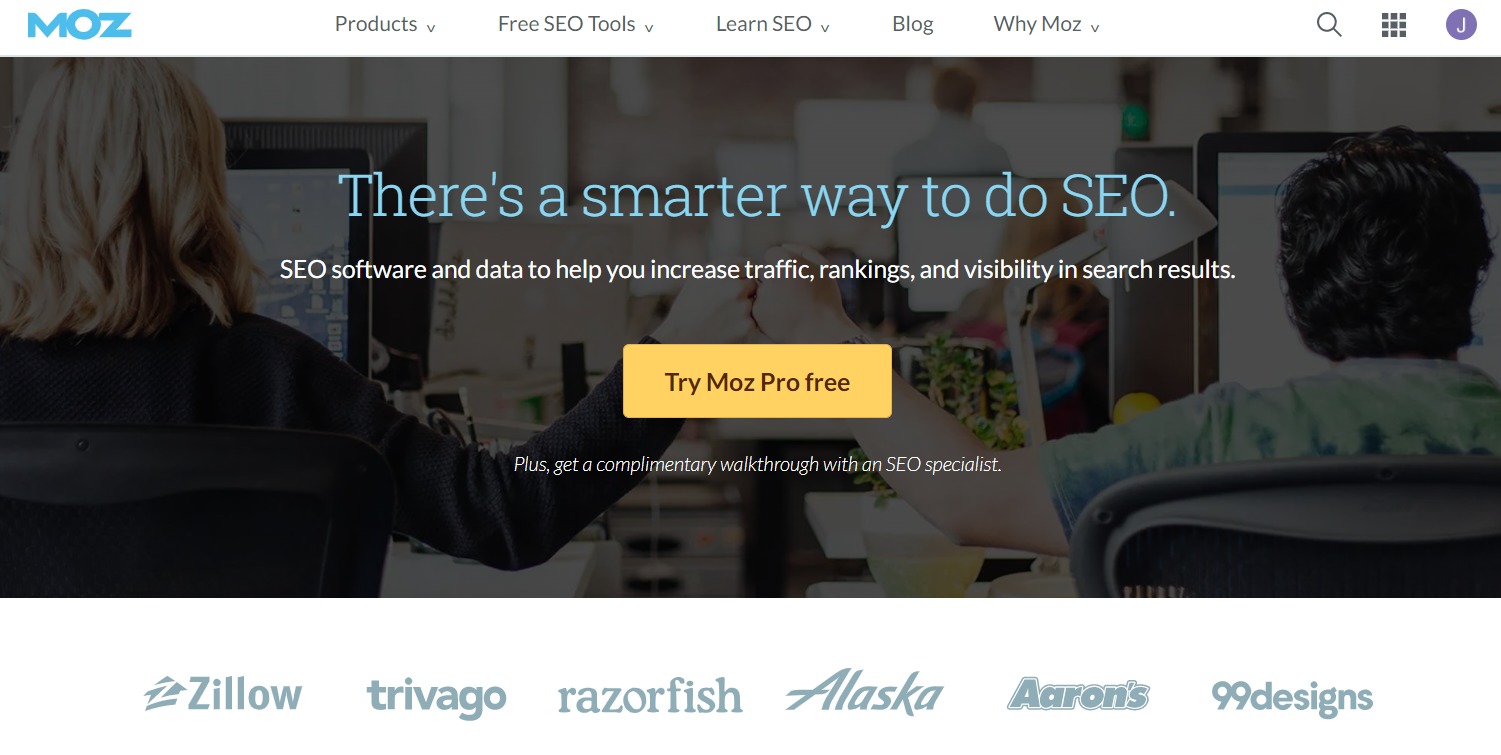 MOZ homepage
Like Ahrefs, MOZ has plenty of tools for backlink analysis. You can evaluate domain authority, referring pages, inbound links, backlink dynamics, and new and lost links.
Sort site pages by the number of unique external linking domains (Top Pages) and compare link profiles against two or more domains to find link intersections and uncover new backlink opportunities.
On top of it, you can set up a link tracker and monitor which lost links are recovered (obviously, after contacting the webmaster).
Who is it best for
Moz Link Explorer is a great fit for a small in-house team or a team of one as it provides basic tools for link building for free.
Pricing:
Moz Link Explorer is free.

More features for link analysis are available with a 30-day free trial.

The PRO plan with advanced tools costs $ 179/mo.
Now let's head over to the link management tool.
Tool #7: Apollo
Apollo is a popular sales prospecting tool that we utilize for finding accurate contact information of editors, webmasters, journalists, and any content marketer out there. Apollo has a large contact database for US- and Europe-based companies with over 250 million contacts.
Apollo homepage
With Apollo Chrome Extension for LinkedIn prospecting, you can search for the needed people and get their contacts in a matter of one click. Contact info will be automatically added to your prospecting list, which you can access at any time in the Apollo app. The extension also works for extracting contacts straight from company websites.
Launch personalized sequences right from the Apollo sequence builder or export cleansed and verified lists of prospects.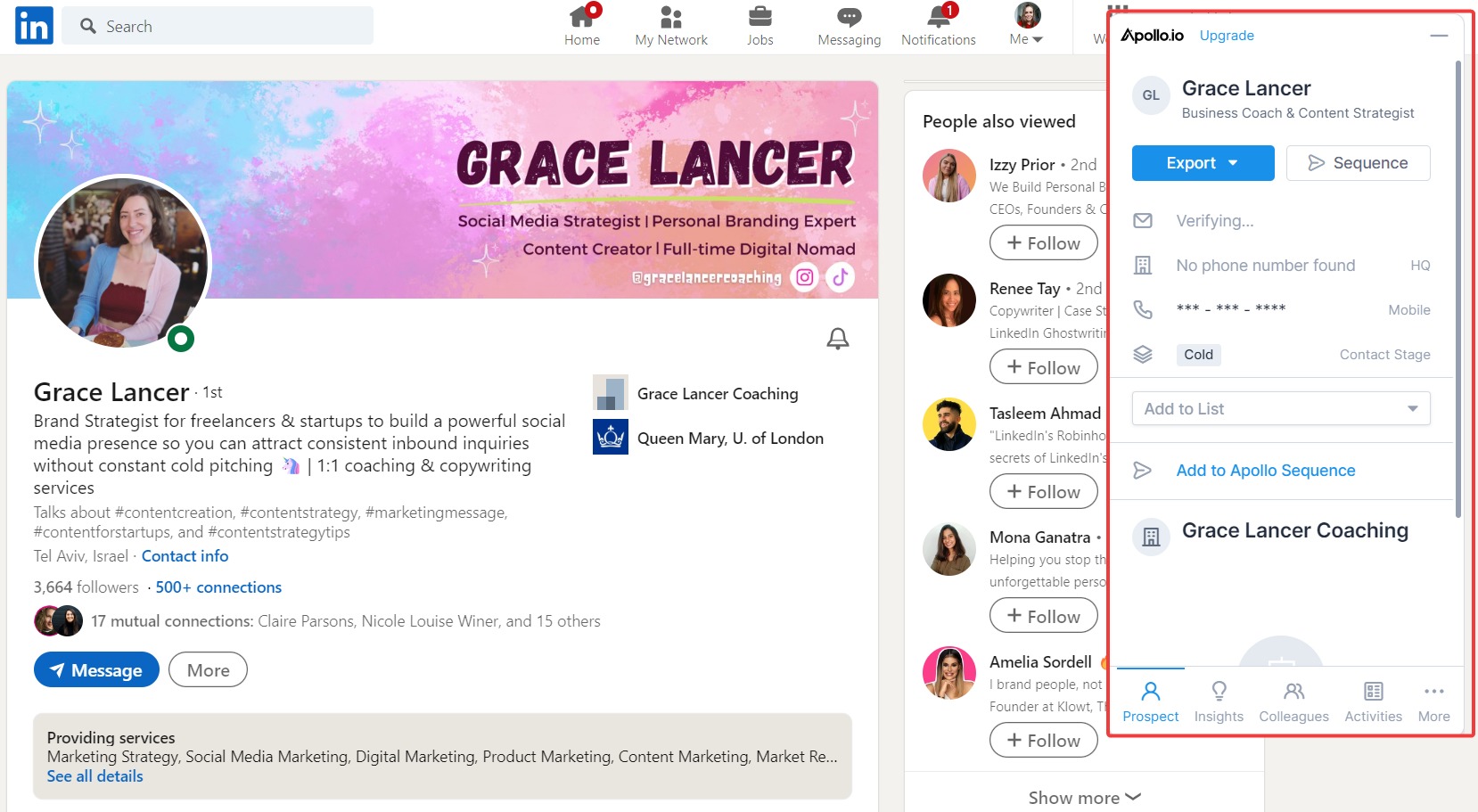 Apollo LinkedIn prospecting extension
Apollo also offers features like Buying intent data, Enrichment, and Job change alerts. Sales teams use these tools to identify which prospect is likely interested in their services at a given time and to refresh contact info in their CRMs.
Who is it best for:
Apollo is a great fit for individuals, freelancers, and small and medium businesses. It's affordable, accurate, and includes all the necessary tools for cold email outreach for sales & marketing teams.
Pricing:
Free for up to 50 emails monthly

Free Chrome extension

Paid plans start at $ 24 monthly
Tool #8: BuzzSumo
BuzzSumo is a platform for content marketing, influencer marketing, and outreach. It helps you discover the most engaging content across social media and search, spot juicy link building opportunities, and connect with bloggers in your industry.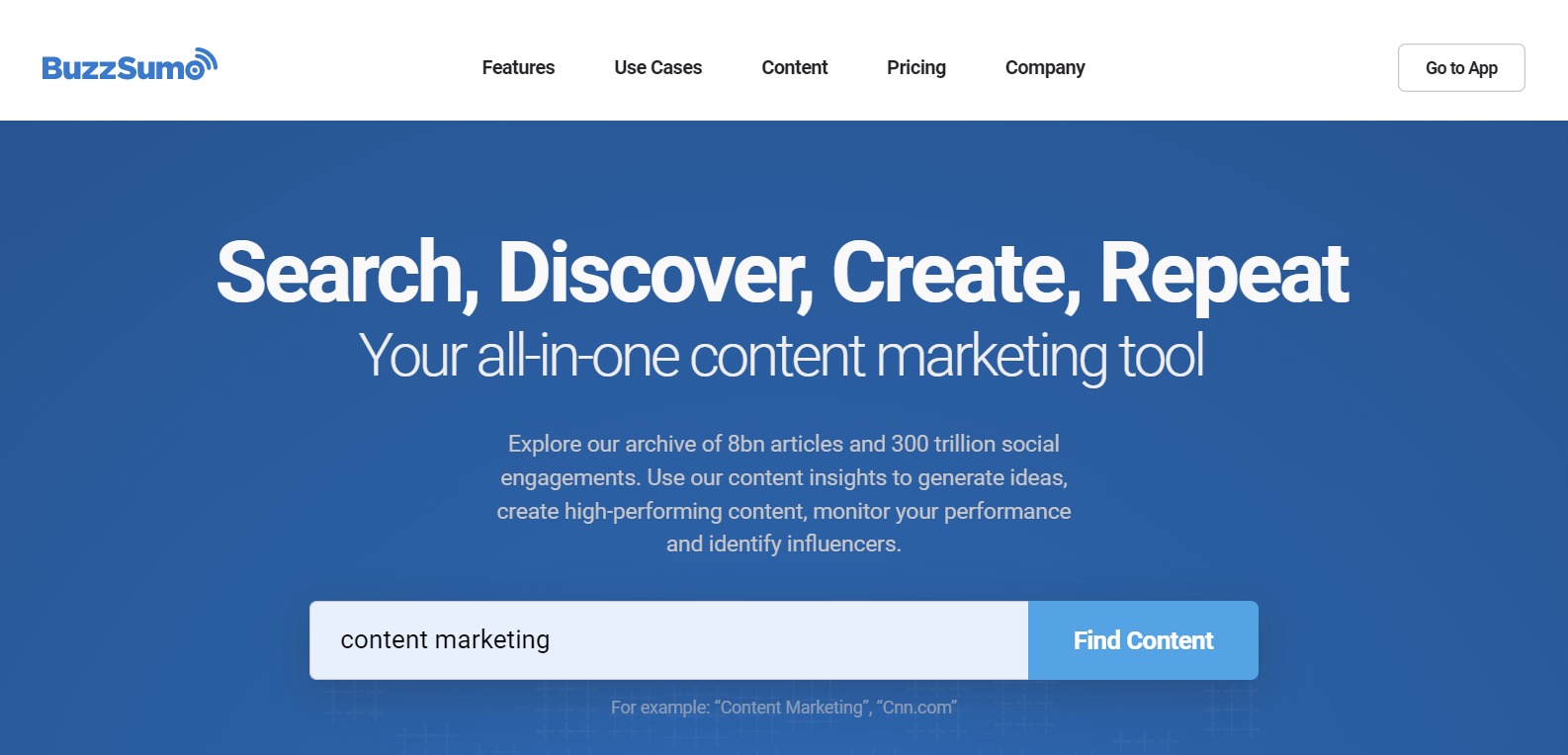 BuzzSumo homepage
For link building purposes, you can use three features — Content Analyzer, Authors, and Backlinks.
Content Analyzer lets you discover top content and top journalists, bloggers, and B2B publishers across the industry. You will also get content engagement metrics such as social shares and the number of backlinks to the page.
On top of that, Content Analyzer collects bloggers' contacts, social pages, latest tweets, YouTube channels, LinkedIn, emails, etc.
All that makes it easier to create a proper outreach database and personalize email sequences.
Authors is a sort of stand-alone filter that gathers the most influential bloggers/journalists within the industry and gives access to their contacts. You will also get social engagement metrics for each author on the list.
Lastly, Backlinks is a typical backlink checker that contains info about the number of referring domains.
Who is it best for
For any content marketer, digital PR specialist, and link builder, BuzzSumo is a good fit regardless of the company size and marketing budget.
Pricing:
Free trial

Free plan with limited features and 10 requests per month

Free Chrome extension making it an efficient tool for any specialist.

Paid plans start at $ 99 mo.
Tool #9: Hunter
If your goal is to find contacts for any person on the web and beyond, Hunter.io is a must. It allows you to find both work and personal emails and social media in seconds.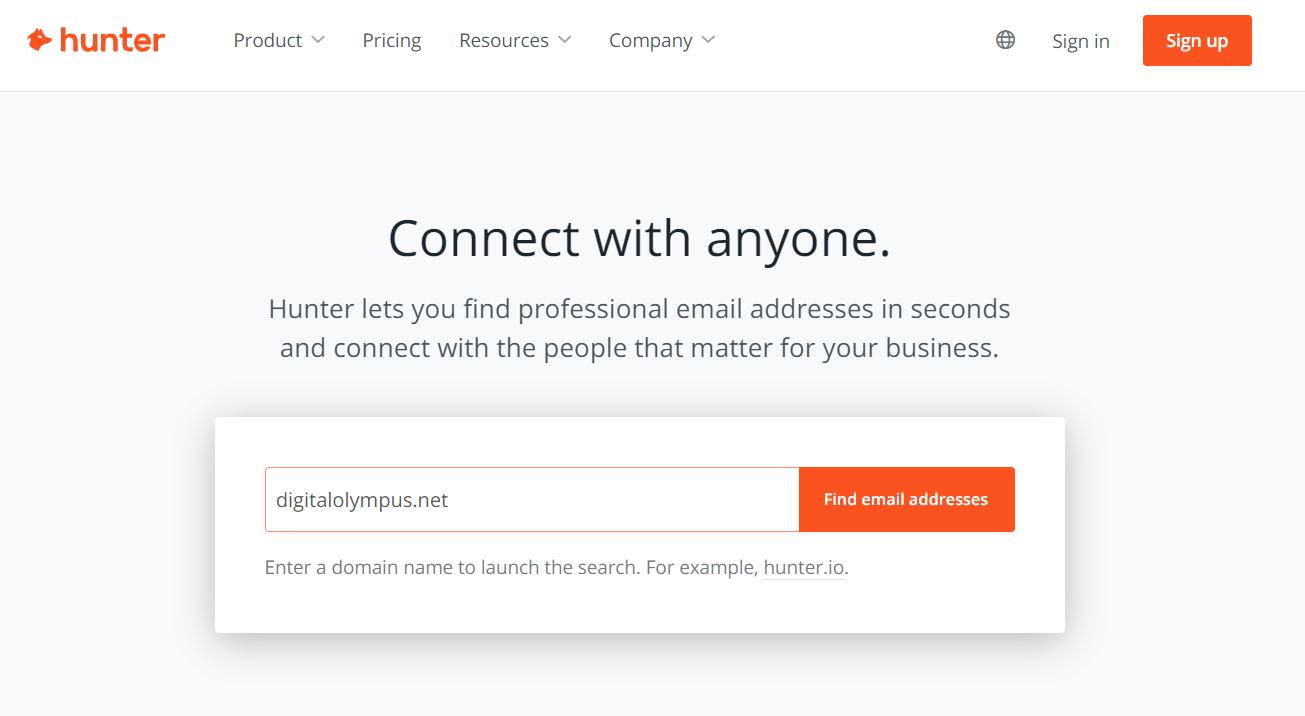 Hunter homepage
Unlike any other prospecting tools, Hunter is fully transparent in terms of sources they pull contacts from. That means you're fully compliant with GDPR policies, so you can email these people with no risk.
You can analyze one domain at a time to pull contact info from companies or use bulk analysis, which is way more efficient.
Thus, you can build a list of websites using the tools mentioned above and then utilize Hunter for scraping contact information. In addition, you can use Hunter as an email outreach service and launch personalized outreach campaigns.
Contact information collected with Hunter. io
The cherry on top is that Hunter developed a huge hub of free add-ons for gathering contact info directly in Google Spreadsheets from any website within a click. You'll also find a mail tracker among free add-ons. Moreover, Hunter created the biggest template library for cold emailing for any purpose.
Open the SEO category and get inspiration for your next link building campaign from the 43 best-performing templates for Hunter customers.
Who is it best for
Hunter is a highly effective tool regardless of company size and industry.
Pricing:
Use Hunter for free with limited 25 searches per month.

Collect data with free add-ons.

Pricing starts at $ 50 per month.
Tool #10: Respona
Respona helps build quality links faster as you can prospect, verify, outreach, and track results within one tool. Respona is pretty much a competitor to PitchBox but for small and medium businesses. Let's see what we can get. (It has some awesome features!)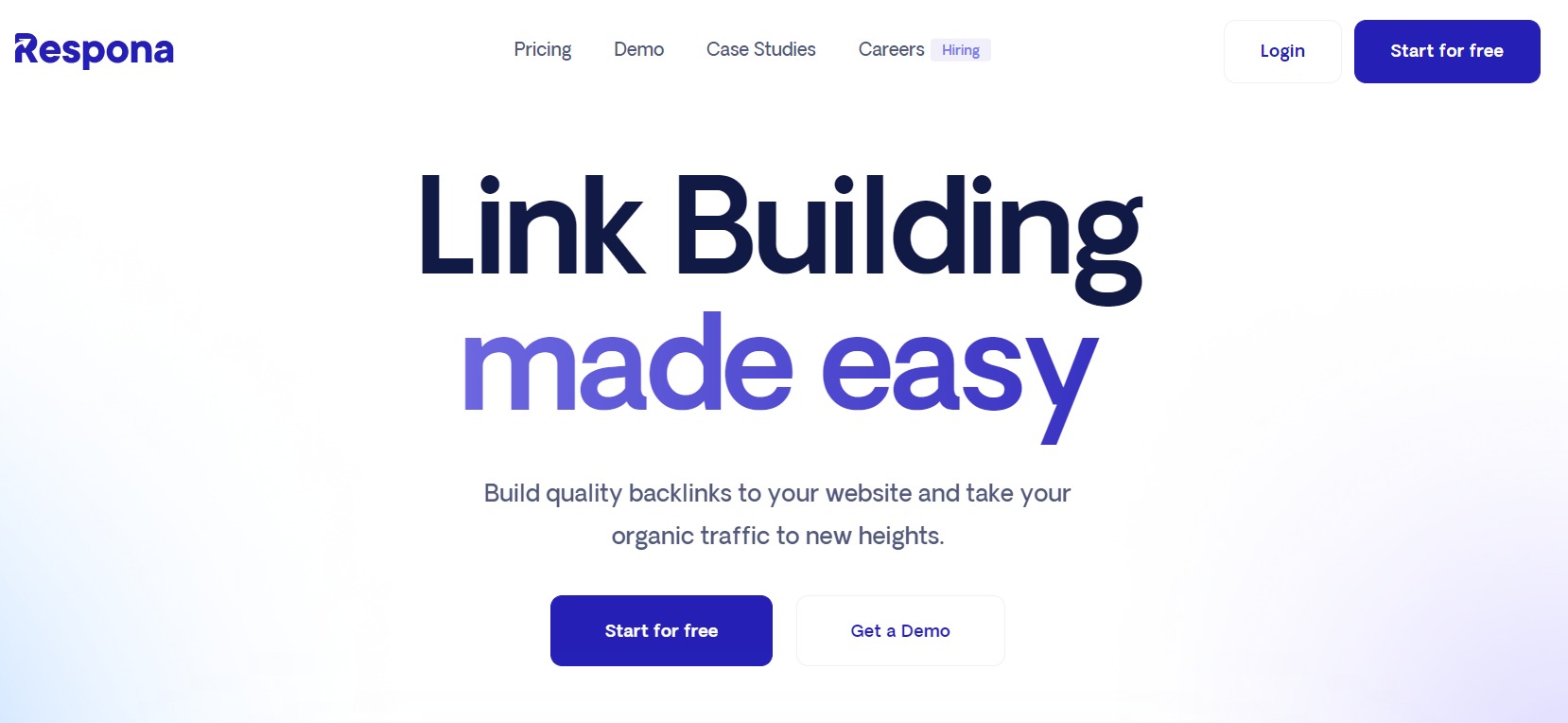 Respona homepage
We won't surprise you anymore by saying that Respona allows you to automatically gather websites for placing links by keywords. Neither will features for writing personalized email sequences and follow-ups be a shock. Even Respona's performance reports will no longer amaze you (though they are still impressive).
However, there's much more to Respona!
First, you can search for potential link building partners on Google, Bing, and Bing News and define Ahrefs Domain Rank before launching the crawler. Meaning you will get only high-quality opportunities on the list in less time.
Second, you can retrieve contacts of particular outlet-related people:
The writer of the article

Employees with specified titles at the company where the article was published

Both the writer and the relevant employees
This feature is a game changer. It allows you to craft two different email sequences and build relationships with writers and website owners alike. By doing so, you can gain backlinks directly from the site AND from other sites on which writers are featured.
Last but not least, Respona's AI email writer crafts personalized lines for each prospect on your list, saving you time on brainstorming.
Who is it best for
For small and medium companies. For large in-house teams and agencies. For solopreneurs.
Pricing:
A 7-day trial period with limited access.

Plans start at $ 99 mo.
And now, it's time to check the last tool on the list.
Tool #11: SE Ranking
SE Ranking is an all-in-one SEO tool for keyword research, competitor analysis, backlink checking, keyword grouping, rank tracking, and more. This is a powerful SEO toolkit with over 15 essential features for on-page and off-page SEO optimization.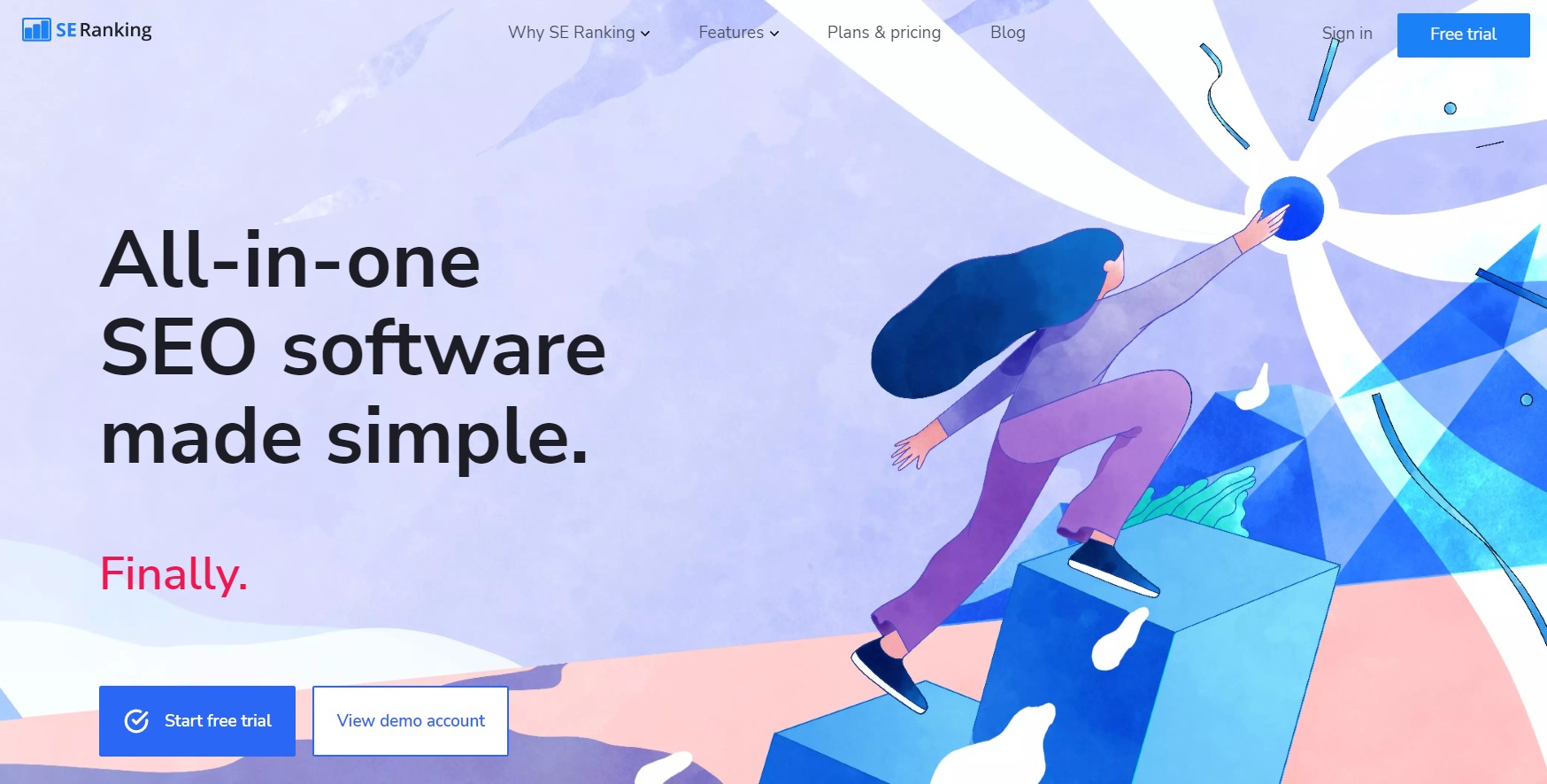 SE Ranking homepage
For link builders, the most effective features will be the Backlink Checker, Backlink Gap Analyzer, and Backlink Tracking Tool.
Backlink Checker is a great tool for analyzing the backlink profile for any website. It provides a range of essential SEO metrics for each domain so you can easily decide whether or not the site is worth building links to.
SE Ranking has developed its own metrics for measuring domain and page authority and trustworthiness. They are called Domain Trust and Page Trust and are very similar to Ahrefs's DR.
Backlink Checker also gives complete information about the number of referring domains, anchor text, target URLs, types of links (do-follow, no-follow; image, text, etc.), and unique IPs.
Backlink Gap Analyzer allows you to compare backlink profiles of up to 5 domains at once. This is a great feature to gather new ideas for link building. By default, it shows domains/URLs that link out to your competitors and not to your site.
The Backlink Tracking Tool will keep track of the health of your backlink profile. Once you connect to Google Search Console, upload links from CSV, or pull them from SE Ranking database, this tool will start monitoring links' status, type, indexed/not indexed, anchor text, etc. If links experience any changes, you'll get an instant notification via email.
Who is it best for
SE Ranking is a good fit for small and mid-sized in-house teams and freelancers. It's relatively cheap and gives you access to essential tools for SEOs.
Pricing:
SE Ranking welcomes every user with a 14-day free trial and

offers a very limited free plan

.

Paid plans start at $ 39/mo.
This was the final overview of link building tools. We hope you really enjoyed this journey into link building tools and booked a couple of demos to see tools in action.
Now, you're ready to move on to the next chapter and learn how you can benefit from building backlinks in-house against hiring a link building agency.
Using a Link Building Tool vs. Hiring a Link Building Agency
Pondering whether you should opt for hiring a link building agency or buying a link building tool and working on backlinks in-house? Well, both options have their do's and don'ts. Let's break them down and find the right fit for your business.
Why outsource link building
Rocket speed.

The main reason for outsourcing link building to an agency is the speed at which links can be acquired. At Digital Olympus, we can land over 30−50 quality backlinks from the first month because our processes are streamlined. We can onboard a new client and start bringing results within the first weeks.

You can't expect the same results from an in-house team at the beginning

.

Building links at scale

. Want to add more links to your most important pages in no time? Again, link building agencies are all about how fast and how many top-notch links they can deliver.

Cost-effective. You pay for what you've gained

(

aka for the number of links with a predefined price). No extra costs for maintaining employees, covering their days off, etc.
Why build links in-house
Full ownership of the link building strategy.

If you want to control every step of the process and land links to specific pages, consider building links in-house.

Long-lasting relationships with website owners

. Link building has more to do with cultivating great relationships with bloggers and editors. This is also the most time-consuming part. It is worth mentioning that not everyone can excel at it, as building relationships requires a particular psychological type. However, you can utilize formed connections in other digital marketing campaigns, which is golden.

Inner expertise.

You want to grow inner expertise and build a competitive advantage over time. In this case, you can start with a link building agency and take more control over the link building process over time. Ultimately, you can double down on your link building results by getting an agency and your team working hand-in-hand.
Here's a breakdown of the pros & cons of the two strategies:
| | |
| --- | --- |
| Outsourcing | Insourcing |
| Get links straight away | It might take some time to get a consistent flow of links month over month |
| Lack of control of the process | Full ownership of the process |
| External expertise | Inner expertise |
| Fast results | Slow results |
| Cost-effective | Pricey |
| Scalable in no time | Take significant efforts to scale |
| Low reputational risks | Higher reputational risks |
| No access to industry editors, experts, journalists, etc. | Forming long-lasting relationships with journalists |
Wrapping Up
Before choosing a link building tool, determine your needs. Outline the link building steps that require a lot of mundane work. What parts of the link building process have hiccups that can be addressed with automation? Write all these down.
Consider your marketing budget and estimate how much time you will save using tools. Then, go through this piece again and book demos with the tools that fit your requirements.
If you need a helping hand to figure out what your link building strategy should look like and what SEO toolkit to use, we've got you covered! Book a personal demo with our link building team and get qualified help.
Juicy link building!