Which approach do you prefer? Buy links and secure them quickly or cultivate relationships with editors and develop backlink strategies for both sides? Both approaches bring backlinks. So, where should we invest our time and resources?
We at DigitalOlympus encourage and follow relationship-based link building. We firmly believe that transactional link building is in the past if you want your site to grow in the SERPs.
Read on why transactional link building is less beneficial and what alternative link building tactics to implement.
How Does Link Building Work?
Let's learn (or repeat) some basics on link building, as this is fundamental for the understanding of transactional vs. long-lasting link building strategies.
At a high level, link building is about earning links from relevant sites to your site. The more high-quality and relevant links point out to your site (specific pages), the better your chances of seeing those pages ranked higher in Google search.
Why? Because backlinks are one of the key factors in search engine algorithms (aka PageRank for Google). It's easy to prove if you look at Ahrefs' study about the impact of backlinks on rankings and organic traffic. Here's a clear correlation: the more referring domains to a page, the more organic traffic it gets.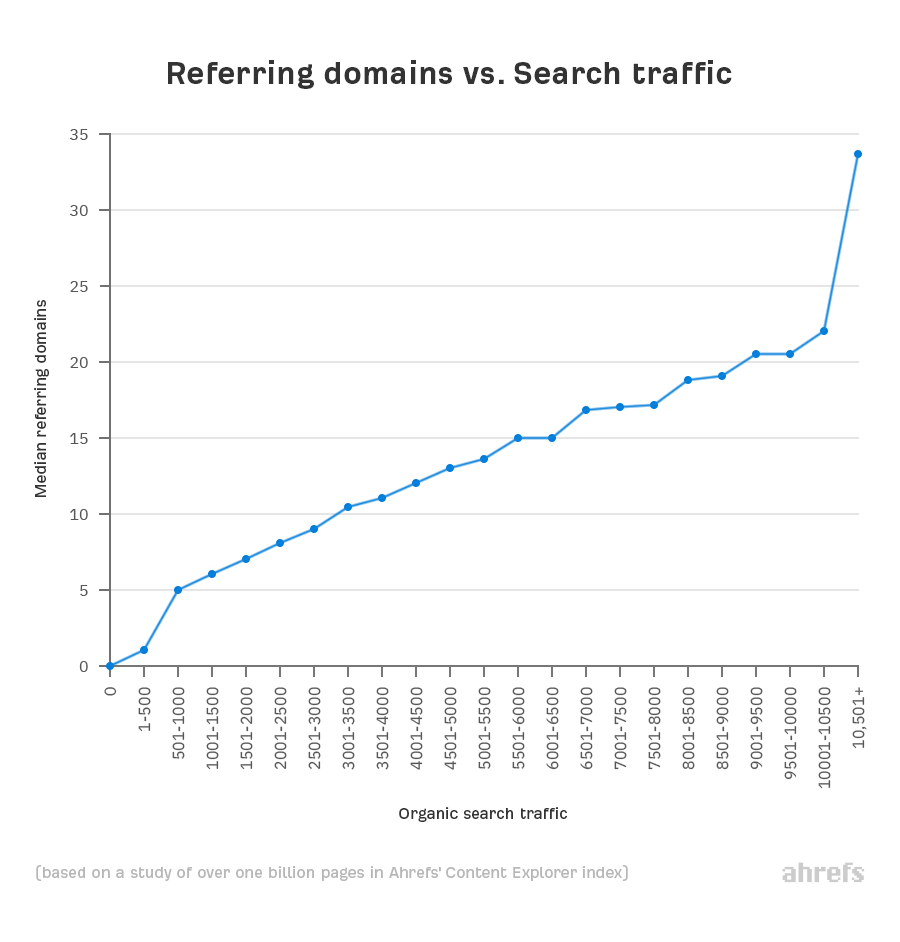 A correlation between the number of links a page has and its search traffic growth
With that, building links plays a crucial role in driving higher rankings in SERPs. So why avoid transactional link building? Or can we still benefit from it at times? Let's figure it out.
Does Link Building Have To Be Transactional?
First, let's outline what transactional link building stands for.
In a nutshell, it's all link building tactics that aim to secure backlinks one time from one site. Transactional link building includes paid backlinks, one-time link exchange, niche edits, guest blogging, and so forth. Any tactic that follows «I'll outreach a site, place a link, and never come back again» is considered transactional. You got a link, so you made a «transaction» — traded your time/money on a link placement. Next, you'll be looking for more backlink opportunities, and you'll go over the process.
There's nothing wrong with this approach except for one thing. Alternative link building methods trump transactional thinking.
Alternative methods rely on building long-lasting partnerships, networking, and creating super helpful content to earn links passively or with less effort. You heavily invest in the beginning, securing fewer backlinks, but ultimately this approach pays off big time.
Let's take a look at what the numbers tell us.
On average, the response rate of a cold email is 8.8%. However, the reply rate strongly correlates with the experience of email template writers. Seasoned specialists reach up to 15−20% response rates, ensuring relevant pitches and hyper-personalized email copies.
The catch is that these numbers comprise both negative and positive responses. So, in reality, average link builders have to contact up to ~100 sites to secure at least 10 high-quality links from reputable domains. That doesn't sound like much fun, does it?
On the other hand, alternative strategies like creating an original data study or quick research can bring you a colossal number of backlinks. See how Later, a social media management platform, acquires thousands of links through unique research.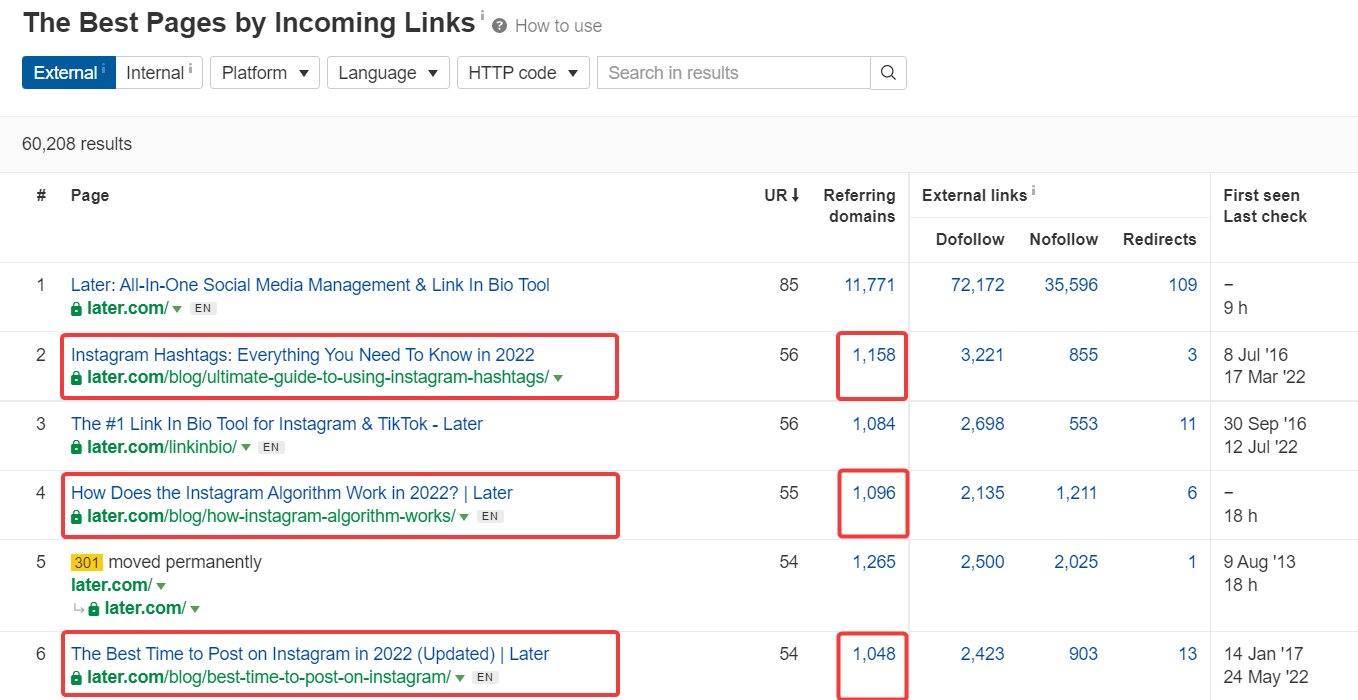 Later's backlink profile: the best pages by inbound links
There's, however, another trap. Cultivating relationships or creating one-of-a-kind content pieces that are likely to earn backlinks passively takes tons of time.
«Then what's your suggestion?» you may ask.
Start small. Apply transactional tactics but transform them on the go. This will work for link building novices or new businesses that need links right away. For more experienced SEOs, it's time to get friends and reap the benefits of relationship-based link building.
Alan Silvestri also recommends his own system that helps identify the right link building opportunities:
«We use a prioritization system to classify transactional opportunities from best (1) to worst (4):

1) Exchange — The target website asks for something in return, and working with B2B SaaS, this typically looks like: free trial of the client's product, free subscriptions etc.

2) Partnership — They ask for some kind of partnership that is mutually beneficial. This can look like: link swaps, affiliate links for product reviews, newsletter mentions, social shares etc.

3) Content — They ask for extra content to be published on their website with our links (guest post or content syndication).

4) Paid — They ask for a fee to cover their time to edit the article and add our link.

As one would normally assume, the higher on this list, the more effective and beneficial the transaction typically is." - Alan Silvestri, Founder and CEO at Growth Gorilla.
Now let's talk about some more alternative strategies.
Alternative Strategies that Work Better than Transactional Link Building
Here we'll explore 5 sustainable and scalable link building practices. Keep reading for the juicy stuff.
1. Create truly useful and valuable content
Powerful content gets traffic and links naturally because people find a ton of value in it. They then share it across social media and link back to it in their articles. Truth be told, such a content marketing approach requires a fair amount of work, but the outcomes might exceed all your expectations.
Here are 9 types of content that tend to generate lots of backlinks and mentions.
Original data research
Original data research are the pieces with statistics or breakthroughs, or unique points of view based on your internal data. Every business has specific customer behavior, product and market analytics data. You can turn these data points into one-of-a-kind research to prove/disregard common beliefs or communicate a novel angle.
Thus, Buffer's data-driven content acquires backlinks 293% faster than their most linked-to blog asset.
Original research developed for the purpose of link building should truly be original and interesting. If it's easy or too obvious to put together the research, it won't attract any links. Put yourselves in the shoes of the linking party and think if that is something you would want to share with your readers." - Eli Schwartz, Growth Advisor and SEO Strategic Consultant.
Original survey-based studies
Such content drives the same striking numbers of links from top-notch domains as original research. One great example is Aira's survey-based study on link building and SEO, which got over 550+ links in total. All you need to do is to survey 500−1,000 specialists in your niche (or just your audience) and present the results in appealing graphs.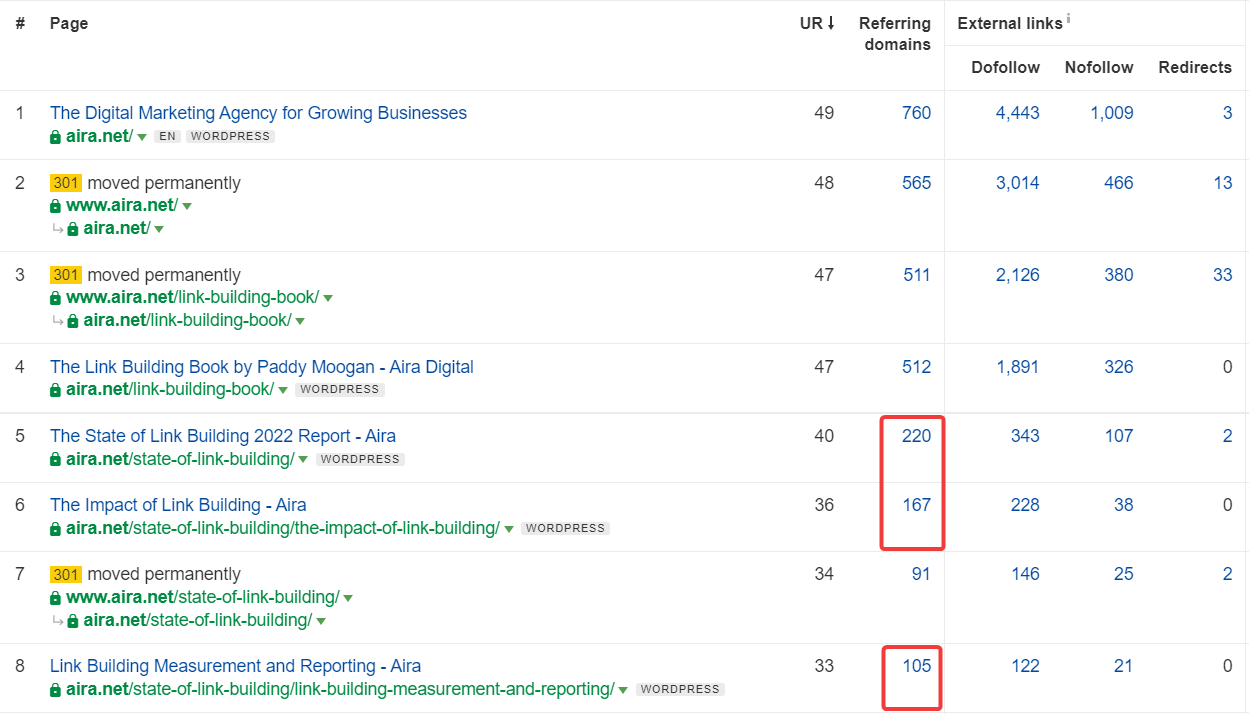 The digital marketing agency Aira has got over 550+ links in total.
Infographics
Infographics are another form of linkable asset that has the potential to attract links passively. This content type brings results in any niche, from e-commerce to B2B/B2C SaaS. For instance, you can summarize key takeaways of a book written by a famous author if you're a bookstore. Or you can free your creativity and design a stunning piece of interactive art rather than just an infographic.
See how vehicle retailer Evans Halshaw created an interactive infographic that has collected 1.5K+ referring domains.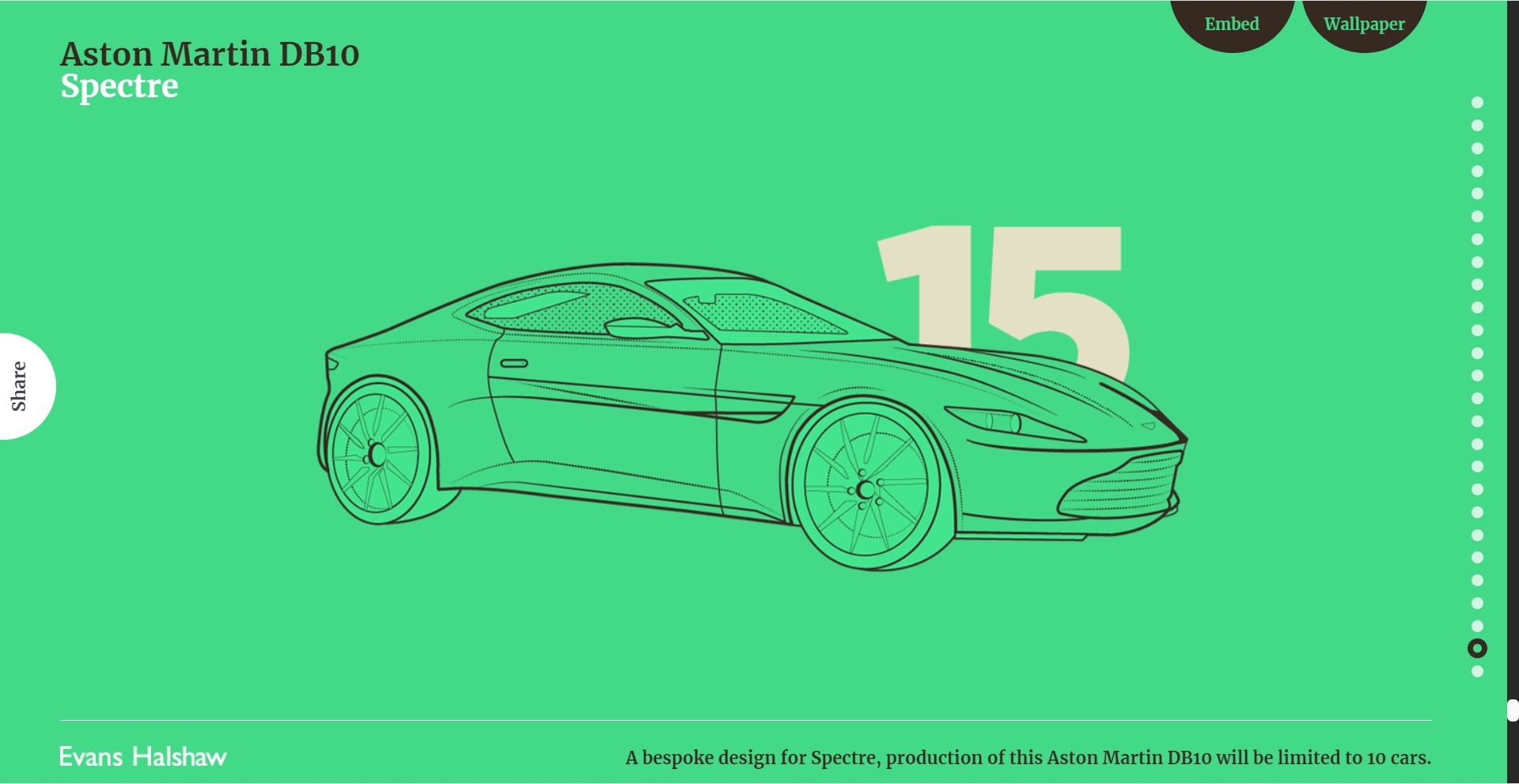 An interactive infographic designed by vehicle retailer Evans Halshaw
Also, be mindful of the quality of information you include in an infographic:
«Often I see folks going overboard with too much text inside of infographics — it's an immediate turn-off as it contradicts the entire format. Formatting and the attractiveness of the design aside (although it is monumentally important), you need to understand who you're targeting. You can certainly create a great infographic that outlines some basic steps to whatever process but don't think of targeting more advanced sites and users with it. If you do go advanced, make sure what you put in there is genuinely novel. At this point, the same or similar data points have been shared 1,000 times over. Make sure you're really adding value with the asset.» — Mordy Oberstein, Head of SEO Branding at Wix.
Pillar pages on the topic
Pillar content can become a linkable asset, too. If you're up to crafting the most in-depth guides on the web, it has the potential to gather a decent number of links. You can then utilize this piece for the Skyscraper technique. Of course, not every editor will replace a link, but this way, you can forge a great relationship with them and come up with other content collaborations.
Opinionated content
This type of content refers to co-writing an article with your niche's influencers and SMEs (subject matter experts). In essence, you create a piece and ask specialists from big-name companies to share their thoughts on a topic. This helps you get more eyeballs on your brand and cultivate relationships with influential people to, again, develop content collabs.
Awards & rankings
Awards & rankings get easily mentioned in niche-related media outlets and social media and can also be mentioned on nominees' websites.
Coined terms
The English language is evolving every day. You can be one of those who coin a brand-new term. In our marketing niche, such a widespread term as inbound marketing was actually brought to life by HubSpot's co-founder Brian Halligan. Likewise, the Skyscraper technique (that we mentioned above) was coined by Brian Dean. When a term is new to a market, people will likely link back to its origin (your comprehensive article on the matter).
Free templates & cheat sheets
Create free online templates or checklists related to your niche and harvest the benefits of word-of-mouth. First, you'll have to pimp those pages with a content promotion strategy and on-page SEO. But then, you can expect people to link back to your templates.
For instance, Lemlist's cold email templates hub has attracted 160+ referring domains.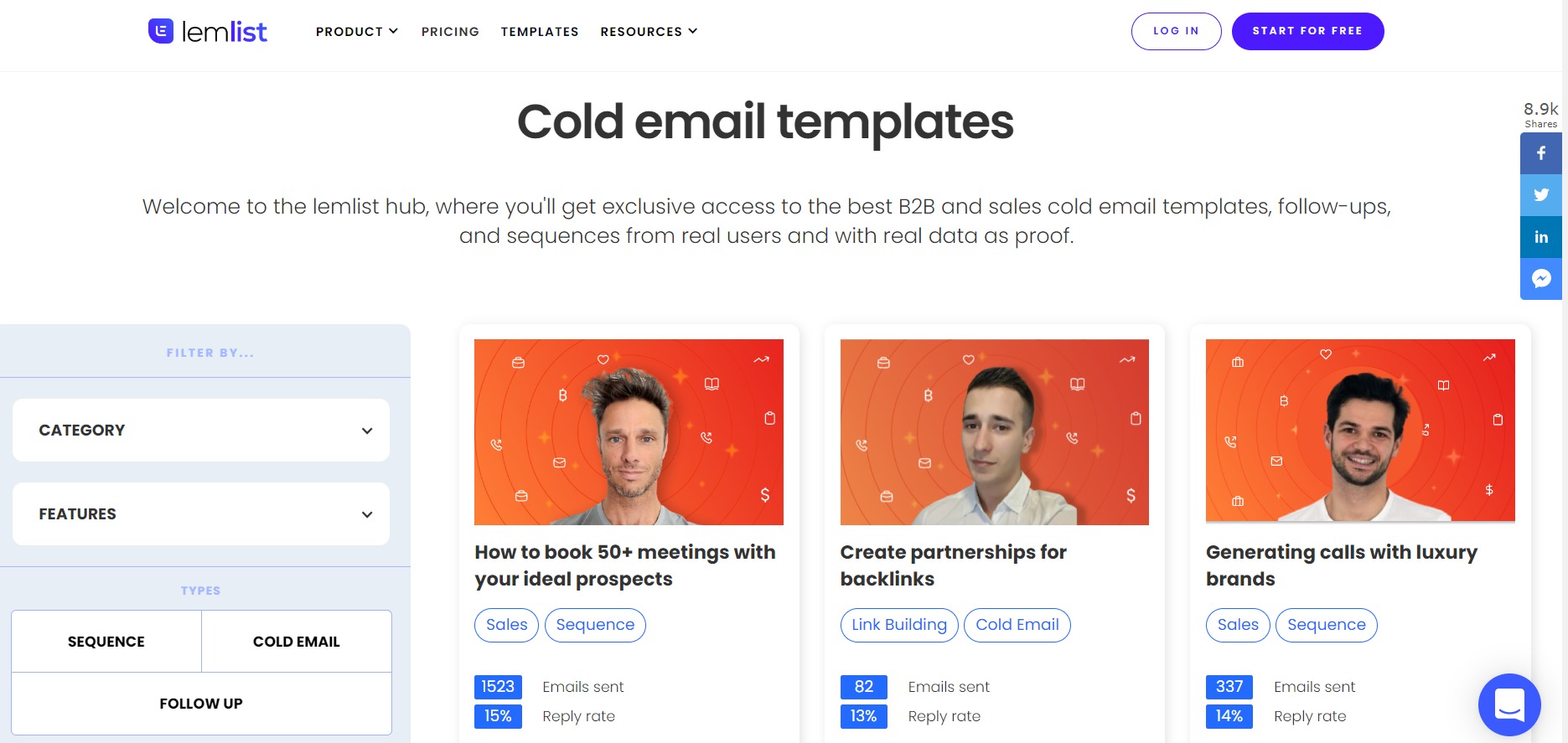 Cold email templates library by Lemlist
Free online tools & calculators
Free online tools and calculators also have linkable potential. To earn links to such assets, implement the same promotional strategy as you would for free online templates. An example of this tactic can be free SEO tools, like add-ons, browser extensions, or forever free in-app tools.
2. Harness the power of internal linking
Link building doesn't have to be landing more and more inbound backlinks. In fact, you can pimp your landing pages (aka money pages) with internal link building. NinjaOutreach, a tool for finding influencers across social media, did exactly this and boosted organic traffic by an impressive 40%, thanks to reverse-engineering internal linking.
Google even advises on how to develop an internal link strategy to pass link equity to the needed web pages.

3. Create long-term business relationships in your field
By this, we mean to apply out-of-the-box thinking and perceive every business connection as an opportunity to build links. Let's learn how it works by refining guest blogging.
Say you want to launch a link building campaign for a marketing reporting tool. By going transactional, we'd approach marketing-related blogs and offer them to publish our articles. Once a piece is published, we'd forget about this blog — the «transaction» is complete.
There's, however, a smarter way to gain links.
You can connect with an editor on LinkedIn, start a discussion about link building approaches, and then offer a collaboration. Not a flat link exchange, but mentioning their services in all upcoming pieces for other sites. See how it works.
You're site A, and your partner is B. When B writes for XYZ sites, B mentions and inserts a link to A site. In return, site A adds backlinks to site B across upcoming guest posts.
This way, you receive dozens of links for free from one source!
You can also join forces to create original research, introduce each other to different media, etc.
4. Leverage your network and communities
Before cold emailing, you can buff up your brand authority and actually secure links faster by engaging your network and communities.
Check your followers on social media, namely LinkedIn, and select niche-related people. Contact them and offer to collaborate on backlinks. People with an emotional bond are more responsive to such offers. This can be your starting point in link building.
5. Hire a relationship-based link building agency
Lastly, you can hire a relationship-based link building agency that has already built relationships with numerous websites. Unlike others, such agencies can start building quality backlinks right after shaking hands. They just need to think of what upcoming pieces would fit your company, and insert a line about you.
We at DigitalOlympus work with over 600 hundreds of high-authoritative corporate blogs, so we can deliver up to 15−30 links for clients within the first months. Want to know details? Schedule a call with our team, and let's boost your link building efforts.
One more hint: You can leverage the agency's work and use published articles as proof of content quality for in-house link builders. For example, if your agency placed a link on HubSpot, which is super hard to do, you can use this piece on your outreach emails.
Final Thoughts
With our deep love for relationship-based link building, transactional approaches are also useful when necessary. Building links from directories or HARO is a one-way-ticket approach, yet both methods are worthwhile.
In the other cases, we encourage everyone to consider alternative link building strategies. You can merely get more out of the same time spent.
If you want to get help with relationship-based link building, feel free to contact us. Let's take your rankings to the next level with advanced link building strategies!