When you start doing link building as a part of your SEO strategy, the process raises more questions than answers.
Aside from choosing the pages on your website with the most potential (we'll cover it later), how can you ensure that every link passes high authority back to your target pages?
Is there a way to control this level of link authority?
Stay tuned, as we will tell you everything about the link equity phenomenon and what it takes to build the juiciest links.
What Is Link Equity?
Link equity (a.k.a. link juice) is an important ranking signal indicating the level of value and authority passed from a referring page to a target page.
Let's say there is an article about video marketing on a reputable source, like Canon, Adobe, or HubSpot, and it links back to your video editing tool. This backlink will transmit some of the source's ranking potential, and that's exactly what link juice is.
Link Juice and PageRank Algorithm
The topic of Google's PageRank algorithm (PR) always comes up when discussing link equity.
Essentially, PageRank (named after Larry Page) analyzes the website's backlink profile to determine how it should rank. It works by evaluating the flow of a page ranking potential passed to another page via a link (hence, link equity).
Here's a visual representation of how link juice gets passed from one web page to another: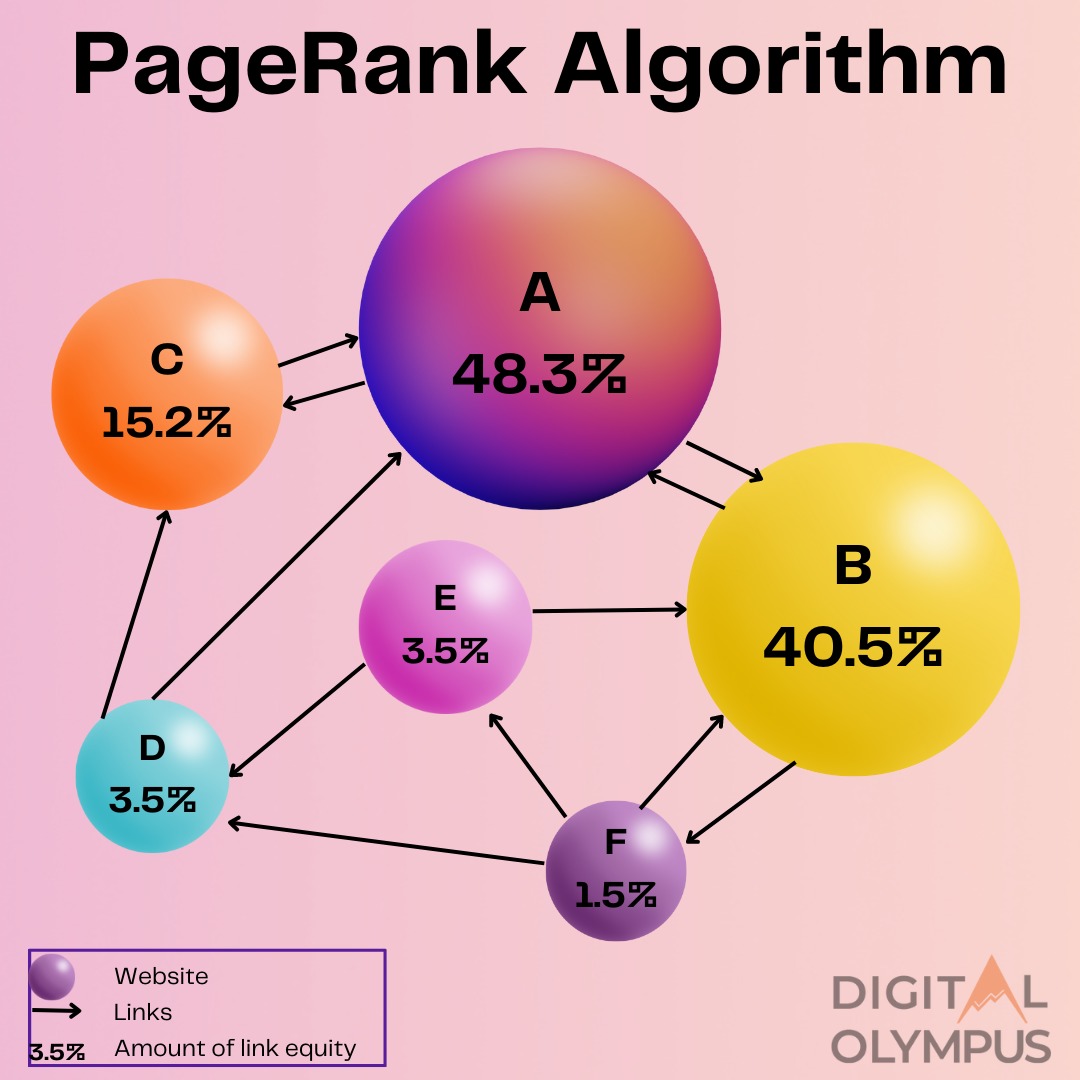 How PageRank works.
Overall, the general understanding is that if a big reputable website links to a web page of a smaller website with less authority, the second site is guaranteed to receive a high volume of link juice through that backlink.
However, that's not always the case.
Relevance between the linking site and the target page in terms of content also plays a crucial role. To pass value, a link should not appear forced or out of place. Otherwise, Google won't consider it as a vote of confidence.
With the definition and importance of link equity clear, let's figure out how it works.
How Does Link Equity Work?
You already know that links don't pass equity in the same amounts. But what's even more interesting is that you can actually limit the amount of equity transmitted by each link.
In fact, it is encouraged to control the distribution of link juice, which you can do with the help of dofollow or nofollow attributes.
So, how does it work exactly?
Essentially, the more external links a page contains, the less PR they will receive. So, if you have about 10 page links, and they are all dofollow, they will all receive link equity, but its amount will be smaller.
However, if you give the dofollow attribute only to five links out of ten, the amount of PR they get will be much larger.
Here's a graph showing this process in action.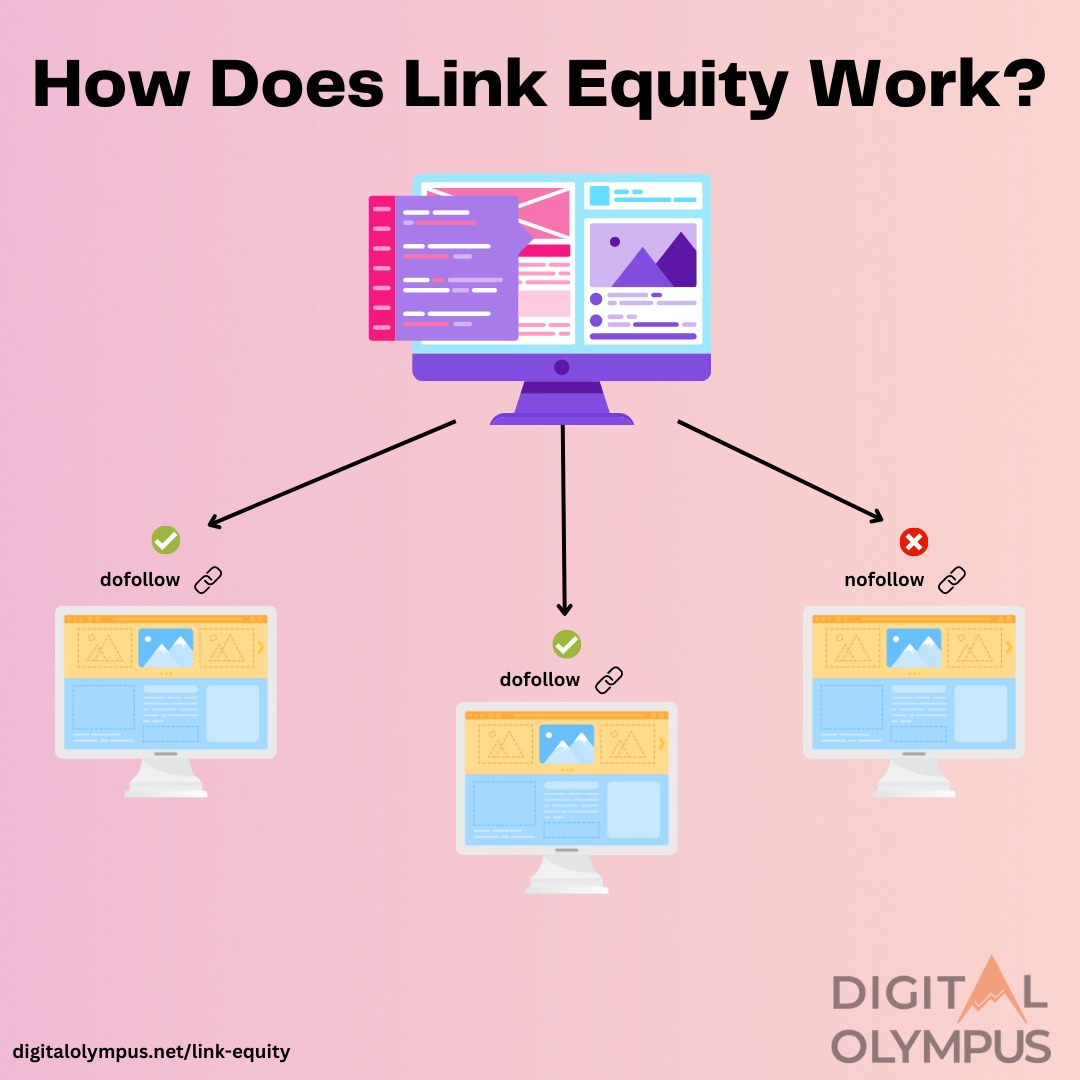 Dofollow and nofollow attributes limit how much link equity each outbound link receives.
Now that you know how link equity works, let's move on to discuss the factors that impact it.
7 Factors that Affect Link Equity
The thing with link equity is that there is no way to measure it; the value of a link can only be estimated.
However, over the years of the PageRank algorithm existing in Google's ranking system, SEOs have noticed that some elements can either boost or decrease how much juice each outgoing link on a website will pass.
Let's talk about them in greater detail.
Factor #1: Website / Page Quality
While the topic of authority/quality has always been a subject of heated debate, we do know that Google uses a quality score for organic search engine rankings, also known as E-E-A-T (the second E was added in December 2022).
The E-E-A-T quality guidelines entail the following:
Experience

— shows that a content creator has first-hand experience with the topic.

Expertise

— indicates that a content creator has profound knowledge and skill for the topic.

Authority

— indicates that a website/page is a go-to source of information in the given industry or niche.

Trustworthiness

— denotes how accurate, reliable, safe, and honest the information on the page/website is.
Basically, the main website components Google assesses on the website and page level to determine the E-E-A-T are the quality of content and user experience. The higher the website ranks in terms of E-E-A-T, the more link equity it will pass.
?Tip: You can learn more about these quality guidelines in Google's manual.
Factor #2: Website's / Page's Relevance
Take a look at the screenshot below. Would you say this link placement is relevant?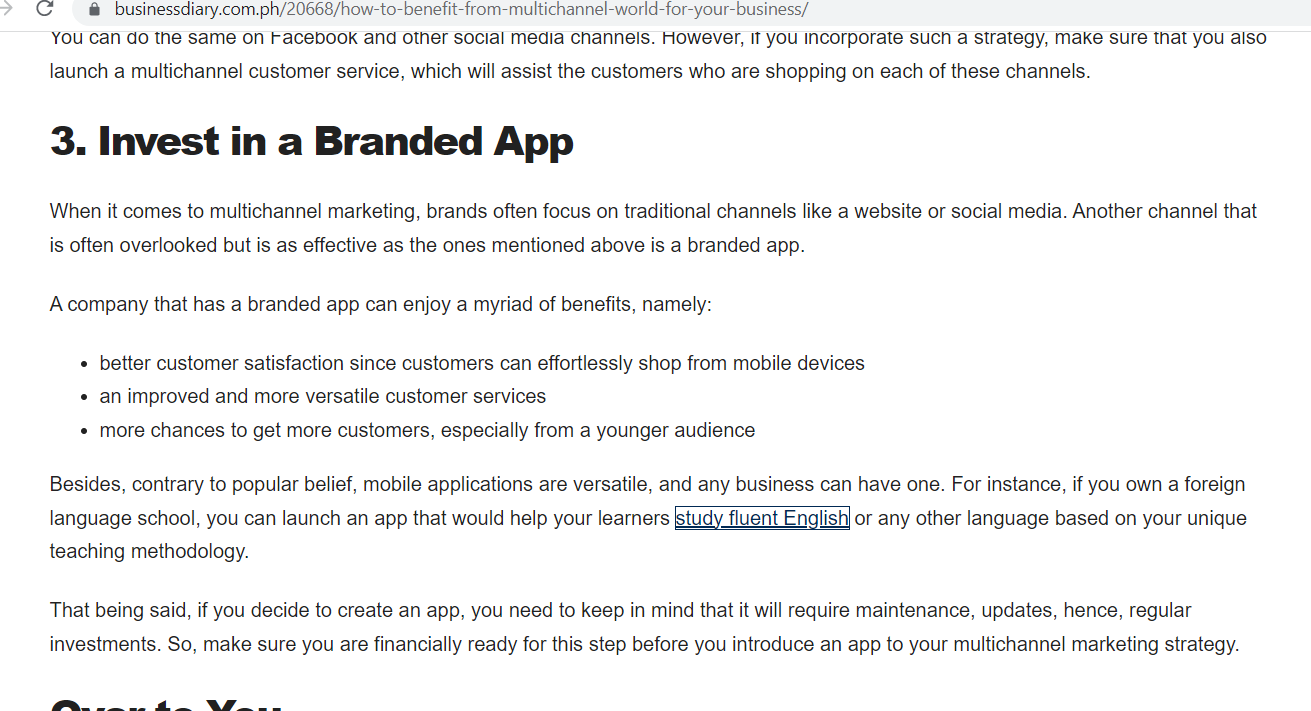 Example of irrelevant link placement.
Sure, the context created around this link makes it appear organically within the text, but that's not why we're picking at it.
You see, the link placed on this website leads to the homepage of the online foreign language learning platform Preply, while the referring domain uploads random posts on different business-related topics.
So, there's hardly any relevance between these websites and the page that includes Preply's link talks about the benefits of the multichannel world for businesses. Thus, there's no topical connection either.
But wait, it gets more interesting.
First of all, the referring domain has considerable fluctuations in organic traffic, designating that this website has been penalized by Google. You can see these changes in the Semrush report below:

Sharp shifts in organic traffic indicating possible Google penalties.
Finally, the referring domain is from the Philippines, making it entirely irrelevant for Preply, a US-based domain. So, this link (published in December 2020) hasn't brought any equity to the target page, which is visible in Ahrefs' report below.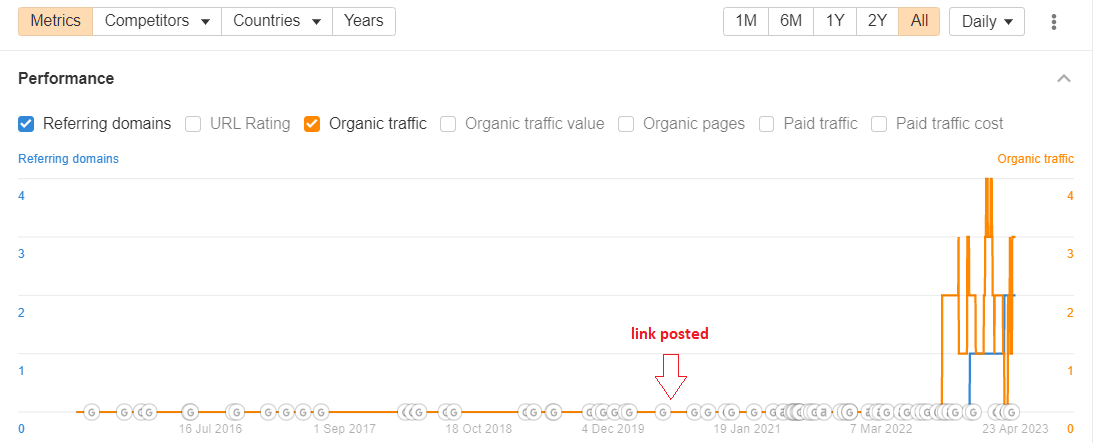 Zero results in organic traffic after posting a link.
So, lesson learned: links from irrelevant websites or pages barely pass any link juice (if not at all).
Factor #3: Website's / Page's Crawlability
The rule of thumb is that only crawlable/ indexable websites and pages can pass PR. Thus, if a page is noindex, non-crawlable, or non-canonical, it won't transmit link juice.
But what determines crawlability?
Ahrefs lists the following factors:
Page discoverability

— if your page isn't in the sitemap or doesn't contain internal links, Google crawlers won't find it.
Robots.txt file

— this document informs the crawlers which parts of your website they are allowed or not allowed to index.
No follow links

— Googlebot doesn't count in links that contain the

nofollow

attribute.

Other restrictions

— include login systems, user-agent, and IP address blacklisting.
If your website or page has crawlability issues, you can look them up in Google Search Console — it will also redirect you to explanation pages with solutions.
Factor #4: Number of Outbound Links
This one we've already explained earlier.
Essentially, if a web page includes 15 links, and all of them are dofollow, the amount of link juice passed to each of these links will be diluted. It happens because the total PR of the linking page has to be divided between them, and the higher number of links it has, the less link equity these target pages will receive.
Factor #5: Link's HTTP Status
Google's John Mueller has stated that pages with redirects, either permanent or temporary, will retain their PageRank.
However, it doesn't happen every time.
For instance, let's take the 301 'moved permanently' redirect.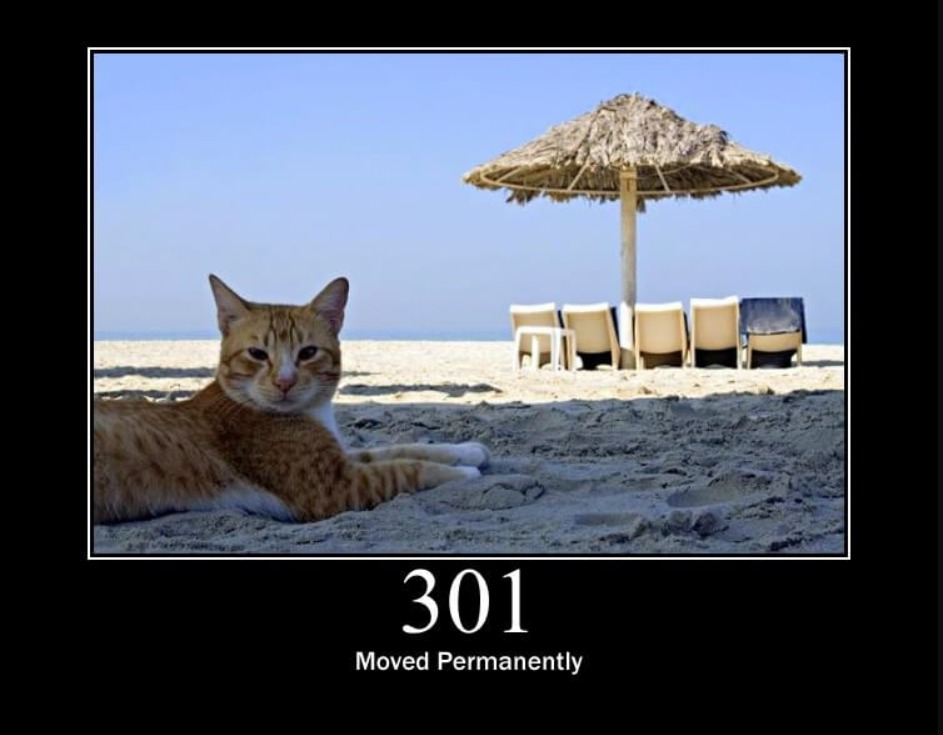 Credit: HTTP Cats
The 301 redirect indicates that a domain or page has been moved permanently, i.e., its address has changed. According to John Mueller, pages with this redirect type should still pass the same link equity as before.
However, way back in 2013, Matt Cutts highlighted that Google decreased the amount of link juice transmitted by the 301 redirect pages. The reason for this is the possible manipulation of ranks if the 301 redirect pages retain the same PR.
In short — watch out for the pages with redirect status codes since Google's official position doesn't go into detail regarding this issue.
Factor #6: Link's Position
Yes, the location of link placements within the body of text impacts how much weight they have.
This information comes from and is supported by Google's Reasonable Surfer patent, which, based on studied user experience, alludes to the following:
Links in the main content body receive more equity than navigational links

(

which are often added automatically to the site architecture by content management systems).

Links appearing closer to the beginning of the article may have more link juice, and they also get crawled faster.

Navigational, sidebar, and footer links carry less weight because they are often not contextually relevant to the main content body.
So, we could assume that the higher a link appears on a referring page, the more link equity it will possess.
But is that really so?
Here's what Grant Simmons shared with us on the importance of a link's position on a page:
«When scanning a page, SEO should be aware of the 'click ability' factor of a link both in anchor text and position. A link in content, with informative anchor text within the 'above the fold' copy, is likely to see more clicks than a link towards the bottom of a page. By similar logic, a link right at the top of an intro paragraph is likely to see less, primarily because it is doubtful a user who has just arrived on a page is going to click a link in the first sentence — *before* they have assessed whether the page matches their search intent.

It's the same with navigational links vs. more 'information dive' links, where a link is likely to be clicked for in-depth information, a concept I call «paths to satisfaction.» Those links to related, relevant, and progressive discovery pages are likely to be 'seen' as more valuable due to the contextual link relevance and recognition of the value of connection." - Grant Simmons, seasoned SEO consultant, Fractional SEO Strategist at Brilliant Strategy.
So, we can conclude that the position of a link is important both for the external and internal linking strategy.
Factor #7: Dofollow or Nofollow Links
You already know that applying rel dofollow or rel nofollow can allow or limit PR.
But if it's all clear with the dofollow attribute, when should you set the link as nofollow?
We've talked about it in our recent content piece on backlink types, but let's reiterate the most common cases for nofollow links:
Paid links

— these should be disclosed as

nofollow

or redirects. Otherwise, your rankings will be at risk.

Shady or poor quality links

— content pages that are in no way relevant to your page should be marked as

nofollow.

User-generated links

— these links

can sometimes appear spammy

, so it's better to limit the amount of equity they get.
However, do nofollow links really not bring any SEO value?
«Here, there is no concrete answer. I have found instances where because the nofollow links had topical relevance and from authoritative websites, they brought positive value. However, if they come from spam, low-quality sites, then I've seen more negative results. But to make things even more complex, I've still seen high levels of nofollow backlinks contribute to DA and add positive value to SEO (as a part of a full link profile that contains link variety, not solely on its own).

This in no way means that people should go out and buy mass spam nofollow links — eventually, Google will catch you as buying links goes against their guidelines. Rather Google is just slow at catching it and penalizing site owners in that scenario. Nonetheless, the safest and most impactful scenario will always be to focus on building high-quality, relevant, dofollow links. Then they are sure to provide SEO value." - Adriana Stein, multi-language marketing & SEO consultant, Founder & CEO at AS Marketing.
With that clear, let's move on to the tactics to help you increase link equity.
P. S. We will be talking about specific white-hat link building strategies. If you want to learn more, make sure to give our more extensive guide a read.
4 Strategies for Building Valuable Link Equity
You already know that E-E-A-T is one of the top search engine ranking factors impacting link equity. And given its importance, we can deduce that you can potentially get more link juice to your page if it scores high in terms of experience, expertise, authoritativeness, and trustworthiness.
Here are four tactics you can add to your link building efforts to achieve that.
Strategy #1: Create High-Quality Content
The topic of quality content is ever-present in the field of digital marketing and search engine optimization. Google's own Trends tool reflects the topic's popularity over the last five years quite well: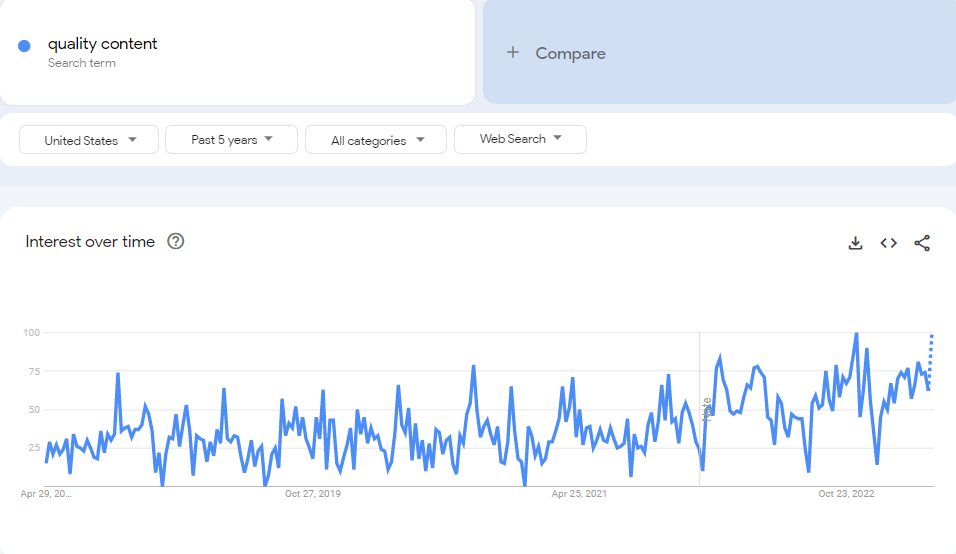 Quality Content search term popularity in Google Trends.
But what defines the quality of content?
If we turn to Google (after all, it's the one telling us about the importance of creating high-quality copies), we'll see the following adjectives describing quality:
Helpful

Reliable

People-first
However, there's far more behind it.
Content Marketing Institute quotes Doug Kessler from Velocity, saying content should resonate with the target audience to rank high in SERPs. This explains the people-first approach mentioned by Google.
Next, quoting other content marketing experts, GMI highlights the following qualities of good content. We've put them into clusters relating to the three characteristics named by Google.
Helpful:

educational, unique, detailed, actionable.

Reliable

: industry-first, transparent, properly tested, data-based.

People-first

: relevant, leveraging urgent buyer concerns, segmented, incorporating cultural elements, engaging.
Here are some more helpful insights:
«In defining content quality for search engine ranking, the crux lies in showcasing personal expertise on the subject and offering sufficient detail to fulfill the reader's intent. This often involves incorporating case studies and anecdotes within crucial content areas, while presenting ample information to address their queries comprehensively.» — Kevin Rowe, Founder and Head of Strategy at PureLinq.
So, make sure your content possesses all these characteristics to generate more link juice.
?Tip: If you feel too overwhelmed by all these requirements, just ask yourself — would you post your content on your social media? Would you be proud to share it? Would you recommend it to other industry players? If yes, then you've got a good copy on your hands.
Strategy #2: Guest Posting
Let us be upfront about guest posts — your link building campaign should not rely solely on this strategy.
Here's why.
First of all, blasting all your link building budget into guest blogging may create a pattern that Google will consider spammy (see the statement in the screenshot below):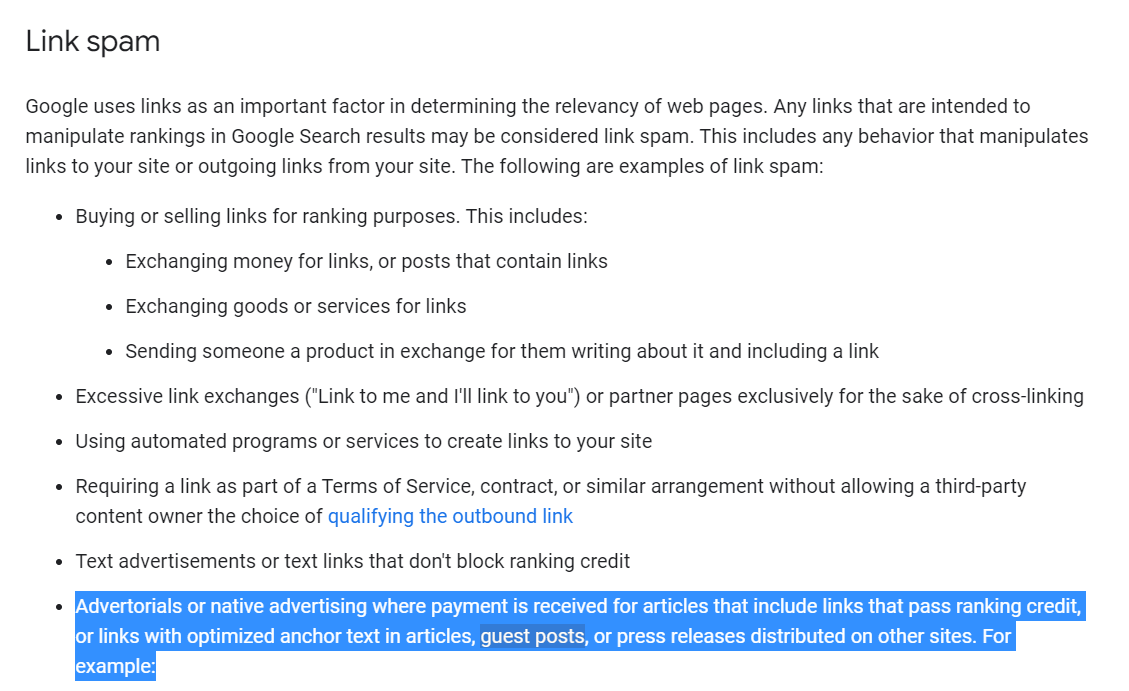 Google advises against paid guest posts.
So, what would not go against Google's link spam policy?
In the right understanding of it, a guest post should be written by a true expert in their field (guest posts still should comply with all the E-E-A-T requirements). And such an article is rare to come by.
And if you do decide to get someone to write an expert quote, the prices won't be pretty. Top copywriters in the U.S. can charge up to $ 125 an hour, so the post can end up costing over $ 500.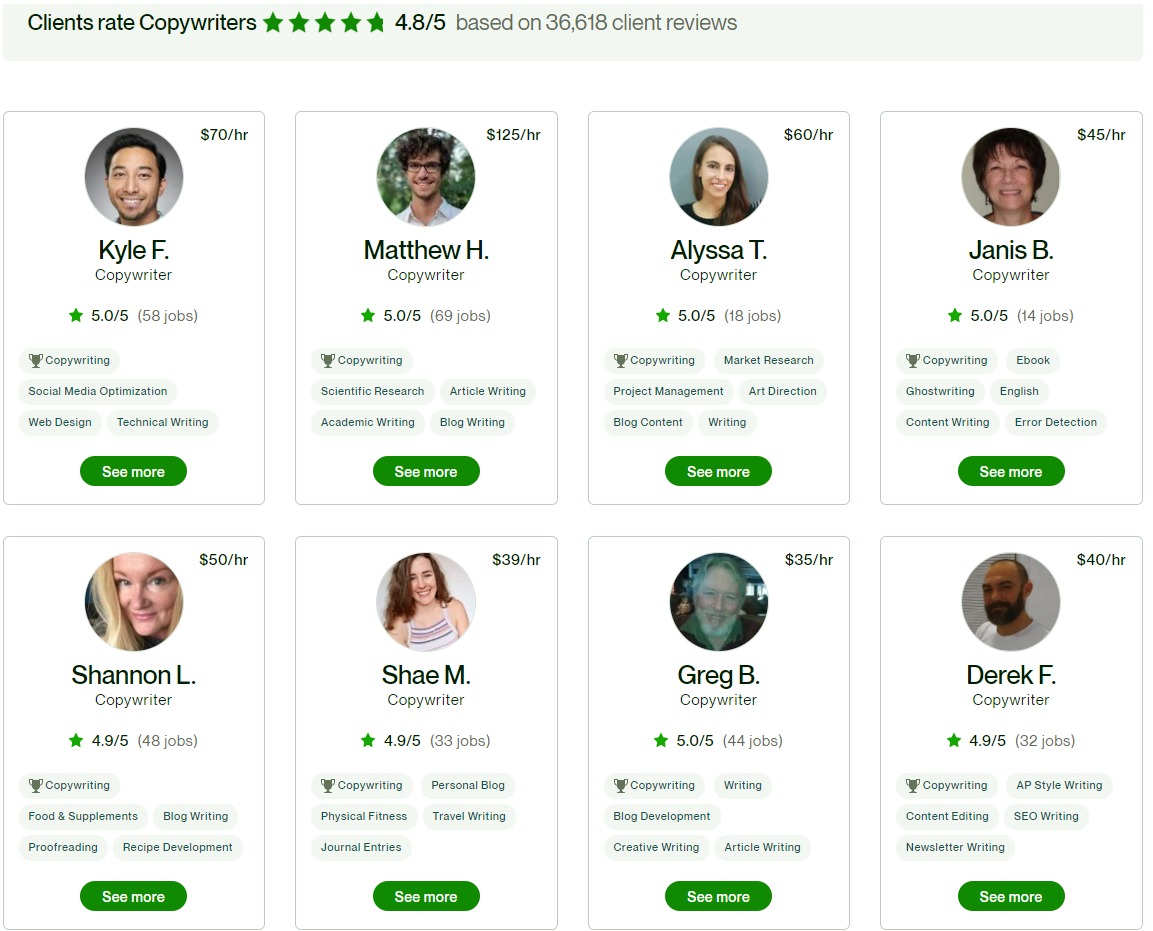 How much Upwork copywriters charge per hour.
As we've mentioned earlier, if you want to effectively build link equity, you need really good content, and guest posts are no exception. So, if you still want to try this strategy, make sure your content is top-notch, exclusive, and unique — that's what will make your guest post link-worthy.
Strategy #3: Broken Link Building
A very common situation: you're looking up a particular search term, and right on the first page, you see a website with the exact information you need. You click on it, and — bummer — the page returns the 404 code.
When something like this happens, it means the link is broken, and you, as a searcher, cannot access any information on it.
But one man's loss is another man's gain.
Here, you can take advantage of a strategy called broken link building.
Essentially, when you find a dead page on the web, and if its content corresponds to a working page on your site, you can ask people linking to that page to link back to yours instead. Or, you can create better content and follow the same algorithm.
To look up content on a 404 page, you can use Wayback Machine — it's sort of a web archive. Ahrefs' Best By Links also shows you the links your competitors have lost.

Ahrefs' Best By Links report.
However, beware that broken link building has its limitations.
First of all, not every dead page will have good backlinks. So, you'll have to run an analysis, evaluate metrics (such as domain authority / domain rating and traffic) of every option you find and make sure they are relevant to your website.
Also, you need to understand why people linked to the broken page in the first page — you'll need this information when approaching prospects about replacing a broken link to yours.
To sum up, this strategy is indeed worth your time, but you have to be picky about your opportunities.
Strategy #4: Monitor Competitor's Backlinks
Broken link building is already one of the options to monitor your competitor's backlinks, but you can also employ other strategies to beat your rivals to the top.
First, you can go through all your competitor's backlinks to see what websites or pages refer to them. This option is available via Ahrefs' Site Explorer➡️Backlinks reports.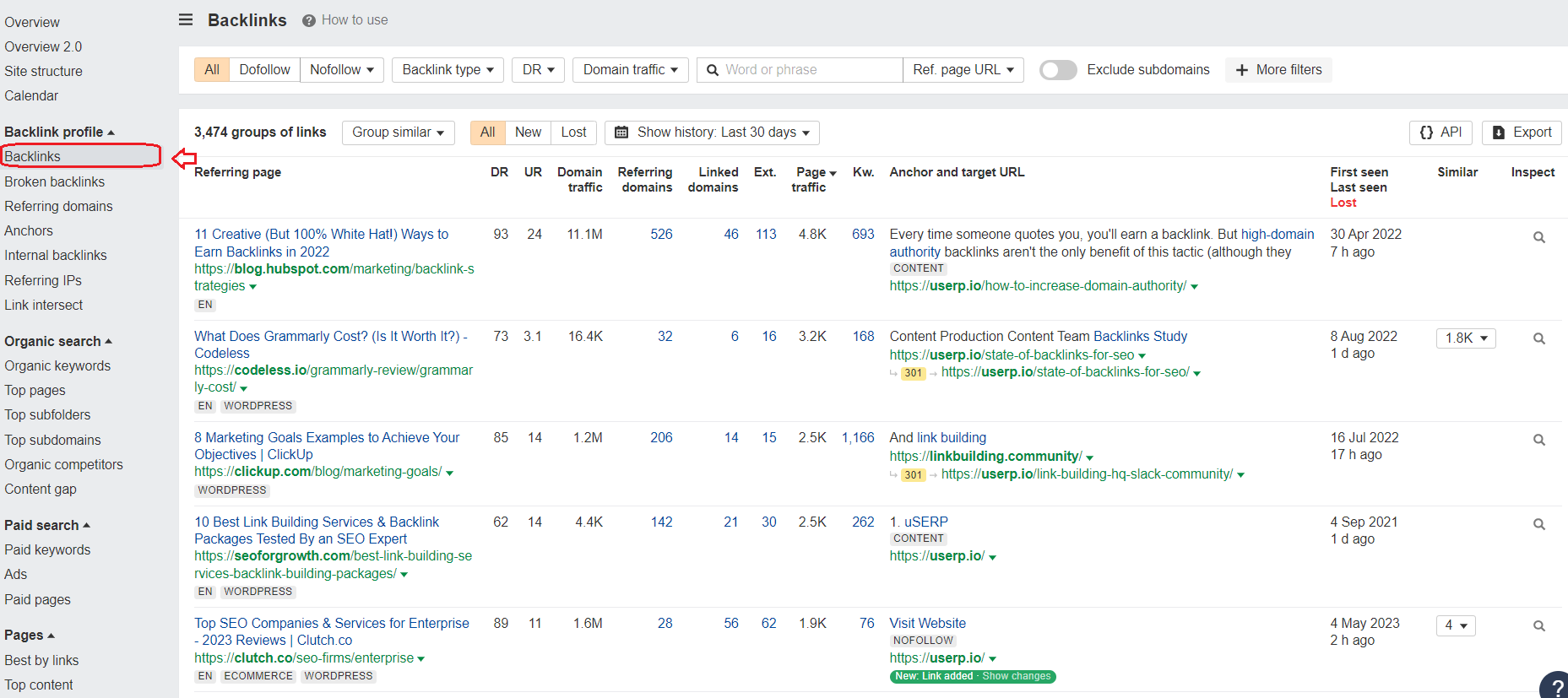 Use Site Explorer and Backlinks report to monitor your rival's backlink profile.
Next, you can scan through the results to find websites of interest, contact the editors and offer your web pages as a backlink alternative. You can justify your offer by saying that your content is superior to your competitor's in some way — unique angle, original research, etc.
Another option is, of course, backlink gap analysis.
With its help, you can find relevant link building prospects by comparing your backlink profile to your competitors' ones.
This analysis is available via Ahrefs' link intersect analysis tool.
Essentially, you need to insert competing websites that your prospects of interest link to but do not refer to yours. Next, you'll see the following report: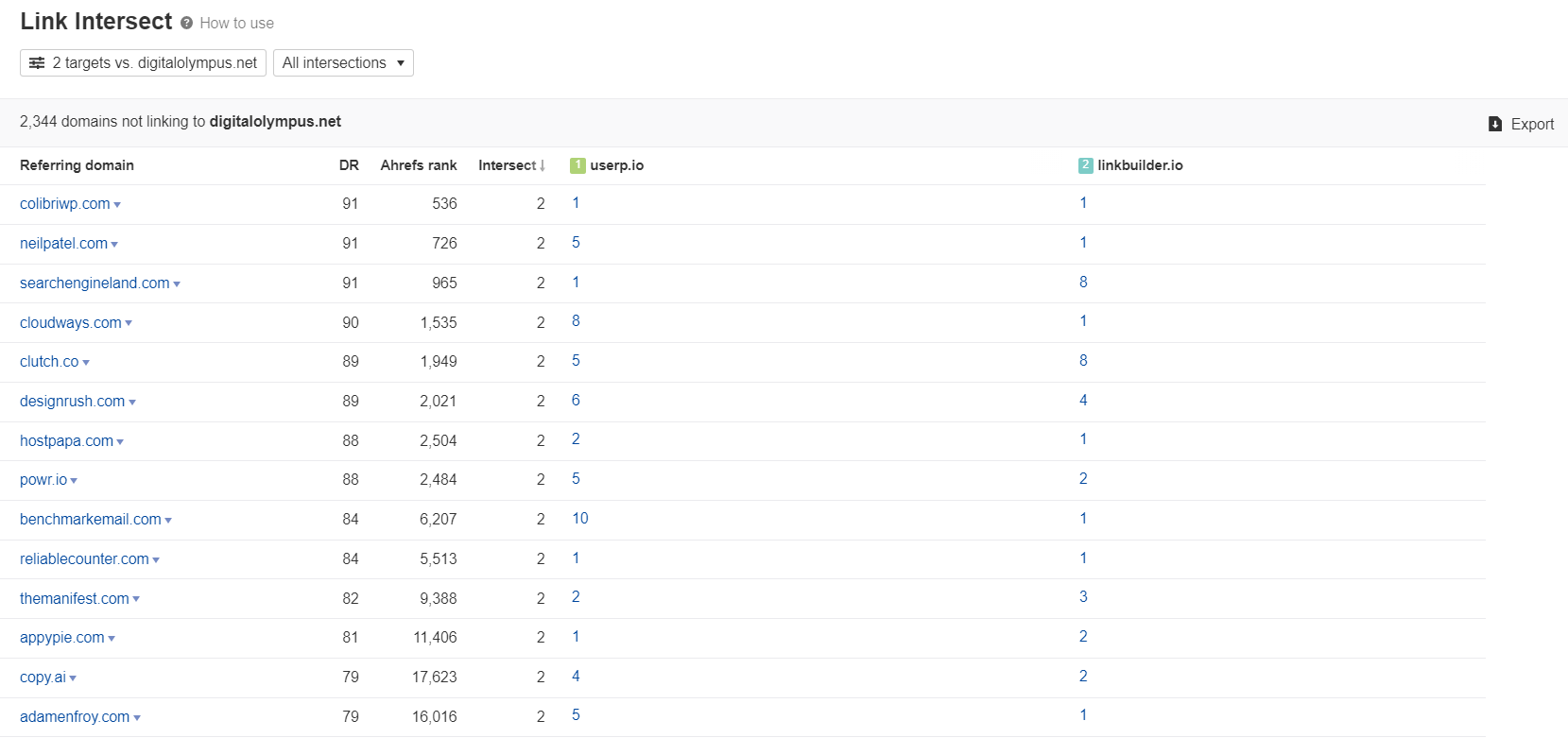 Ahrefs' link intersect checker tool.
Next, you can evaluate the results by clicking on the caret near each website to see the context in which the link has been placed. Select the most relevant ones and start reaching out to prospects.
Now Over to You
So, what's the key to building the juiciest links?
Let's recap.
Creating high-quality content should be your #1 priority. The content should preferably offer insights unique to your industry and niche or original research offering high-value ideas to your peers.

Contributing guest posts can be a strong strategy, but make sure these are expert articles, not some wish-wash.

Give broken link building a chance. Sure, it's a bit time-consuming, but it's worth a try if you want to find relevant prospects.

Keep a close eye on your competitors' backlink profiles and run an occasional backlink gap analysis — another reliable tactic to find link building prospects.
Need help with building juicy links back to your pages?
Connect with our senior link building manager, we'll take care of your link building needs!