At first sight, link prospecting might look like yet another unimportant task that SEO experts do as part of their link building strategy.
But the truth is far from that, as link prospecting can make or break your link building efforts, depending on how well you have executed it.
If you have questions about link prospecting and want to make sure that you are doing it right, then you are in the right place.
What Is Link Prospecting?
Link prospecting is the process of identifying websites where you would like to place a backlink to your website. You can divide link prospecting into two main steps — gathering a list of websites from various sources, then filtering for those that match your criteria and are relevant to you.
As a result, you should have a curated list of websites where:
You are likely to place your backlink.

Your backlink will be relevant and valuable to the readers.

The readers match your target audience.
While we gave you an overview of what link prospecting is about, your understanding of it will still be incomplete if we don't point out its benefits and the value it adds to the link building process.
Why Is Link Prospecting Important?
Link prospecting is important because it ensures that the backlinks you will eventually build come from relevant websites with a high level of authority in the eyes of search engines.
As we mentioned, during the link prospecting process, SEO specialists reach out to websites where they want to get links, building their list of prospects. If this process fails and the final list of contacts is no good, then you are facing a number of risks, including:
Reaching out to websites that are not interested in you and are very likely to reject your offer. In this case, you are wasting your digital marketing team's time and resources.

Ending up with bad quality backlinks that come from low authority sites, the ones with irrelevant pieces of content, or both at the same time.
On the contrary, with a well-delivered prospect list, you will enjoy the following benefits:
Significantly reduce the hours spent on personalization

(

it's usually the most time-consuming activity in link building).

Get in touch with more websites that might actually be interested in your pitch and happily collaborate with you, thus increasing the number of backlinks you get from a single outreach.
Despite all these benefits, some teams prefer not to spend their resources on acquiring links organically. This is considered spammy as paid links violate Google's webmaster guidelines and generally have very low quality.
To conclude, the chances of your campaign generating links are low without a well-delivered link prospecting stage. Thus, you need to consider investing enough resources in link prospecting to increase the quantity and quality of your backlinks and decrease your resource waste.
Now let's move on to discussing the common tactics that SEO experts use for their link prospecting efforts.
How to Get Prospects for Link Building in 5 Easy Ways
Link prospecting can be either easy and quick or daunting and time-consuming, depending on how you do it. The quality of the outcome depends on the tactic you use.
If you do online research and look for prospecting tactics, you will end up with dozens of different ideas, tricks, and processes that you can try.
But you probably do not have the time and resources to try them individually and understand which one is working and which is not. You might not want to risk wasting your resources on tactics that are not working.
To save you time and effort, we have compiled a list of tried and tested tactics you can confidently add to your link-building strategies.
Way #1: Find which sites link back to your competitors
Competitor analysis (including looking at competitor backlink profiles) is crucial for every SEO aspect. For link prospecting, one of the quickest ways to start is to use your competitor analysis data and the list of domains referring to your competition.
If these websites already have your competitors' backlinks, it indicates that:
Their niche and content are relevant to you.

They are likely to accept the offer as they have already done it once with your rival.

They are likely to be high-quality sites, as your competitor has probably reached out to them after doing their own prospecting and filtering out low-authority sites.
You begin this process by identifying your competitors. You can either do it manually by searching for relevant terms on Google and other search engines or use relevant link prospecting tools like Semrush or Ahrefs that can provide you with a list of your competitors.
For instance, here are two reports from Semrush showing your competitors along with your position among them:

In either case, as soon as you have identified your competition, you can move on to analyzing their link profile and list of referring domains.
Ahrefs offers the Link Intersect tool that enables you to put together a list of referring domains across as many rivals as you want. Also, it allows you to exclude the sites already referring to you.
Here's how it works: first, you need to add links to competing websites and insert the URL to yours below: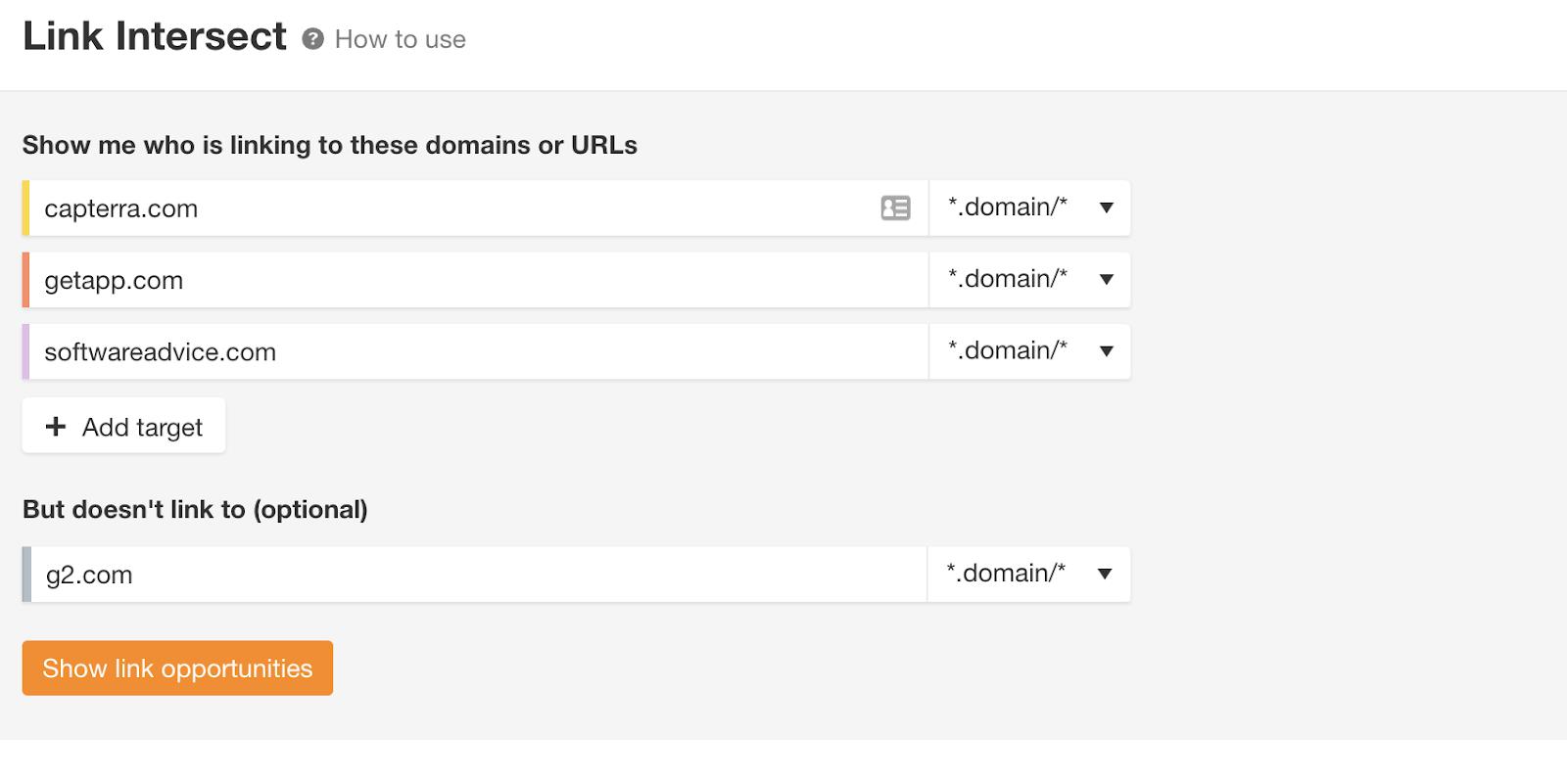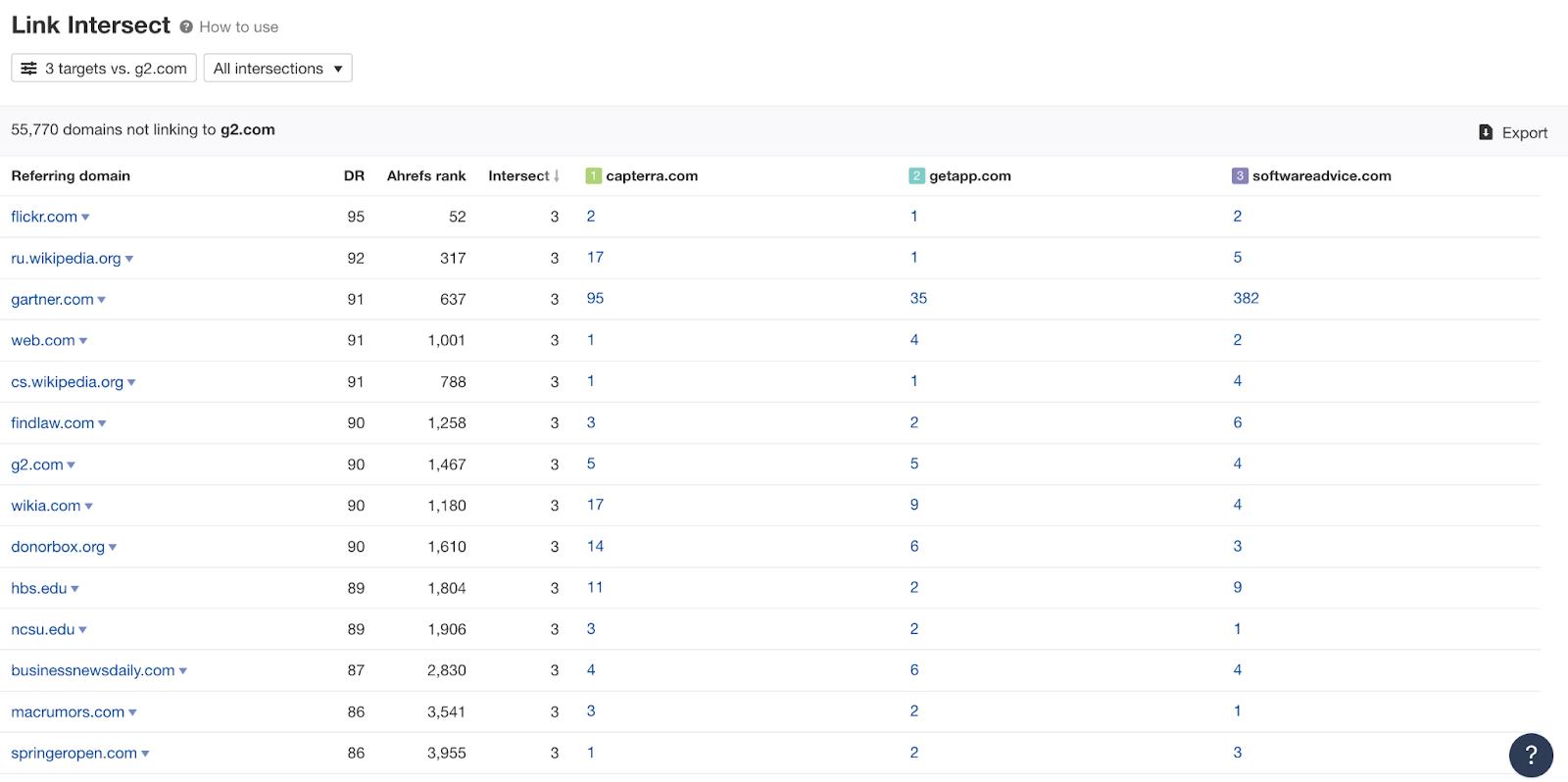 Moving forward, you can prioritize the sites linking to all rivals since the chances of getting links from them are higher than from any other site.
Another option available on Ahrefs is to look through the newly acquired links your competitor obtained within a given time period (you can change it based on your preferences):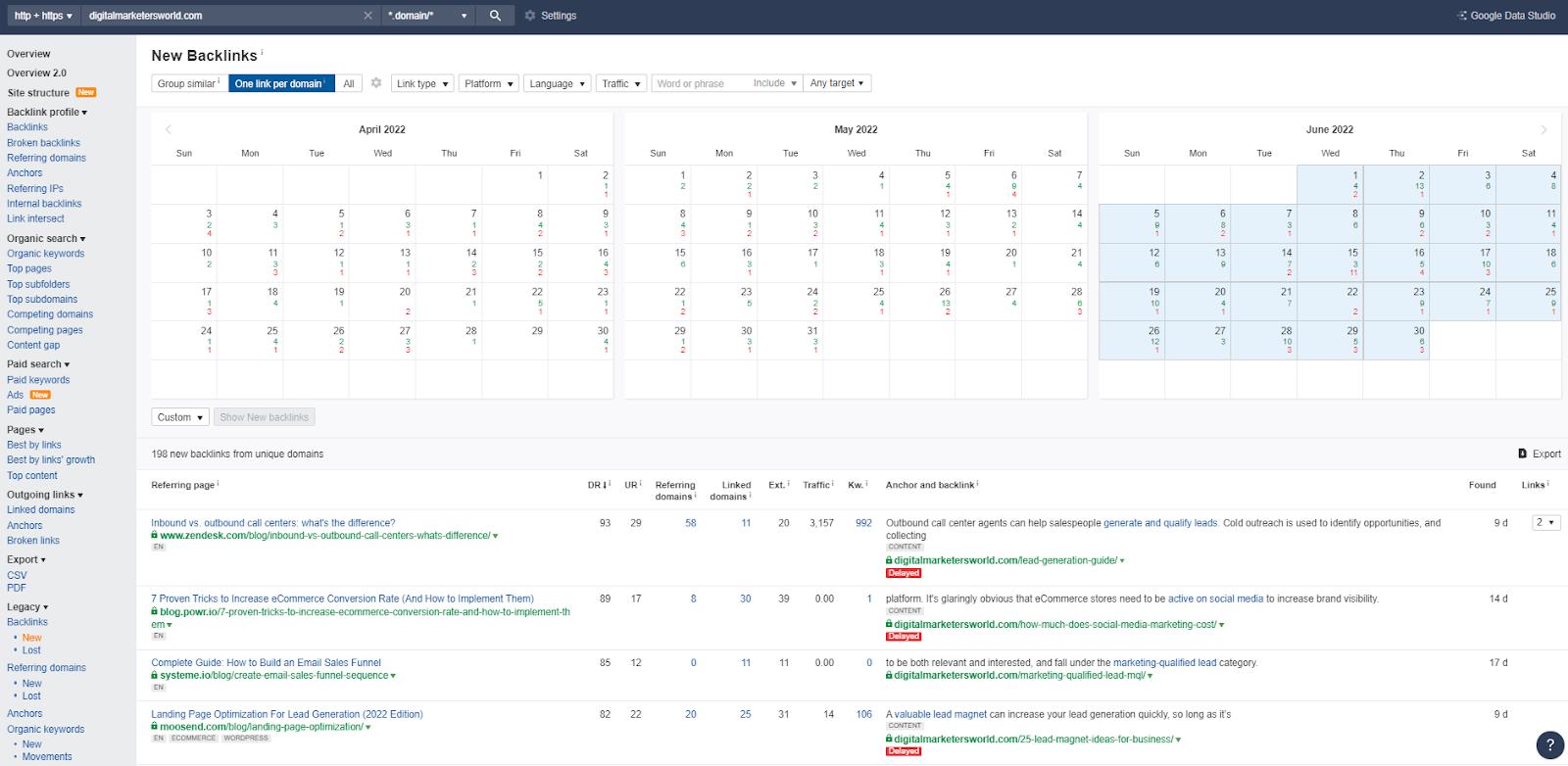 If you have content that's better than what these websites have linked to, you can reach out to them, offering your content as a more fitting, high-quality substitute.
Way #2: Contact your vendors, suppliers, and existing business partners
One link-building opportunity that business owners and digital marketers often overlook is the network they have already built as part of their regular business activities.
This network comprises:
Your vendors and suppliers:

the companies and organizations providing you with services for your business operations. For instance, if you are an online shop for sports apparel and buy shoes from another company, why not ask them to give you a backlink on their site?

The organizations, associations, and communities you are a member of

: it is common for many companies to become members of their niche associations and similar organizations. For example, if you are a SaaS software company, you might be part of the Open Source Initiative, and you can ask them to mention your company on their website.
Some business owners also take advantage of their business network and personal acquaintances to reach out to relevant websites and ask them for a backlink.
«Social networking is a number one tactic for getting new backlinks! Join link building Facebook groups and follow various link builders on Twitter to unlock the opportunity to participate in link exchanges or guest posts. This way, you can get high-quality links for free or offer exchange promotion for backlinks.» — Joey Trend, CEO of Hum JAM & Link Building Expert
Way #3: Look for unlinked brand mentions
Finding unlinked brand mentions is another underrated tactic that can help you with link prospecting.
Sometimes websites will only mention your brand in the text without putting any link to your site. So, it's a good opportunity to reach out to them and ask for a link, and the chances are high that they will do that, considering they have already cited you in their content.
However, note that not all brand mentions can be turned into links since some sites are not adding links on purpose.
In terms of prospecting these brand mentions, again, you have two options —manual and automated.
Manual prospecting of unlinked brand mentions: The manual approach involves using Google search operators to find your brand name inside the text, ignoring your own publications.
Here is what the search query looks like for Google search.
intext: «digital Olympus» -site:digitalolympus.net or -site:twitter.com or -site:facebook.com or -site:linkedin.com
We have mentioned our own website along with three social networks, but you can add as many sites as you need.
By running this query, we will quickly find web pages that mention our brand but don't link back to it.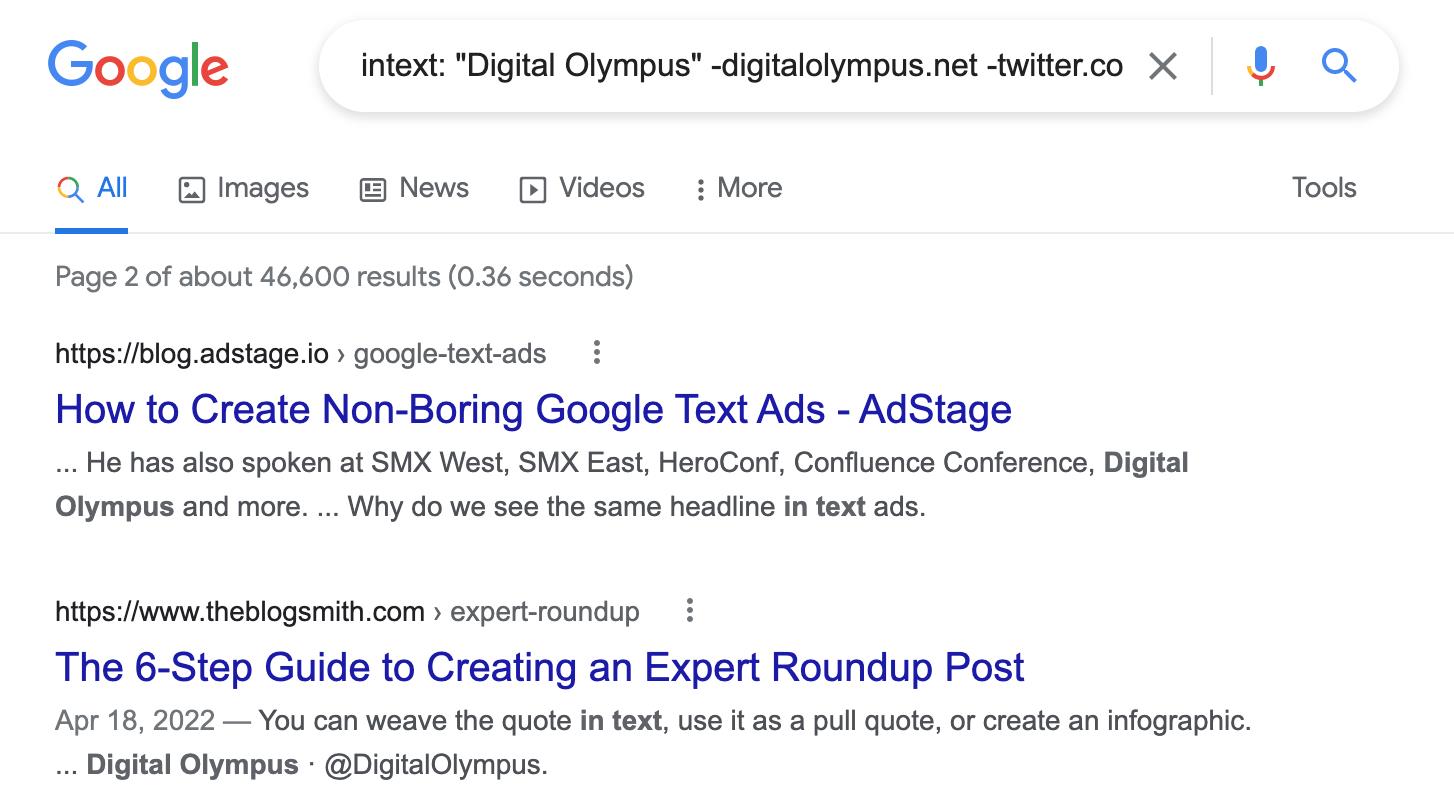 To make things easier, I recommend using the SEOQuake plugin that allows you to export SERPs: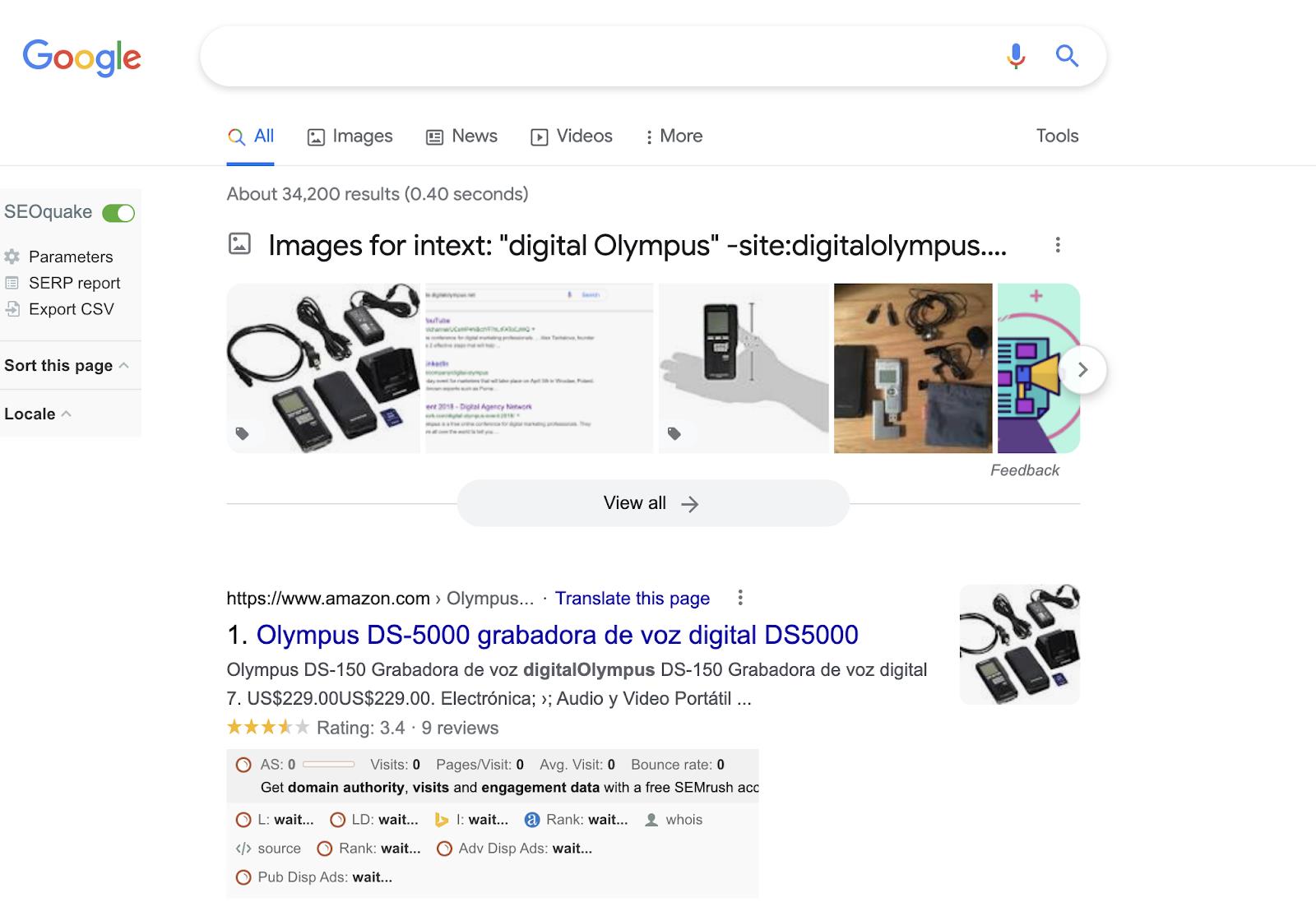 SEO tools for monitoring unlinked brand mentions: Luckily, the internet is full of research tools for digital marketing, including those that can help manage link prospecting.
These tools help you automatically monitor the internet for your brand mentions, find those that do not have backlinks and report them to you.
A good example of such tools is Brand Monitoring, which is part of the Semrush suite.
Other than finding the unlinked mentions, brand monitoring also lets you filter results and take action on them, such as exporting the list and passing the contacts to the link-building tool of Semrush.
Way #4: Do a reverse image search
If you have used original images on your website, you hold the copyrights to them, and no other website or resource can use them without your permission. In theory.
In reality, many websites can use your images without letting you know. If you have found such a case, you can either request them to remove the image or take advantage of the situation and ask for a backlink that mentions your website as the original source of the image.
The chances are high that webmasters who have used your images without permission will prefer to add an outgoing link instead of removing them and having to look for alternative ones.
Thus, the unauthorized usage of your images becomes another tactic to prospect websites for link building.
To find the websites that have used your images, you can take advantage of the reverse image search feature many search engines provide. Here is what it looks like on Google.

For a reverse image search, you have two options:
Provide the image URL

(

right-click on any image and click on «Copy image address» to get its URL).

Upload the image from your computer or smartphone.
In both cases, Google will search the internet and find the websites that have used your content.
Besides Google, there are also specialized reverse image search tools, such as TinEye.
Way #5: Find relevant resource pages
The final tactic we will discuss today is using relevant resource pages and directories.
Resource pages are usually curated lists of external links. These pages serve the purpose of «yellow pages» for their respective niches.
Here is what a typical resource page looks like for a law firm.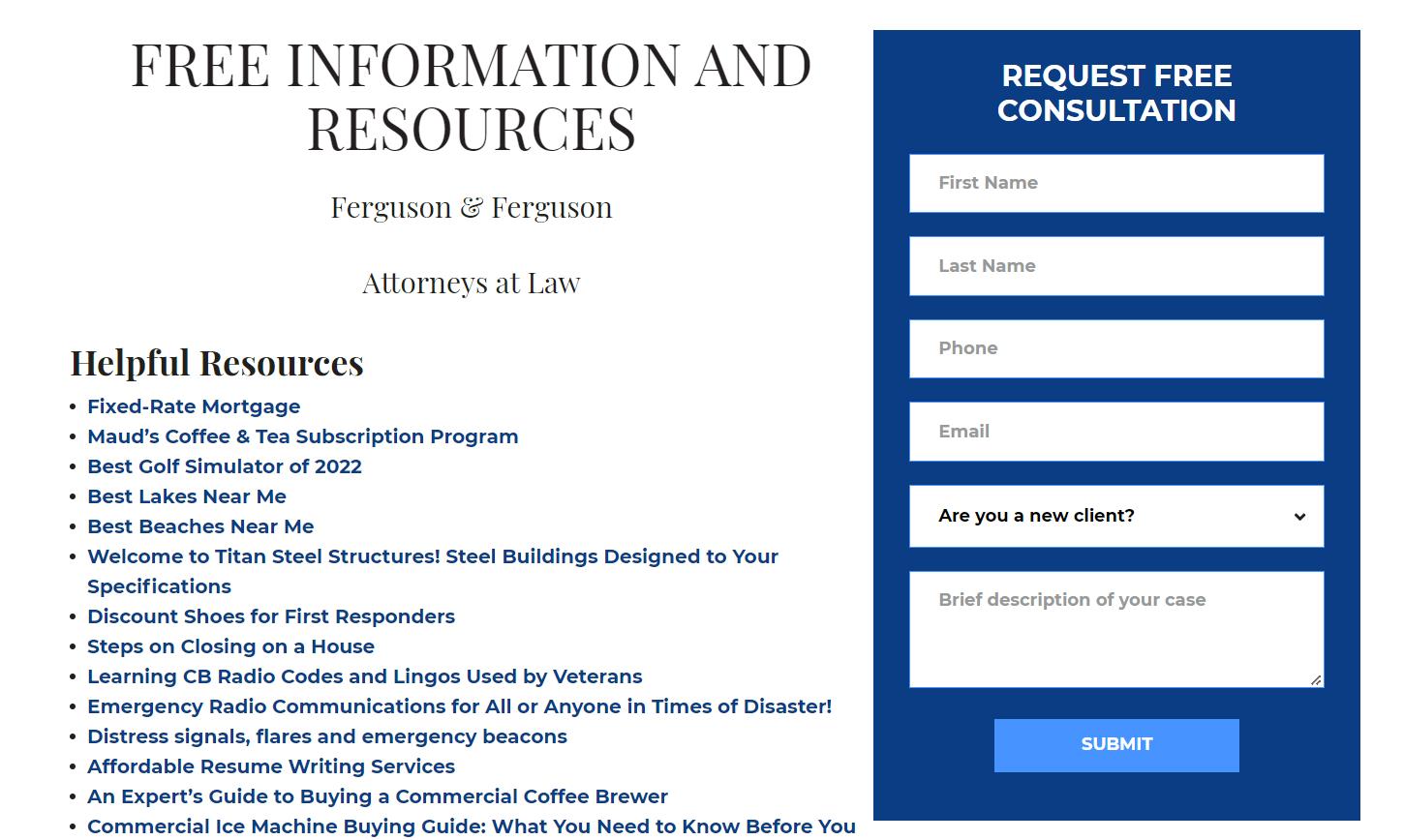 Image Source: Ferguson & Ferguson
Resource pages are a great option for prospecting for two reasons:
They are eager to add your backlink and description, as it enriches their page.

These backlinks are highly relevant

(

assuming you have reached out to resource pages within your niche).
In terms of finding these resource pages, we again turn to the advanced search operators and Google.
Here are some common terms you can use to find these pages.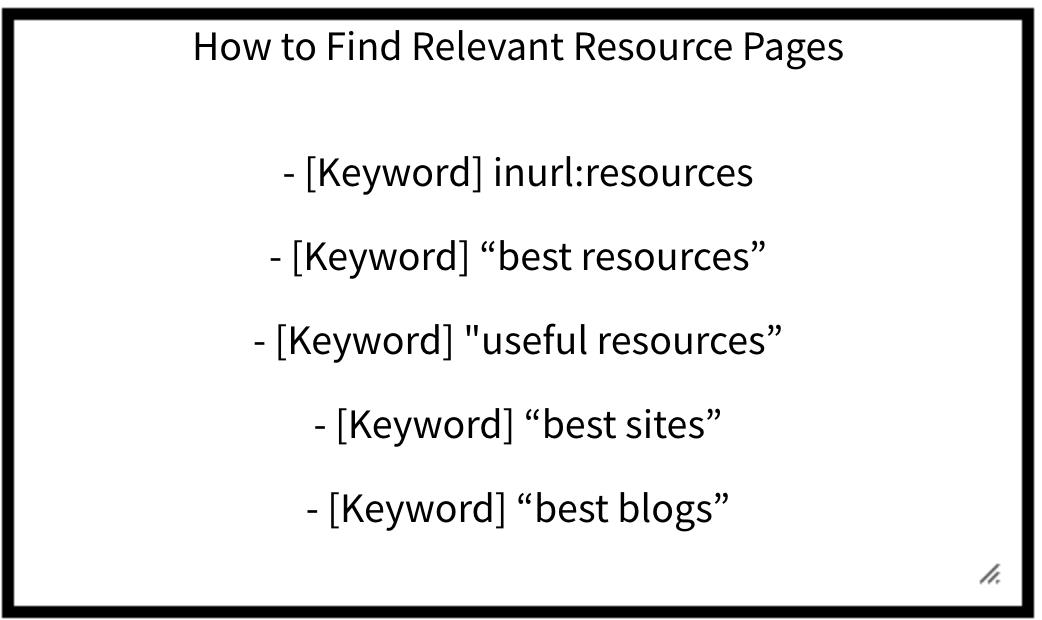 You can also consider other terms, such as «learn more,» «additional resources,» as well as intitle search and inurl search.
Alternatively, you can take advantage of PitchBox, an email outreach tool, to scrape the internet for relevant resource pages along with contacts to whom you can send your pitches.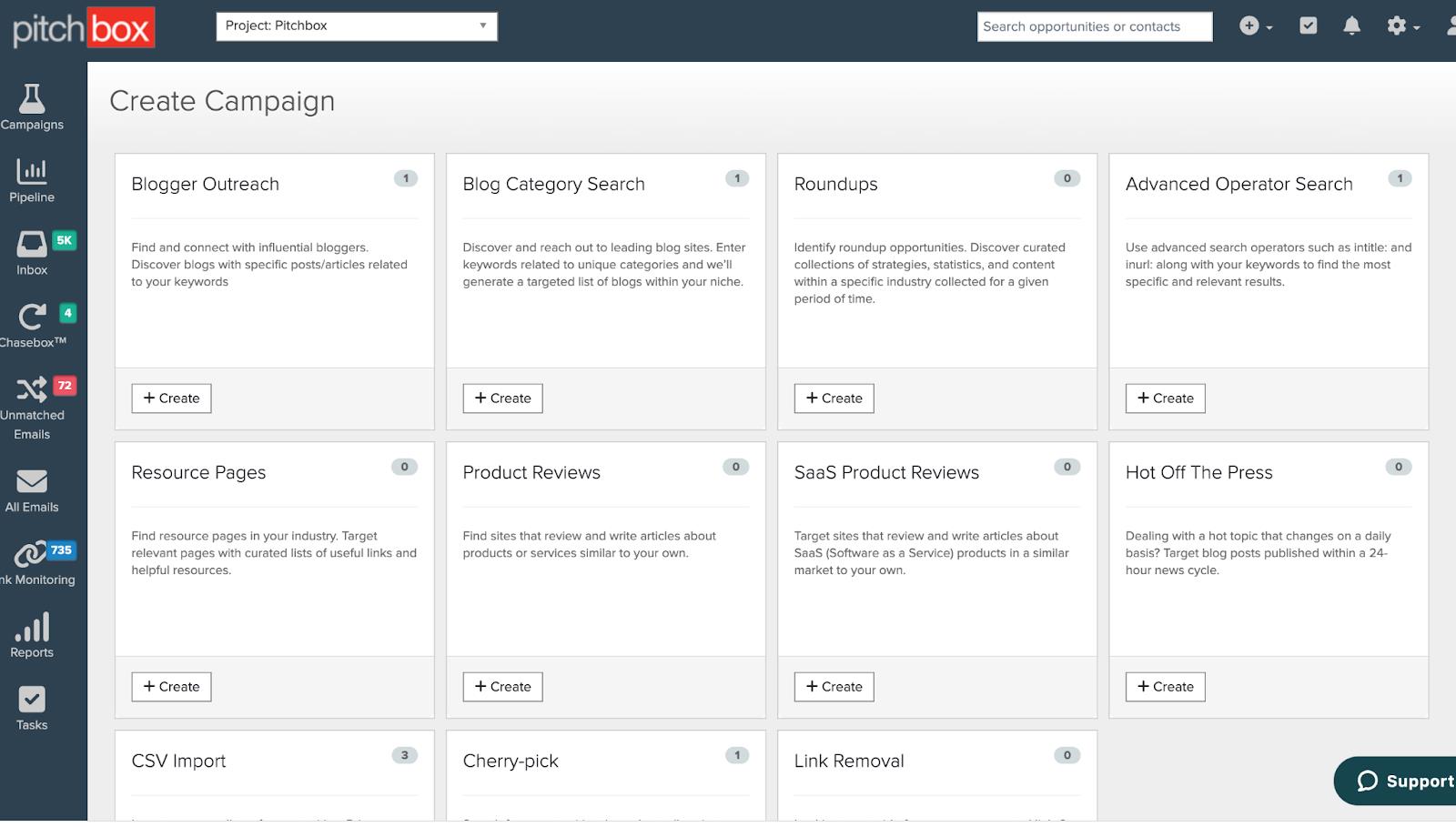 To summarize, these are five «battle-hardened» tactics proven to help you increase the quality and relevance of websites in your link prospect list.
But we will not stop here; there is also another effective process for link prospecting that we want to share with you.
A Simple 4-Step Link Prospecting Process
Using effective prospecting tactics is only part of the job. Keeping your prospecting activities organized is essential, too, as it will help you eliminate waste and save your marketing team valuable time.
The process we want to present to you is lightweight and easy to implement, consisting of only four simple steps.
Here is what these steps look like.
Step #1: Determine how you are going to get prospects
We gave you 5 types of link prospecting. In addition to those, you might have your own tactics, too. But which ones should you use to start?
Your choice of tactics depends on where your website or product is in its lifecycle and the market. For instance, if you have a new website, you might not find any unlinked mentions as few people know about your brand. On the other hand, your partners and organizations might be happy to support a startup.
Step #2: Create a list of prospects
This step seems very obvious — just put your list in an Excel sheet, right? Hold on, there is one valuable tip that we want to give you here.
Other than keeping a generalized list of link opportunities, make sure that you are also storing additional data such as:
the nature of the site

(

reach out only to sites that represent real businesses)
domain authority or domain rating

(

which are the same metrics but different tools use one term or the other)
organic keywords

(

the main source of organic traffic should be relevant to your business geolocation)
This data can also include anything else you might use in later stages to evaluate these prospects and filter out the most valuable ones.
«Before doing any link prospection, it's key to analyze how natural your current backlink profile is to know whether you are sending the right signals to search engines, as this is what search engines are mostly looking for. Some criteria I use are topic relevancy, domain authority or whether any of these links pose any risk to the website. Then, I compare the data to competitors and use this information to choose relevant link prospects for my site. In doing so, I create a list of sites I may receive beneficial links from.» — Montserrat Cano, International SEO & Digital Marketing Expert
Step #3: Find their contact information
Up next, you need to find a relevant site contact for each prospect to reach out to them.
SEO experts usually use tools such as Hunter or Apollo (that we prefer to use at Digital Olympus) or do advanced Google search with wildcard operators such as *@domain.com. Finally, if you use an email outreach tool like PitchBox, you don't need to search for this information since they give you a list of contacts associated with each site.
Step #4: Create
(

and send) your outreach email

The final step is to compose an offer for your prospects and send them an email.

Every outreach email starts with a well-composed template. You need to make sure that your template not only distinctly indicates what you want from your prospect (e.g., high-quality dofollow links) but also properly conveys the value (e.g., guest blogging) they will get from the collaboration with you.

A winning template should be short and give a solid reason why they have to link back to your site. Some of the options you can offer them include:
Providing them with something in return.

Promoting their content across your channels.

Sending them some brand swag.

Featuring them in your newsletter.
This value proposition, in fact, is one of the most important parts of your pitch. If you can't offer anything in return, you're just begging for links, which decreases your chances of getting anything.
That's it, only four simple steps to organize your link prospecting activities under a lightweight process.
Let's move on to the final part of our guide and put a cherry on the icing in the form of a couple of link prospector tips.
3 Practical Link Building Prospecting Tips
Here are some link-building prospecting tips to help you get the most out of your prospecting activities.
Tip #1: Personalization is key in outreach
When we speak about outreaching, the single most important piece of advice would be to personalize as much as possible.
Personalization is a key trend in digital marketing. Research by McKinsey & Company has found that the use of personalization in marketing can lead to up to 40% increased revenue.
Assuming that you have gathered all the necessary data about your prospects, you can personalize their outreach emails by:
Mentioning their name and position.

Casually talking about their country or city in the message.

Personalizing the topic and pitch based on the exact niche and the area of interest of the website in question.
With a personalized message template ready, you can move on to filtering the possibilities to find the best websites and bloggers among your list of link prospects.
Tip #2: Always evaluate your link prospects
To be sure that you are spending your time and efforts on the most valuable websites, you can shortlist your prospects based on specific criteria you have defined in advance.
«Great link building is about value, not volume. To deliver value to an audience, you need to create high-quality content that publishers want to link to. Then, seek out relevant pages on trustworthy websites that could benefit by linking to your content.» — Jonas Sicker, SEO Manager at Terakeet
At Digital Olympus, we look at a combination of factors when it comes to building the best-of-the-best links:
A site should represent a legitimate brand.

(

We try to focus more on building links on SaaS blogs.)
A decent flow of organic traffic from EN-speaking countries

(

with no fewer than 1k visitors per month).

A domain rating of not less than 30.

A healthy anchor profile.
As soon as your shortlist based on these criteria is ready, you can go ahead with your outreach, but make sure it is not your only tactic.
Tip #3: Don't stick to just one tactic
By using only one tactic for link prospecting, you are facing a couple of risks. In particular:
There might be more effective tactics that you are ignoring.

Your current tactic might stop working at some point and catch you by surprise.
Thus, the best practice is to experiment continuously with new tactics and use several of them at the same time to diversify your risks. Thanks to tools like Pitchbox, you can set up various campaigns and easily compare their performance.
Above, we can see an example list of campaigns along with their performance metrics.
Now Over to You
Link prospecting is a highly-valuable activity that can help SEO teams significantly increase the quality and relevance of the backlinks they are building as well as reduce the time wasted on reaching out to low-quality prospects.
We hope our guide has shed some light on this process and helped you develop the best link prospecting strategy for yourself.
If you need more information on digital marketing, check out our blog for more content about link building and other topics that you might find interesting.