If you treat link building only as a means for acquiring links to influence search engine rankings, you're doing it wrong. We at Digital Olympus also use link building to foster warm connections with prospective clients and flood targeted pages with referral traffic.
Curious to know the details? Keep reading to uncover 6 effective link building strategies for lead generation.
Why Is Lead Generation Important?
Lead generation is a broad notion for any type of activity intended to attract new clients. Hence, lead generation translates into revenue growth and is important for any business that wants to grow and scale. Without leads, there would be no customers or clients to sell to.
Most times, B2B marketers associate lead generation with cold email outreach, paid advertising campaigns, and search engine optimization. Link building, in turn, is considered a supplementary SEO tool for boosting and organic traffic since high-quality backlinks are an essential Google search ranking factor. When in fact, link building is also an effective standalone lead generation method. Let's look into this.
How Can Link Building Affect Lead Generation?
Generally, link building is a way to get links to your site from other websites. When done correctly, backlinks help increase your site's visibility and ranking in the search engine results pages (SERPs) of search engines like Google, Bing, and Yahoo. They can also help improve your domain authority (DA/DR) and trustworthiness. All that leads to increased organic traffic and leads. But there's more to it than that.
Link building helps you reach new audiences that might not be aware of your brand or product. Here's how it works.
For example, we offer link building services and want to start working with the FinTech niche. To acquire first customers, we can do cold outreach, contact friends from that niche, run targeted ads, and do other digital marketing activities — or establish great relationships with decision makers from the get-go by tapping into link building and content marketing tactics combined.
To do so, you can capitalize on the following strategies (we'll detail each below):
Guest blogging

Expert round-ups

Collaborative high-quality content with decision makers

Broken links

Listicles embeds

Linkable assets
However, each tactic will be slightly modified for lead generation purposes. In a nutshell, your steps become:
Reach out to your target audience

Collect their POVs of a subject

Deliver outstanding content that bolsters your expertise and credibility

Find a way to continue communication with prospects and invite them to customer development calls with your executives.
You should also not forget about the role of content in all of this:
"Link building can help the pages of your site rank for organic search terms that can help to generate leads. But the success of the link building also depends in large part on the quality of the content that you'll be building backlinks to.

Helping content rank for words with high search intent is going to help generate more leads than ranking for terms with a lot of search volume but low search intent. So, if prioritizing lead generation in your link building efforts, be sure to focus on the content that can rank which is most closely tied to search intent. — Aaron Anderson, Founder & Lead Link Builder at Linkpitch.io.
Now, let's learn how to put together all that knowledge and develop a winning link building strategy for lead generation.
6 Strategies to Generate Leads Through Link Building
Let's examine each strategy in more detail and explain how it can attract high-quality backlinks and leads.
Strategy #1: Guest blogging
Guest blogging is an ancient link building tactic that has proven to bring prolific results from year to year. In a typical scenario, link builders resort to guest posting to acquire links from relevant blogs with a high DR.
First of all, you need to pay attention to the site you choose to get a link from via a guest post. Here are the points Tabby Farrar suggests taking into consideration:
1) Avoid any website that says they will charge you money for including links — these types of sites inevitably end up being penalized and not only will any link value be lost (if there ever was any) but your own site can be at risk of a knock-on penalty effect.

2) In the same vein, use your preferred SEO tools to review the site's backlinks, and ranking and estimated traffic history — here you can often see patterns of unnatural or spam linking, or evidence that the site has been affected by algorithm changes.

3) Only collaborate with a site that is topically relevant to your niche, and has a verifiable readership made up of people in your target audience.

4) Links from thought leadership article placements should only ever be branded homepage links, or links to expert informational resources. If you need product page links, your best bet is to pitch product press releases or seek out unique reviews from writers and editors who will talk about your product in return for honest feedback."— Tabby Farrar, Head of Content & Digital PR at Candour.
When you've got that covered, you can reverse engineer the traditional approach to guest blogging to build links for lead generation.
Thus, you'll first conduct a quick analysis of your winning web pages by referral traffic in Google Analytics. Second, you'll try to identify commonalities of those outlets alongside published content.
What you're going to do is:
Navigate to

Acquisition > All traffic > Referrals

and sort the User column or Goal conversion Rate to identify pages that send a lot of referral traffic with a high conversion rate.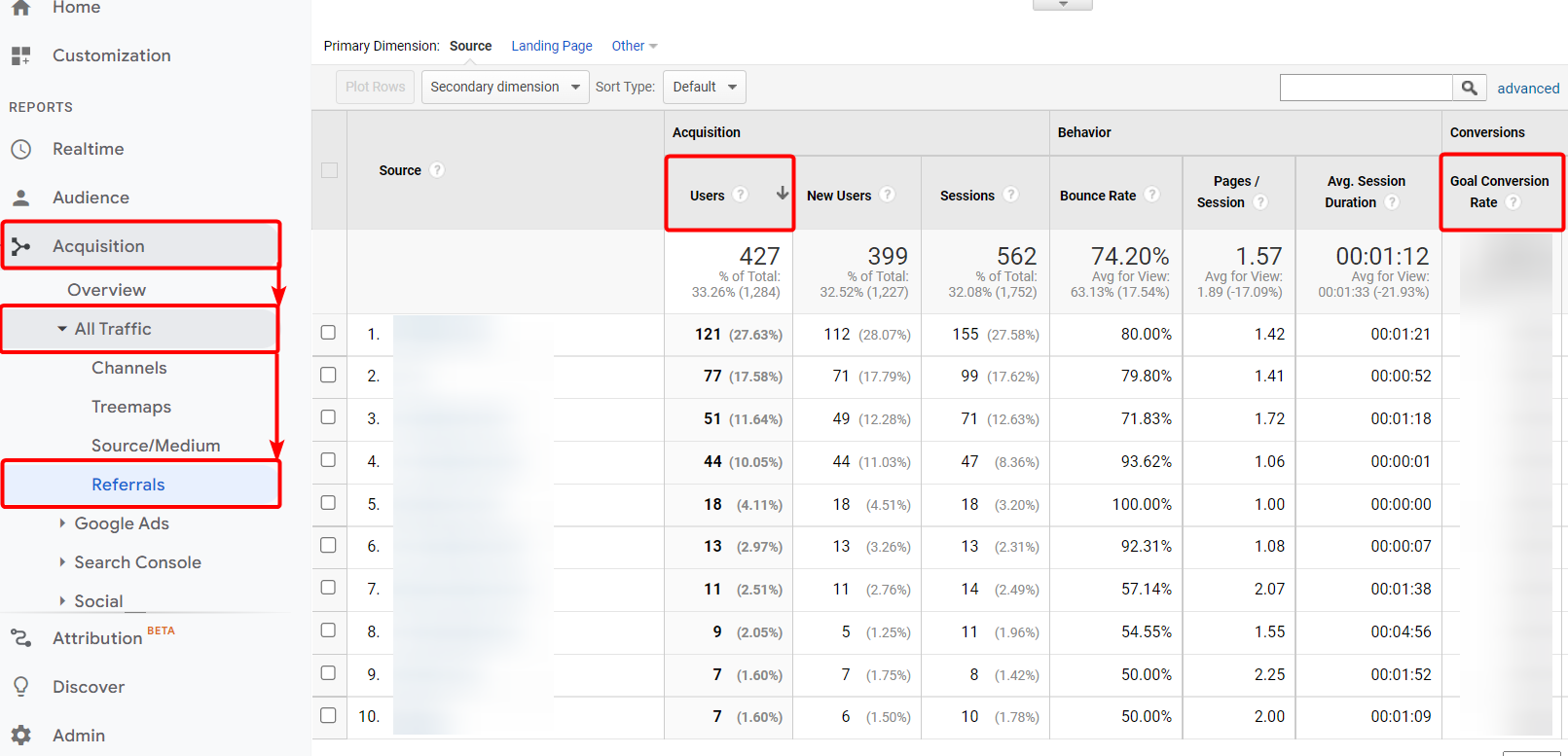 Identifying winning URLs by referral traffic and goal conversion rates in Google Analytics
Analyze most traffic pages. What content was published? Is that your byline or a well-known contributor? What is the DR of those sites? What are the rankings of those pages? Use this information to find similar media for building links to and offer similar content. This way, you target high-quality backlinks and referral traffic.
Here's one more tactic of how to harness guest blogging to increase referral traffic — pump up guest articles with backlinks. First, identify web pages (guest posts) that can send more referral traffic. To do so, analyze the rankings of the guest posts with high referral traffic. Open Ahrefs and paste those URLs in Site Explorer.
Then move to the Organic Keywords report. If you see that the page ranks for 6−20 positions by keywords with considerably high search volume, it's your sweet spot. Build a couple of links to this article to influence rankings and, therefore, get more referral traffic.

How to identify web pages with traffic growth potential
Of course, there's no guarantee this strategy will drastically increase the metrics, but the likelihood is high enough to give it a go.
Strategy #2: Expert round-ups
An expert round-up is a blog post where you ask a question to a group of experts in that field. The goal is to get a variety of opinions on a particular theme so that your readers can benefit from all the different points of view.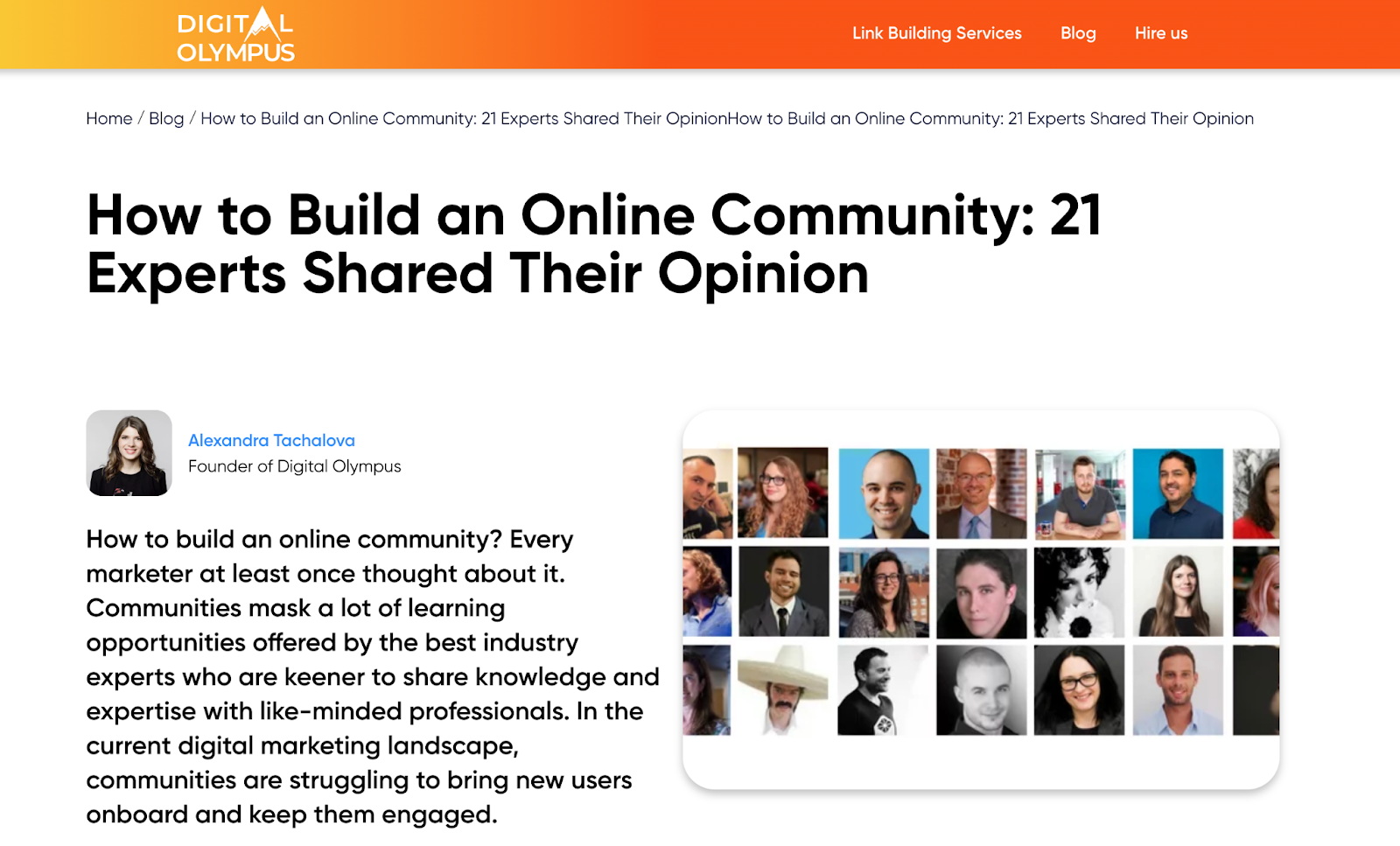 An example of an expert round-up
Expert round-ups are a great way to get high-quality links because you're featuring other experts in your field who will likely link back to your site in the future. Put scientifically, expert round-ups trigger reciprocity bias. Not only that, but when you feature SMEs (subject matter experts), you're also building relationships with them, from which you can benefit down the line by:
Establishing credibility with your brand

Boosting brand awareness

Converting participants into leads by conducting customer development interviews
You can also launch LinkedIn/Facebook Advertising Reach campaigns for expert round-ups to get more eyeballs on your content (i.e., fill your top of the funnel).
Strategy #3: Collaborative content with decision makers
Collaborative content is when you write a piece with people who can help you spread the word about your website/content. Influencer (or SME's) quotes embeds are the most widespread format of co-created content since content marketers want to get access to the influencers' audiences.
For link building, co-created content works the same way as expert round-ups. Mention someone once or twice, and they'll likely ask you for quotes or put a link to your site in their content in return.
To make it work for lead generation, you have to interview not influencers and bloggers with big audiences but relevant decision makers. This way, you write content tailored to your niche pain points and present a solution (your services) to decision makers (your potential leads). Further, you can reach out to them and offer customer development calls and chase this segment with Facebook/LinkedIn Brand Awareness campaigns.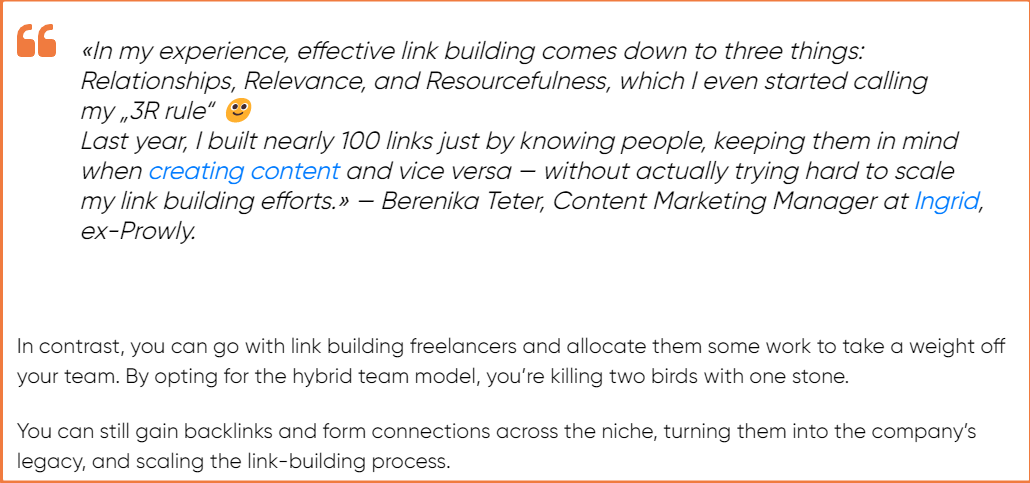 SME's quote embed
You can also call this method account-based content marketing.
Strategy #4: Listicles embeds
Listicles embeds refer to a link that's placed in the body of a listicle article that is already in the SERP. Simply put, the task is to update existing content that ranks for 1−20 positions by transactional keywords. This way, you populate the SERPs with your company mentions that ultimately leads to increased referral traffic and leads.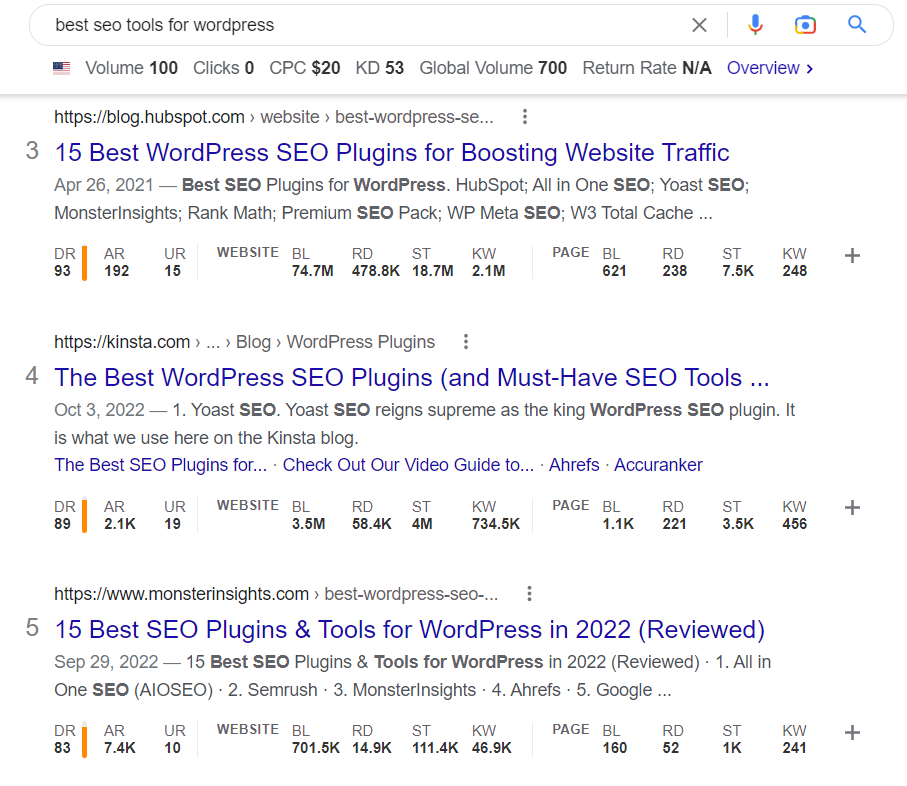 Listicle examples in Google search
The tactic works for any niche across B2C and B2B segments.
Follow these instructions to make it work:
Define your transactional keywords with a listicle potential

(

e.g.,

best tools for SEO, top link building agencies, best minimalistic restaurants in London for dinner

)

Scan the SERPs manually or with Ahrefs and export top-20 results

Examine each URL whether you've already mentioned in a piece

Find the webmaster/editor's contact information to reach to them

Prepare incentives for including your company on the list

Launch a personalized outreach campaign.
Watch out for the traffic trend of each website with a listicle where you want to get a backlink:
Of course it's great if the traffic is on the rise, but that's not the only thing to look for when considering a link potential. I always emphasize the importance of correlating traffic drops with Google Updates, because this can tell you a lot about a domain. If the numbers drop by 10%, 15%, but even 20% - it's natural. The problems may occur if the domain lost half of its traffic due to an update, as this can mean some black hat actions, or just poor site quality. But it's rarely an instant red flag, and I always double check the domain to see what could have been the problem."— Milosz Krasinski, International SEO Consultant.
Strategy #5: Broken links
Broken link building is a process of finding the most linked-to 404 pages on niche-relevant websites, then reaching out to webmasters who may not have otherwise known the link was broken and offering your link for replacement. This is a great way to get good links from authority websites while also providing value to the site owner. Plus, it's a relatively easy process that anyone can do with little time.
For a lead generation it contributes in two ways:
Reaching out to website owners and offering your backlink helps build relationships with potential customers. These relationships can then be leveraged for future sales opportunities.

The links you acquire through broken link building can help to improve your website's search engine ranking leading to more organic traffic.
Here's a short checklist on broken link building:
1) Use a tool like Screaming Frog to crawl the website and find all of the broken links or use Ahrefs's Best by links report and apply a «404 not found» filter to uncover the most linked-to broken pages.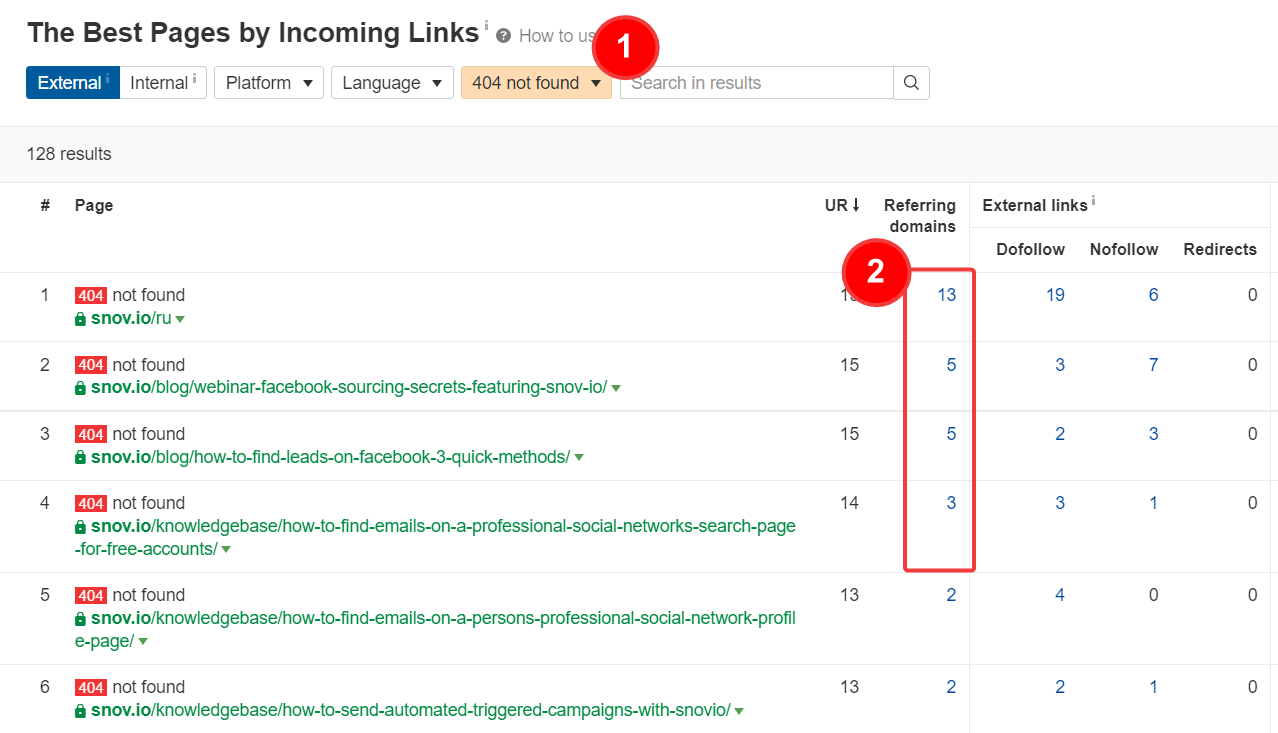 How to find broken links with Ahrefs
2) Export the list of broken links into a spreadsheet.
3) Analyze the content of dead pages with the Wayback machine and decide if you're willing to create a better piece to get webmasters to insert your link instead of the dead ones.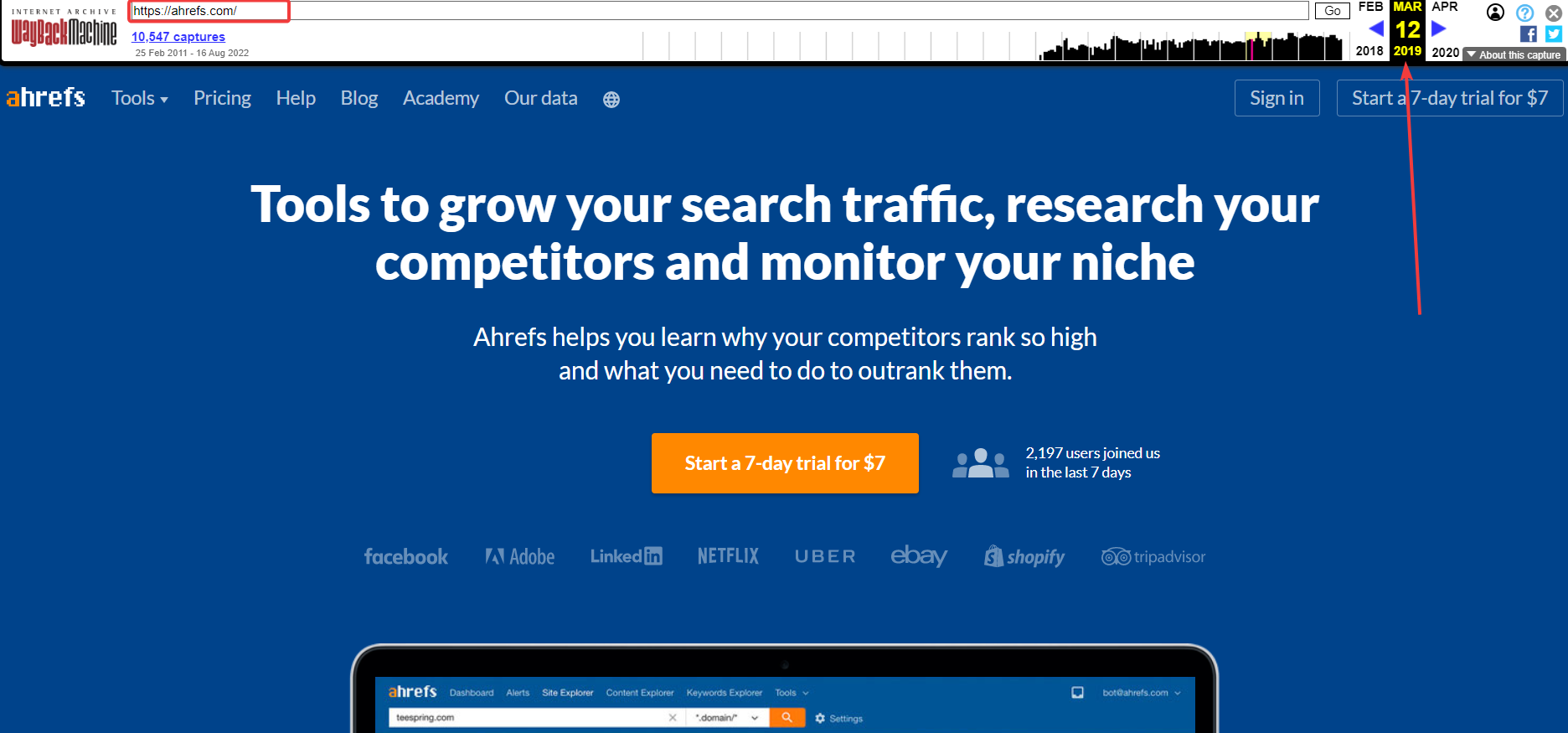 Ahrefs' homepage in 2019. A snapshot from the Wayback machine
4) Reach out to the website owner and let them know about the broken link. Offer your replacement resource as well.
Now let's head over to the last tactic that can drastically increase your brand awareness and acquire a ton of referral traffic and new backlinks.
Strategy #6: Linkable assets
Linkable assets refer to the types of content that other websites are more likely to link to. This is usually content that is either highly informative, engaging, or both. Examples include:
Original data research

Surveys

Interactive and static infographics

Comprehensive guides and thoroughly researched articles

Listicles

Statistics articles

Free online tools and templates

Whitepapers and ebooks
Creating linkable assets is an essential part of any link building strategy for lead generation because they passively attract an enormous amount of traffic and links when done right. The key is to turn your piece into indispensable content for journalists and content creators (aka to become a source of stats/knowledge/expertise writers can rely on).
Here's a good example of original data research by Ahrefs that resulted in over 5,100 unique referring domains and 22,400 backlinks.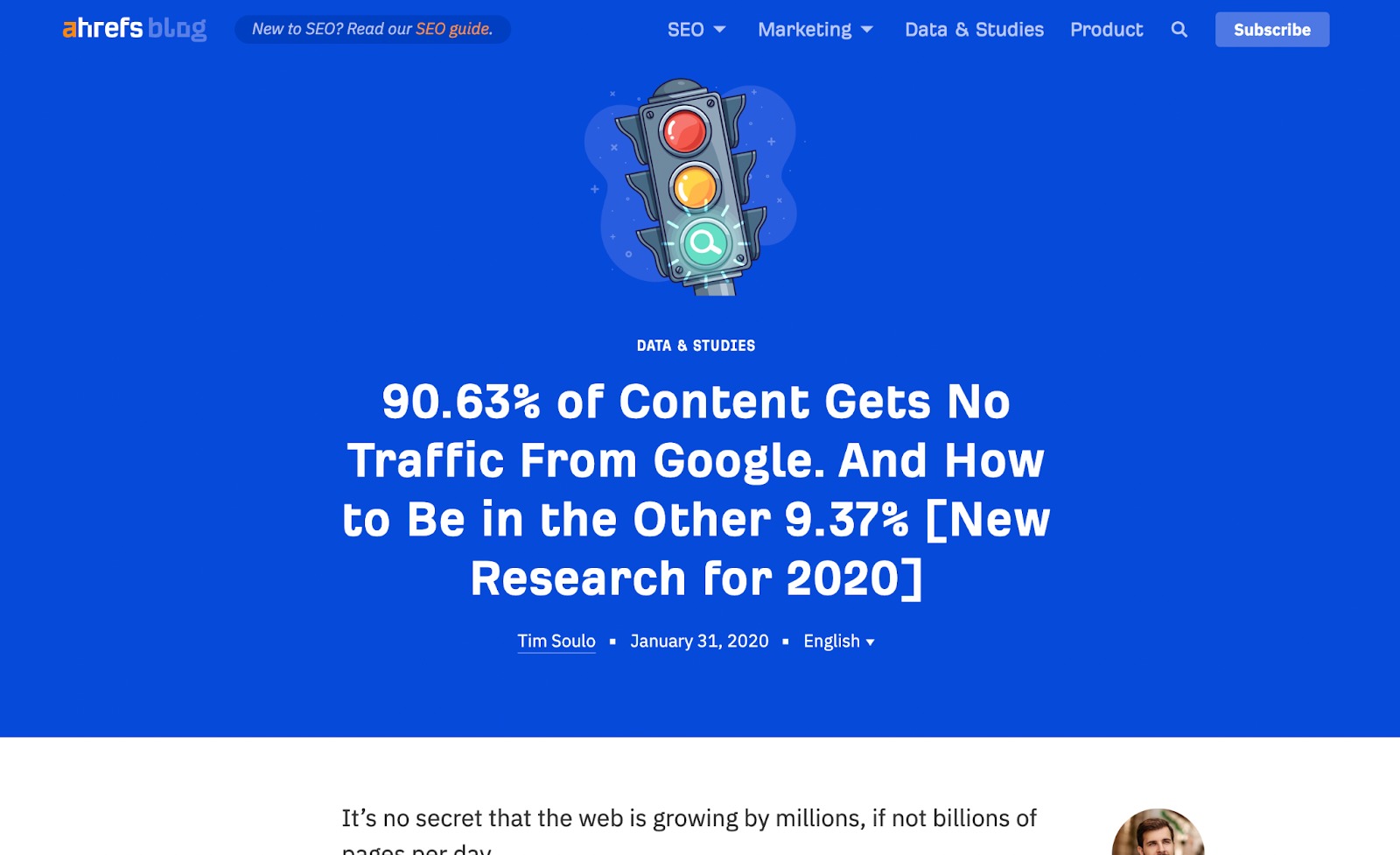 An example of original data study
Here are a few quick tips to help you create linkable assets:
Pick a topic that is relevant to your industry and audience and has a search volume

Conduct a study or survey the audience to collect unique data

Add value by offering fresh perspectives or insights by embedding thought leaders' opinions

Optimize for search engines with keyword-rich titles and descriptions

Format for easy readability with short paragraphs, lists, and subheadings

Include multimedia elements like images, charts, etc.

Share your linkable asset on social media and other channels — email journalists, mention on Reddit, ask partners and clients to share with their audiences, etc.
Learn more about creating linkable assets in the by Semrush & Brian Dean.
What to Pay Attention to Before Generating Leads Through Link Building
In this part, we want to highlight a few things people should pay attention to before trying to generate leads through link building.
Know your ideal client
The first step to link building for lead generation is understanding who your ideal client is. What are their demographics? What needs do they have that your product or service can address? What are their titles? Once you obtain this information, you can begin to create relevant content assets that will appeal to the ICP.
Note, your ICP can vary slightly depending on the tactic. For linkable assets or guest blogs, you'll target content people (e.g., editors, journalists, and content marketers). For collaborative content, you want to contact decision makers to build warm relationships. Examples for Digital Olympus include Director of SEO, Head of Growth, or rarely CMO from B2B companies within the MarTech industry.
Set SMART goals
When you're embarking on any link building campaign, it's important to set SMART goals. That is, your goals should be Specific, Measurable, Achievable, Relevant, and Time-bound. Having SMART goals in place will help you track your progress and ensure that your link building efforts are generating leads that convert.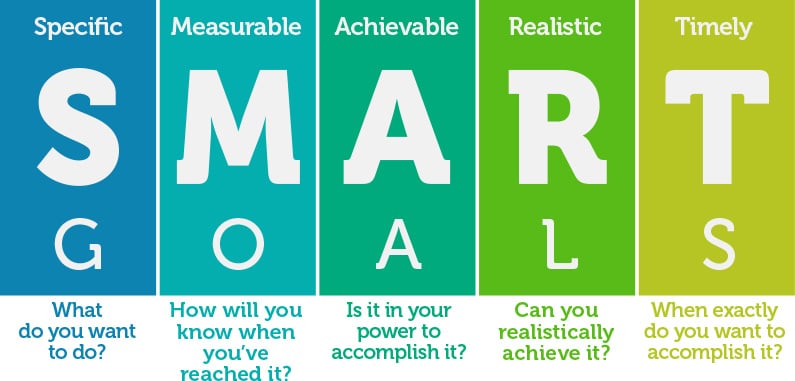 There's a catch, though.
Our experience shows that you cannot predict how much referral traffic you'll get through guest posting or linkable assets. There are no even benchmarks to back up your estimations. What should you do then?
Our advice is to measure the number of tasks completed or set KPIs. For example, your monthly goal can be the number of guest posts on specific media. Or you can assign a task to analyze the rankings of the most lucrative guest posts in terms of conversions and build links to them within a month. You've got the point.
Use the right toolkit
We use the following link building tools to ease the link building process:
LinkedIn Sales Navigator, Apollo, and Hunter — for finding decision makers and their contact information

PitchBox — for automated link prospecting, organizing outreach campaigns and reporting

Monday — for task management

Ahrefs — for website evaluation
These tools help you automate mundane work and spare your team loads of time.
Now Over to You
Lead generation is a by-product of quality link building. Follow our recommendations to refine your link building process and get the most out of it.
Struggling to streamline your link building efforts? Book a call with our Senior Link Building Specialist to refine your current strategy or discuss outsourcing link building.