Finding a reliable vendor for link building is tough. I know that from experience. Before starting out with Digital Olympus, I spent years in the SEO industry, helping Semrush with marketing. That's when I was trying to find someone to delegate link building. Now, I'm running a link building agency and sometimes meet clients who have been burned by link building scammers or haven't received the expected results from agencies.
This is a harsh reality for any digital marketing service. We all learn from mistakes.
Throughout this piece, I will reveal all the pitfalls of link building services and how to avoid them, so next time, you can rest assured you're hiring the right link building agency.
Why Is It So Hard to Trust Someone with Your Link Building Campaigns?
All the doubts we have when it comes to hiring a link building agency stem from the inability to test vendors before paying them. We can't request a demo or free trial. So we have to entrust someone with our money and expect them to turn it into the right links that will boost SEO results.
But if we've been burned once or seen UpWork scammers fooling our peers, we instinctively become more cautious with our choice. And it's totally fine. Hiring someone to manage your link building, in essence, comes down to finding a partner who will both understand your business goals and add their expertise to drive your business growth. This is not an easy task.
Among other reasons:
A business gets rejected by well-known players because it sets unrealistic goals for a vendor or has wrong expectations of the link building process.

A business seeks cheap link building services, knowing that they put themselves at risk of working with unqualified specialists.

Outsourcing

some tasks for the first time is always scary

(

as with everything)
For link building agencies, it's essential to listen closely to clients' needs and understand the nature of fears and hesitations. For businesses, it's crucial to say out loud all the doubts and experiences they have in order to find common ground.
However, there's much more to hiring a reliable link building agency or freelancer.
9-Step Process for Hiring Someone for Link Building
To find the right partner to hand over your link building strategy to, we recommend you go through the following checklist.
Step #1: Define your link building needs
This is the foundation of successful collaboration and the first trap some businesses fall into. If you want to build links for the sake of building links, it's a waste of the marketing budget. Businesses first need to outline goals and expectations for the new hire, a freelancer or a link building agency, to deliver the expected results. And that goes beyond «We're expecting a vendor to build 10 links per month.»
Here's what you should prepare before jumping on the discovery call:
Specify your budget

Define what types of links you need to build

(

e.g., only dofollow editorial links)
Define the range of DR

(

domain authority) for building links

(

e.g., sites with DR of 50−100)

Specify that you need permanent links

Write down the requirements for website organic traffic and geography and the type of sites

(

corporate blogs, niche bloggers, media outlets, etc.)

Prepare anchor text

Give a list of URLs you want to build links to

Explain why you need these backlinks and what you're expecting to achieve

Explain how you plan to measure the quality of the link building agency's work

Explicitly call out what websites and link building tactics you want them to avoid — link farms, PBNs, «black hat» tactics, sites with the biggest traffic share from India, Pakistan, etc., unless you target these countries.
This way, it will be easier to find a reliable link builder that will meet all of your expectations.
But what to do if you're just starting out and haven't gained enough expertise to answer all the questions? Answer as many of them as you can. Do the legwork and find the industry benchmarks for each metric (e.g., the DR rate, traffic). Reach out to peers and ask them how they vet link builders or what metrics they keep an eye on.
Lastly, ask for a helping hand from potential vendors and assess their approach and knowledge.
Step #2: Create a link building checklist
The second step that can make the process smoother and also more effective is to use a link building checklist. «But for what?» you may ask.
A link building checklist or any other SOPs will show potential vendors that you will review the quality of their services by a set of rules. This way, you hedge the risk of getting low-quality spammy links. It will also scare away unscrupulous specialists.
Here's a link building checklist that we use at Digital Olympus to build links for our customers. Adjust this free link building template to your needs.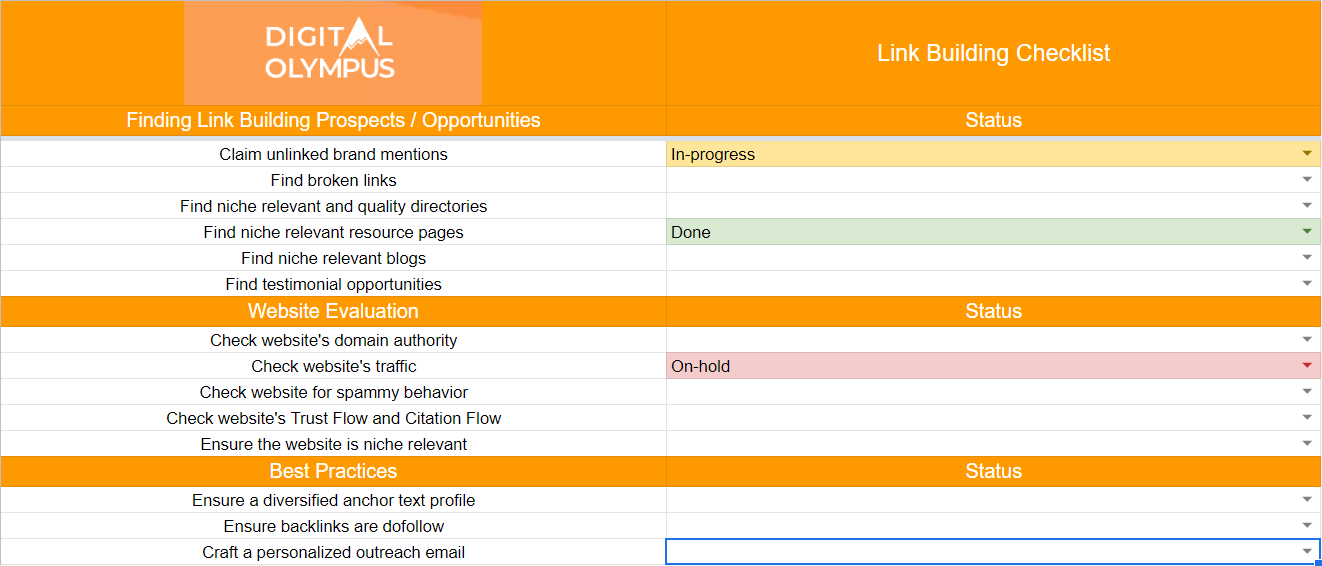 Download our free link building checklist
Step #3: Write a detailed job description
This step will facilitate the search for link building freelancers on UpWork/Fiverr/LinkedIn or an in-house specialist. When it comes to finding someone for link building purposes, or any kind of job, it's highly imperative that the employer creates a very detailed job description.
This increases the chances of getting proposals from professionals that meet the criteria.
Let's learn from examples.
Below is a poor job description for link builders. It's uninformative and generic, doesn't set criteria for backlinks, and is likely to attract newbies rather than pros.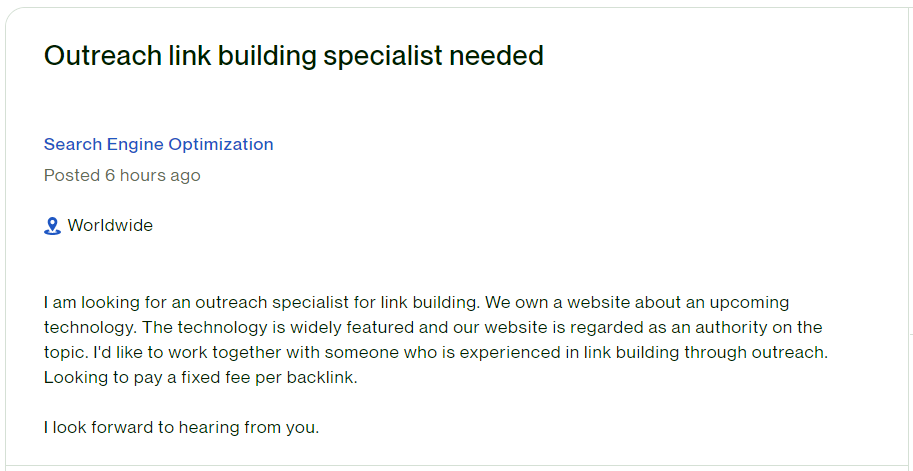 A poor link building job description
Now, let's look at a detailed, comprehensive job description that is likely to attract only SEO pros, and learn what's cool about it.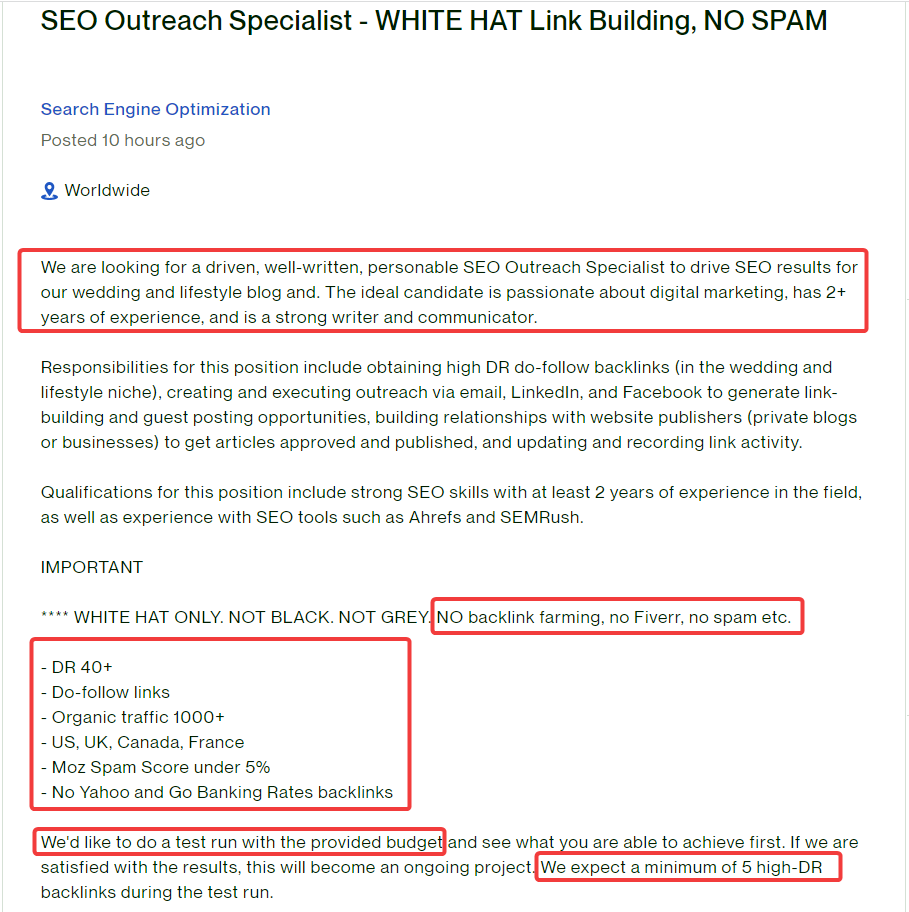 A great link building job description
Here's why this description is great and what you should include in yours:
Specify a niche for building links to

Add a detailed description of responsibilities and tactics to use

List

what link builders need to know

to get the position

Specify years of experience

Ask potential employees to provide link samples they've earned for clients

(

aka their portfolio)
Include unbreakable rules for backlink criteria

(

DR, dofollow/nofollow ratio, organic traffic, geography, Spam Score, etc.)

Explicitly call out what backlinks you will decline and won't provide payment for. For example, links from link farms, spam links from blog commenting, forums, PBNs, etc.
What we also like in this job description is the idea of providing a paid test period for freelancers to see them in action. In this case, the employer expects freelancers to build 5 links within a month.
Additionally, consider adding qualification questions you'd like applicants to answer:

Qualification questions for hiring link builders
Step #4: Vet link builders
Once you get access to the profiles of people who have been invited to your job posting or applied on their own, you need to go through everything and make sure that they actually meet the criteria.
At this stage, everything matters — from their pitch to you, their attention to detail, their reviews, whether they are able to demonstrate past experience, and so on and so forth.
Being careful here is essential in order to vet and validate potential candidates.
The same applies to vetting a link building agency. Ensure they have successfully completed projects in your industry. Ask them to share as many details as possible, including their client's case studies, a sample of links, and the overall link building process.
Also, ask what standards they follow for link prospecting. What SEO tools do they use in their link building process? What tactics do they consider the most effective for building links in your industry and why? And vice versa, what methods they won't use for building links. Here you're expecting to hear a list of «black hat» tactics.
All that will help you understand what kind of links you're going to pay for.
Don't be afraid to come across as annoying or overly inquisitive. A client-oriented agency will be glad to provide all the answers necessary to demonstrate its expertise and win your trust.
Step #5: Ask for the link review report
Any legitimate link building agency provides monthly reporting for the link review. Ask your potential service provider if they do so. If not, ask the reason or simply run away.
With monthly reporting on every link built, you're assured of quality service.
Step #6: Check the backlink profile of the vendor
Though there's a saying, «the cobbler's children have no shoes,» that shouldn't be true about your vendor. Their backlink profile is what can distinguish them from others. You're probably in good hands if they've landed high-quality links for themselves.
Check out the vendor's backlink profile with Ahrefs. Type the domain and go to the Referring domains report. Sort the results by DR. For example, Digital Olympus has links from giants like Hubspot, Ahrefs, Forbes, Google, and more.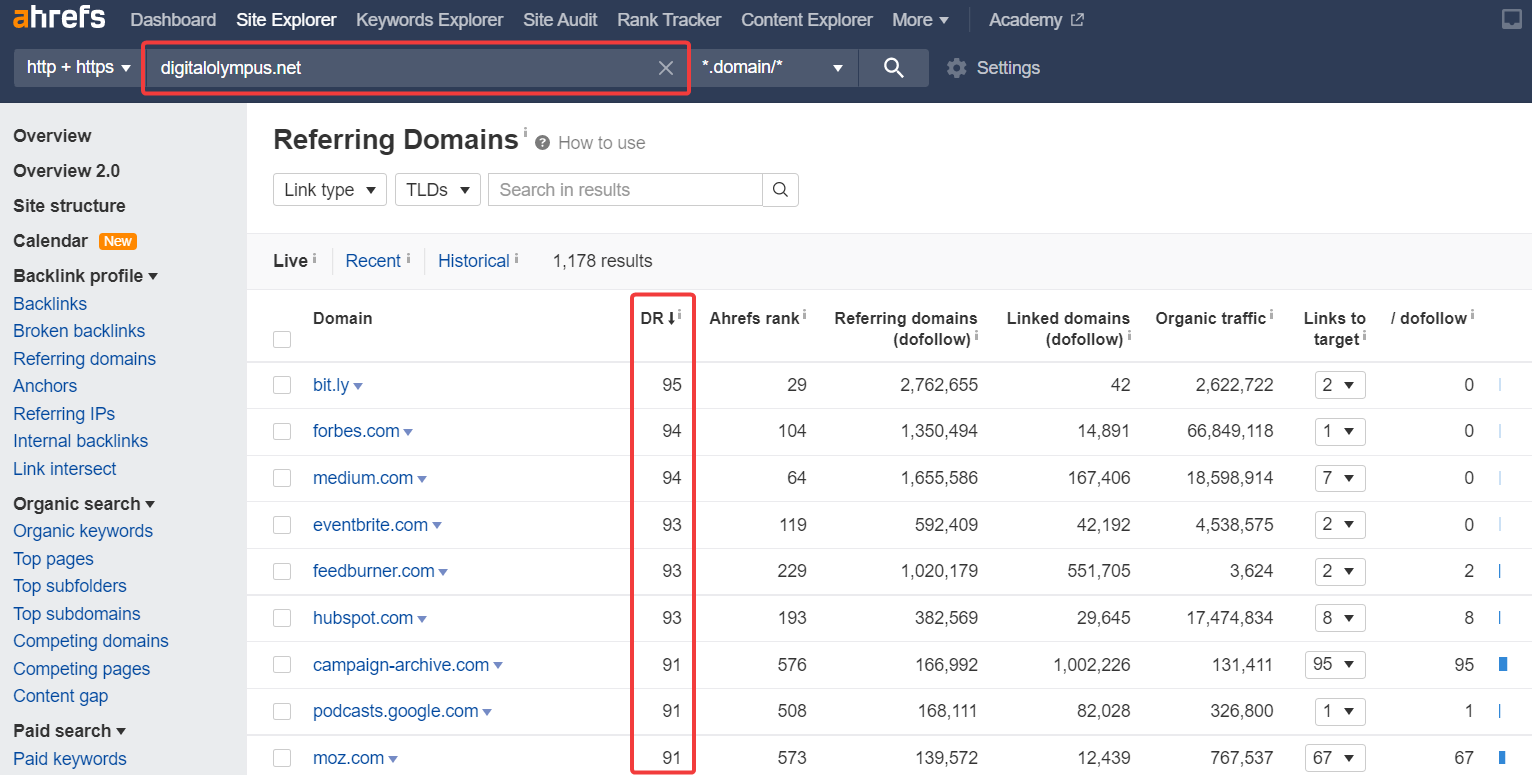 How to vet vendor's backlink profile with Ahrefs
Step #7: Check the vendor's expertise
Here you're going to get to know your vendors better before signing a contract. As you hire link builders to delegate part of a very important SEO process, you want to be sure they practice what they preach.
Let's say you're considering starting to work with a new link building agency that hasn't acquired juicy links to their site yet. It's always wise to check out their blog and LinkedIn/Twitter pages (their content marketing efforts in general). Seek opinionated content with the input of internal SMEs. Review the content in the SERPs for the same topics, and see how your vendor differs.
You can also find founders or link builders on social media and read their posts. In the digital marketing world, they're likely to showcase their expertise on social platforms to build brand credibility.
To sum up, go heavy on research, and David Farkas advises to do the same (and that's coming from his vast experience):
When looking to hire a link building company, it's important to do your research to ensure you're working with a reputable and experienced agency. My two biggest pieces of advice are first to check the company's reputation online and try to find authentic customer reviews.

Secondly, ask the company for examples of recent links they have built in the past, so you have a clear idea of the quality of their work and the type of links you can expect." — David Farkas, Founder & CEO, The Upper Ranks.
Step #8: Seek effective communication, alignment, and transparency
Needless to say, communication with potential vendors has to be smooth and comfortable. All your questions have to be addressed. Samples of links and client reports should be shown. The vendors have to be proactive and show interest in your business (i.e., ask clarifying and leading questions, etc.).
In a nutshell, you should feel like you want to entrust them with your project. If you have any doubts, consider talking to more vendors.
Step #9: Test and experiment
You can get lucky enough to find the right link building partner from the get-go, but the reality is often the opposite. You may end up working with freelancers or agencies who are not delivering the expected results or trying to deceive you by linking to different sorts of spammy sites.
If it happens, don't be upset. Just cut ties with your service providers and find another one.
In fact, some companies hire several link builders at the same time to see what kind of results each one of them can bring in. Even though testing and experimentation are part of the hiring process, it's quite time-consuming and might not be the optimal way to go.
If you have a budget and time for such experimentation, you're good to go. If you don't, follow every step in this article to find the right link builder on the first try.
Bonus Step: Try a link building agency
The main difference between finding a link builder on Upwork/Fiverr and hiring a link building agency is that when it comes to working with a link building agency, like Digital Olympus, you usually have access to case studies and previous work they did.
Also, it's more likely that a link building agency has testimonials that can help you make a decision. Or you can simply reach out to one of their customers and ask how satisfied they are with the delivered results.
Working with an agency, you're also ditching the risks of unexpected days off, quitting, and so on. Thus, it's easier to build a robust link building strategy with an agency on your side.
Final Thoughts
Hiring someone for link building is a leap of faith. Yet, our 9-step process for hiring link building specialists can help you reach 95% confidence in your choice.
In case you want to find a trustworthy link building agency to hand over the entire link building process, we're here to help you out! Contact the Digital Olympus team and be sure about the results.