HR services are a highly competitive space. Google it, and you'll get around 2 billion (!) results. Link building will help your site cut through the noise and bolster your position in the search rankings.
In this blog post, we'll take a look at winning link building strategies for HR companies, along with practical tips for getting started. Get ready to learn the ins and outs.
Why Do HR Companies Need Link Building?
For starters, link building is an imperative component of any successful SEO strategy, as backlinks take second place in search engine ranking factors. It also helps HR companies generate more traffic to their website thanks to increased visibility in the SERPs. Let's learn more benefits.
Increases credibility
When you first think of hiring an HR company, you turn to the nooks and crannies of your memory to recall friends and acquaintances in the field whom you trust inherently. You can also ask colleagues and check your circles on LinkedIn. Why? Because HR services are more intimate than choosing, say, a link building agency or copywriter.
Nevertheless, people end up googling HR services and companies with a total search volume of over 39K just for one keyword cluster. This is where link building helps foster brand credibility.

Total search volume for the «hr services» keyword.
By actively building links, you get featured on leading media outlets and niche-related blogs that show potential clients they can trust you with their HR and recruitment tasks.
Generates referral traffic
Link building tactics like creating linkable assets and super-quality content get your company featured on authority websites. This drives both brand awareness and referral traffic. HR SaaS companies can also harness the power of listicles that rank in the Top 15 for more referral traffic.
Improves keyword rankings
When other websites link to your website, they are essentially vouching for the quality of your content and services. This sends a positive signal to search engines that will boost your website's visibility in the SERPs. Additionally, getting backlinks from sites relevant to your industry can help you rank higher for related keywords.
Now let's look at HR companies that will benefit from link building.
Types of HR Companies That Might Need Link Building
Various kinds of companies in the HR industry rely heavily on SEO to generate prospective customers. Meaning it's vital for them to build high-quality links to win leading positions in the SERPs.
Type #1: HR Organizations
Here, we consider HR organizations of any type, from recruitment agencies to HR consulting companies. They are all present in the SERPs; some even bid on ad placements. The latter signalizes tough competition for juicy transactional keywords you definitely want to rank for. For example, type in Google «hr services outsourcing,» and ads will flood the first screen.
Working on a robust link building strategy, you will likely carve a spot on the first page of search results. On top of that, having higher positions and ranking for more keywords will lower your bids.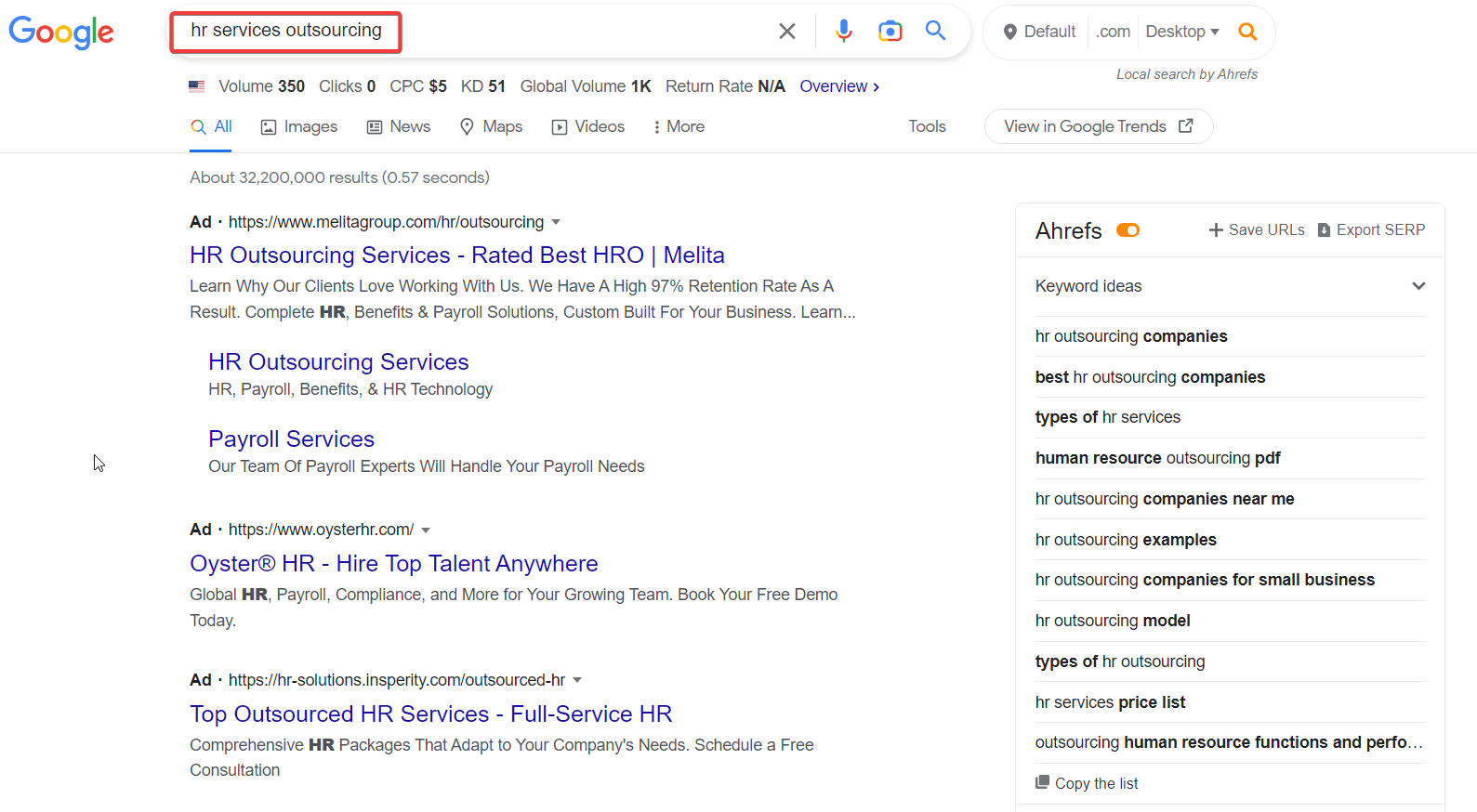 A snapshot of the first search engine results page.
Type #2: Independent HR consultants
If you're providing HR consulting services and planning to build your site to drive prospects through SEO, backlinks and high-quality content are a must. Regularly publishing niche-relevant content will prompt Google to visit your site more frequently. Google algorithms will also recognize the topical relevance of your content, which is also a ranking factor. Backlinks to content pieces and a homepage could help your website climb up the SERPs faster.
Type #3: HR SaaS
For HR SaaS, search engine optimization usually plays a huge role in customer acquisition. This means you'll inevitably build links to outrank your rivals in organic search. Let's take Gusto, a giant payroll and HR platform. Gusto's search traffic takes 2nd place after direct traffic, according to SimilarWeb.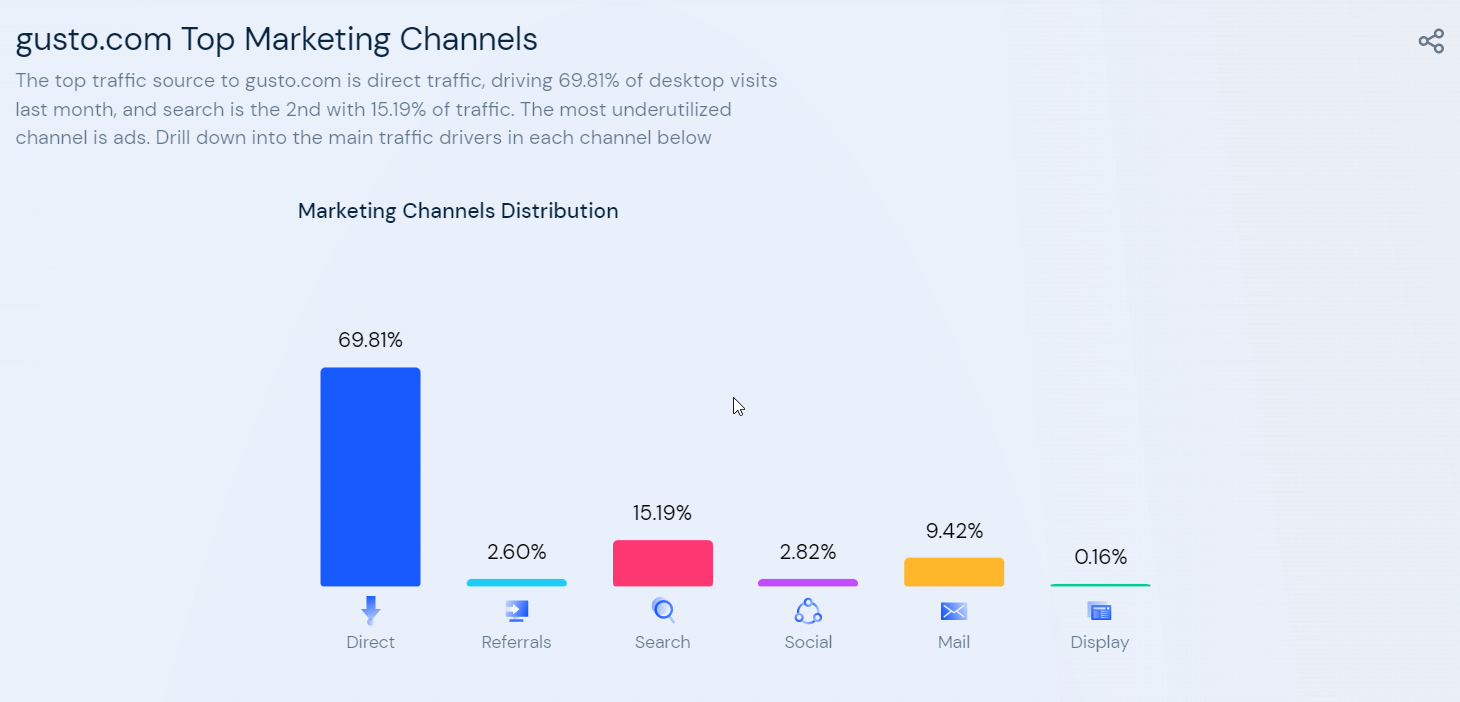 Marketing channel distribution for Gusto by SimilarWeb.
In the meantime, Gusto has amassed over 41,000 unique referring domains pointing to landing pages, unique research, and content pieces. This helped Gusto build topical relevance and gain trust in Google's eyes. If you're in the same niche, it might cost you extra effort or links to get higher positions for the same keywords.
However, here's real-life proof of how links impact rankings and organic traffic growth in the HR niche. Take a look at the direct correlation between increased organic traffic and the constant backlink growth of Hibob, an HR management platform.
Backlinks and organic traffic are closely related.
With that, let's jump to the next chapter and discuss winning tactics for landing backlinks.
5 Ways to Acquire Backlinks as an HR Company
We've put together 5 prominent link building tactics we at Digital Olympus employ to acquire high-quality links for our clients in the HR industry. Let's roll!
Way #1: Building links from SaaS sites
At Digital Olympus, we see this tactic as number one to all B2B companies. When you earn links from corporate websites like SaaS, you double or even triple the link building impact. How does it work?
SaaS companies invest heavily in SEO since this is one of the main customer acquisition channels that drives up to 77% of traffic. As a result, such sites constantly grow in domain authority and topical relevance. When you build links from SaaS sites, you simultaneously get a link from a site with a higher DR in 3−6 months' time because such companies don't stagnate in terms of SEO growth.
Most blog traffic of a SaaS company comes from organic sources.
Christopher also agrees that links from SaaS websites are a great long-term investment:
SaaS (Software as a Service) websites typically have a high domain authority and are seen as authoritative sources in their respective niches. This means that links from SaaS websites carry more weight and can have a greater impact on search engine rankings. Additionally, SaaS websites tend to produce evergreen content, meaning that the content remains relevant and useful long after it's been published. This increases the likelihood of the link remaining valuable and beneficial over time.

For example, if a website in the finance industry obtains a backlink from a reputable SaaS website that provides financial planning tools, the link is likely to be more effective in the long-term compared to a link from a blog that only publishes news articles that are relevant for a short period." - Christopher Panteli, Co-founder of Linkifi.io.
You can start landing links from niche-relevant SaaS with a DR of 25−40, and over time, you'll have backlinks of DR50−70+.
The best approach to building links from SaaS sites is guest blogging and collaborative content like unique data studies. The latter, though, requires more time and effort.
To earn links relatively fast, start with guest posting:
Search for niche-relevant products/services and see if they have a blog.

Check if they accept guest posts.

Pitch a guest post to their content marketers, bloggers, or editors.
Now let's jump to the next tactic we recommend for every link builder out there.
Way #2: Link exchange
Reciprocal links (or link exchange) are one of the oldest link building techniques — and they can still be effective if done correctly. Link exchange involves exchanging links with other websites relevant to HR services in our case. You can swap links with one site or opt for a more fancy strategy that involves several parties. The latter is better since you can earn an unlimited number of links from different domains by partnering up with a few SEOs.
How do you do that?
Find webmasters who are willing to reciprocate the link. Search for websites in your industry and reach out to them with a polite request to place your guest post in exchange for theirs, or use special Facebook SEO groups and Slack channels for finding link opportunities.
Here's a short list of such groups:
The idea is to mention your partner in your feature guest posts and vice versa. Imagine you're site X, and your partner is site Z. You know that you've secured guest post placements for the next month on sites A, B, and C, when your partner has done the same for sites D, F, and K.
So now you can contextually embed a link to their site in pieces for A, B, and C sites, and they will do the same in return.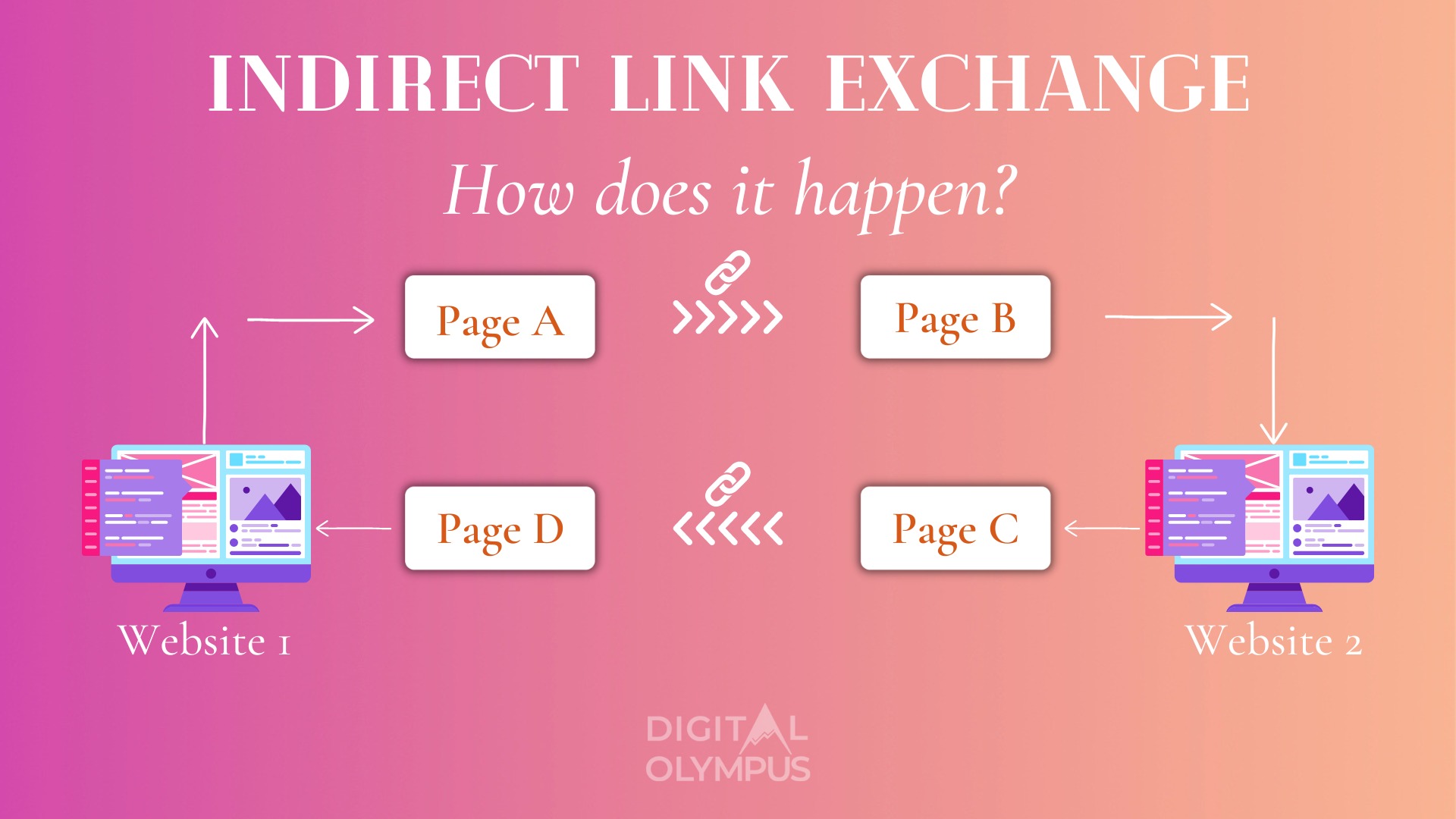 Indirect link exchange.
Partner up with several sites, and you'll generate quality links with little to no effort at scale.
But wait, what does Google think about reciprocal links? Is that a safe white-hat tactic? Nobody can answer for sure, but Ahrefs found out that over 43% of top-10 ranking pages have reciprocal links with at least a 15% overlap between the sites they link out to and those that link to them.
With that, reciprocal links are quite a natural phenomenon. Even so, you're likely to get penalized for excessive and direct link exchanges.
However, experts still recommend approaching this tactic with caution:
My suggestion is not to do it too obviously.

Avoid:

1) Placing links on both sites at the same time.

2) Linking back and forth from the same pieces of content (Page A links to Page B and vice versa).

3) Too many links with hard anchor texts.

4) Doing too many link exchanges at the same time.

Ideally, mimic an «organic link profile» for your industry, meaning look at the average growth and % of hard anchor text among the top players in your industry and aim to be slightly above it." - Kevin Indig, Growth Advisor, former VP, SEO & Content, at G2.
Way #3: Broken link building
Broken link building is a great way for HR companies to acquire backlinks from high-authority websites at scale. Here's how it works. First, you search for websites in your industry that have links pointing to broken pages. Then, reach out to these webmasters and offer them a link to an updated page on your website in exchange for their broken link.
Start by analyzing your competitors or relevant big-name companies. Put a domain in Ahrefs's Site Explorer and navigate to the Best by links report. Filter backlinks by the 404 not found error and sort by referring domains. Look for the blog's broken pages and analyze the links to the page.
For instance, 46 unique domains and 218 links in total point to Oberlo's dead article.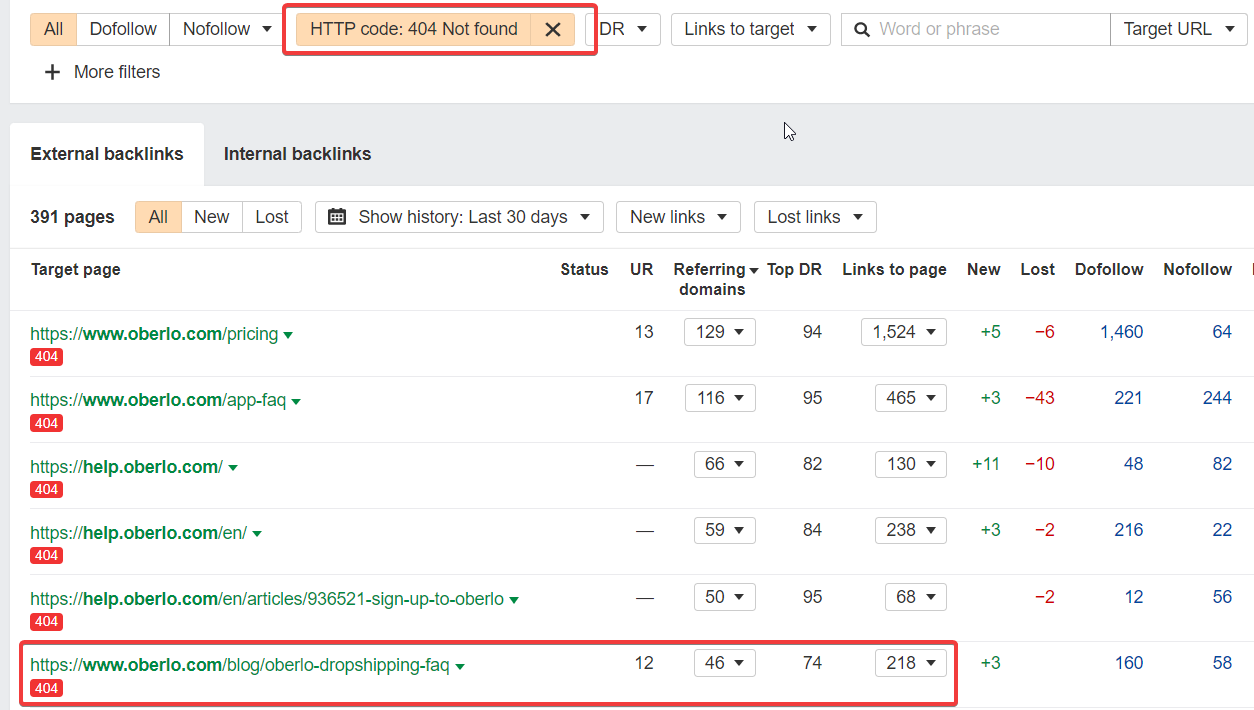 How to uncover broken link building opportunities with Ahrefs.
Once you compile a list of broken pages, analyze each with the Wayback Machine to see what content was behind those dead links. Finally, write a superb piece of content on that subject and offer it as a replacement for website owners who are linking to broken pages.
A broken link building campaign is an effective way to get backlinks from websites that might otherwise not link to you but have links to your competitors or other niche sites.
Way #4: Link intersect
The idea behind this strategy is to find websites that have linked to your competitors but have yet to link to you. You can then analyze the context in which the links are embedded and brainstorm similar ideas for pitching. Next comes outreach.
To find sites linking to your competitors or other niche-relevant sites but not to you, use Ahrefs or Semrush's Link Intersect tool.
For example, by analyzing Lemlist's backlink profile and comparing it to two competitors, we've discovered more than 6,000 backlink opportunities.

Ahrefs's link intersect report.
Way #5: Linkable assets
In essence, linkable assets are pieces of content on your website that other websites will want to link to. Examples include ultimate guides, roundups, whitepapers, infographics, case studies, how-to videos, free templates, ebooks, webinars, unique studies and data research, surveys, free tools, and more.
Again, the logic is to either become a data source for journalists and content marketers out there (e.g., unique data research or super detailed guides on a subject) or develop invaluable free tools that work like a lead and backlink magnet. Examples of the latter are online calculators, free SEO tools, cheat sheets, etc.
LastPass built a free strong password generator and secured over 3,100+ referring domains within a year.

LastPass free tool's link profile.
Several tips for designing winning linkable assets:
Brainstorm niche-relevant topics that other websites might find useful. Examine the search volume for a keyword cluster and look for existing similar pieces/tools in the Google search. How can you do better?

Do keyword research and optimize your original research for keywords like «stat, statistics, study,» etc.

Make sure the linkable asset is comprehensive, well-researched, and unique

(

applicable to all content formats).

Promote your linkable asset once it's live. Use social media platforms and other channels to spread the word. This is a make-it-or-break-it point since you have to get as many eyeballs as you can on your piece of content. If nobody knows about your brilliant work, how would they link to you?

Reach out to influencers in your industry and ask them to review or give a quote on key findings. If they like it, they may link to it on their website or mention it to their followers, which happens quite often.

Reach out to journalists who write about your field. You can mention key takeaways to pique their curiosity and invite them to check out your piece.

Keep track of who links to your assets and thank them for doing so. This will encourage them to link to you in the future as well.
With that, it's time to move on to the next chapter and learn actionable tips for link building.
5 Link Building Tips to Keep in Mind
These tips will help you create a powerful link building strategy. We adhere to all five when working on clients' link building projects at Digital Olympus.
Tip #1: Build relationships beforehand
Reaching out to potential linkers and starting to build relationships before you need backlinks is essential for any successful link building strategy. It's much easier to gain a quality link when the person knows you and has an understanding of your website, writing style, etc.
Follow those folks on LinkedIn and Twitter, engage with their content by leaving meaningful comments, and repost their pieces of content. Be genuine and avoid buttering them up, which is annoying.
Tip #2: Create high-quality content
Link-worthy content is especially valuable in the HR industry — data studies and surveys can work as great linkable assets. However, you can also gain a decent number of links with concise but insightful pieces based on public stats (aka curated reports).
For example, Oyster, an HR platform, wrote a short copy about countries that provide free healthcare. The results are 138 backlinks.

Oyster's backlink profile.
Tip #3: Avoid buying links
It is never a good idea to buy links as it can get you into trouble with Google's algorithms. Search engine algorithms are constantly evolving and can easily detect when someone is trying to manipulate the system by purchasing links. Examples of paid links are blog comments, directories that are full of spammy links, and forum signatures. Links from shady media outlets or PBNs will also damage your rankings.
Tip #4: Follow a plan
Devise a link building checklist to streamline your link building efforts. Having a plan in place will help your link builders adhere to link building standards and earn only good links. Plus, checklists are helpful for organizing and aligning team members and tracking their monthly performance.
When we take on a new project, we follow a step-by-step plan that includes:
Developing a strategy and selecting winning tactics for acquiring links

Link prospecting

and website evaluation by predefined parameters

Building an anchor text profile

Writing outreach emails

Setting up monthly reporting
Grab our free link building checklist to speed up your link building process.
Tip #5: Work with a trusted partner
If you decide to outsource link building to a link building agency or a freelancer, make sure you research them and ask the right questions. Pay attention to their customer references, content, and backlink profiles. Ask whether they have domain expertise and what tactics they use (and avoid) when building links. Learn about their reporting and metrics and look over backlink samples.
You don't want to get involved with someone who will do anything for a quick buck and risk getting you into trouble with Google's algorithms. Find a trustworthy partner that will provide you with high-quality links from reliable sources. We at Digital Olympus build links primarily from relevant SaaS websites and use only white-hat tactics.
Now Over to You
Link building is a must-have strategy for any HR professional looking to boost their website's visibility and search engine rankings. With the right tactics, you can acquire quality backlinks that will help you build trust and credibility with potential customers.
Looking for a reliable link building partner? Contact our Senior Link Building Specialist to discuss your projects and get recommendations.