Do you know how many backlinks you need to rank in the top 10? What types of content generate links passively? Or how many months to wait before seeing the results from link building?
We feel you! We also wanted to find answers backed up by real numbers. That's why we've decided to dig down the web and put together the 35 link building studies you can act on in 2023.
Let's get into it!
Is Link Building Important?
Getting straight to the point, link building is important. We believe at DigitalOlympus that search engine algorithms will keep evolving, and link quality will become even more critical as links are integral to ranking factors.
Now, we're witnessing the effect of the Penguin algorithm, the E-A-T update, the Link Spam algorithm update (2021), and many others that are all about high content quality and relevance — for internal pages and referring pages alike.
So link building is affecting and will be affecting search engine rankings because backlinks, in their essence, factor into the quality and trustworthiness of a website/web page.
Plus, we see a direct correlation between the number of high-quality backlinks and site rankings in Google search results.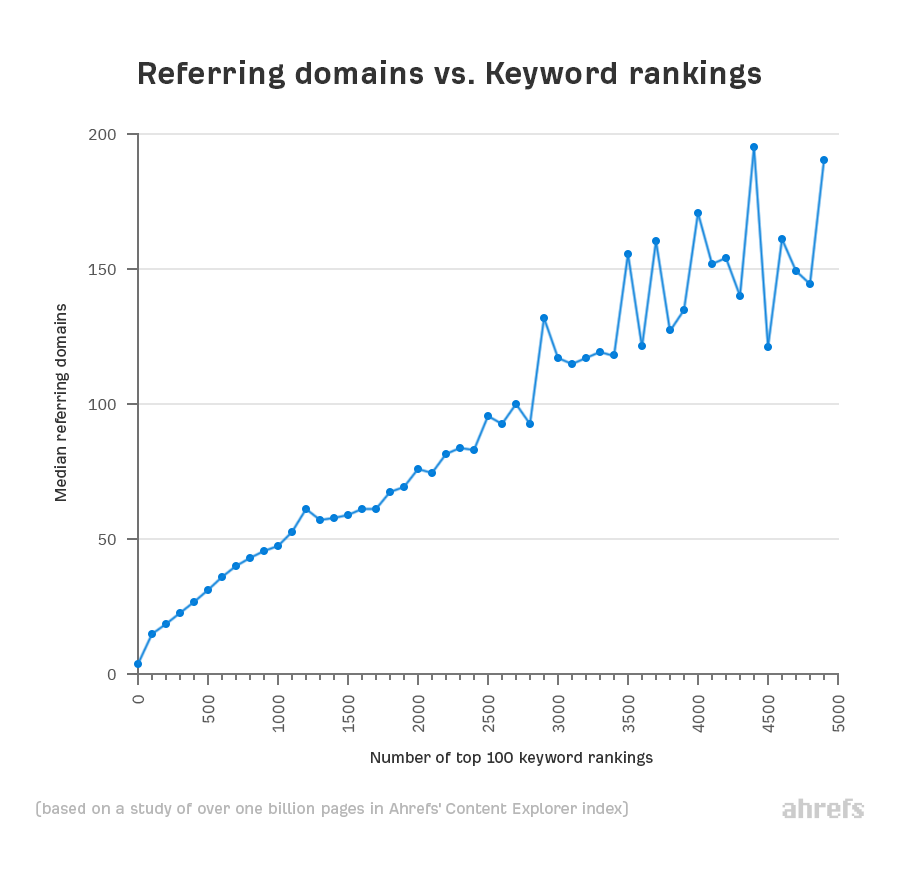 The correlation between the number of backlinks and keyword rankings.
Now let's go over some facts and link building stats that contribute to an effective link building campaign.
General Link Building Statistics
Here we've compiled intriguing statistics about link building that can't be translated into link effectiveness but nonetheless get you thinking. We especially like #2, #3, #6, and #10.
Google regards content pieces and backlinks as the primary factors for ranking for a target keyword. Next is RankBrain.

(

Search Engine Round Table

)

Having lots of backlinks helps pages rank higher than pages that don't have as many. On average, Google's #1 result has 3.8x more backlinks than positions #2-#10.

(

Backlinko

)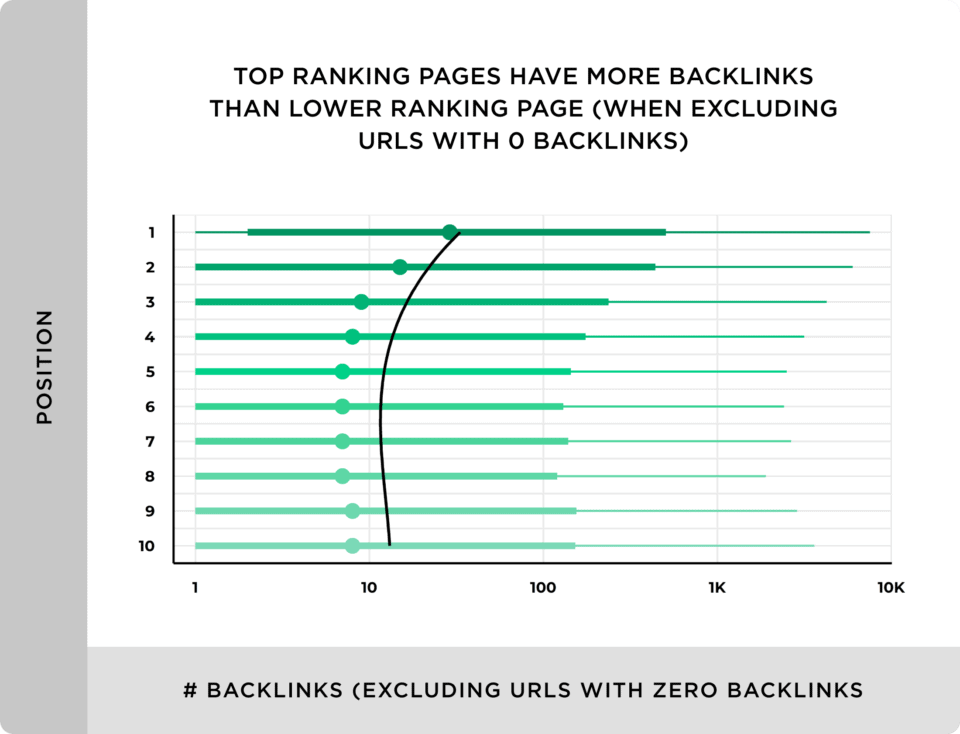 A graph shows that top-ranking pages have more high-quality external links.
Only 2.2% of published online content generates multiple backlinks.

(

Backlinko

)
Pro Tip: If you spot some content pieces in your niche acquiring a decent number of links, study them thoroughly and understand why. Try to replicate this tactic to create linkable assets.
Link building is rated as

the most difficult SEO practice

by 41% of large companies

(

over 1,000 employees).

(

Conductor

)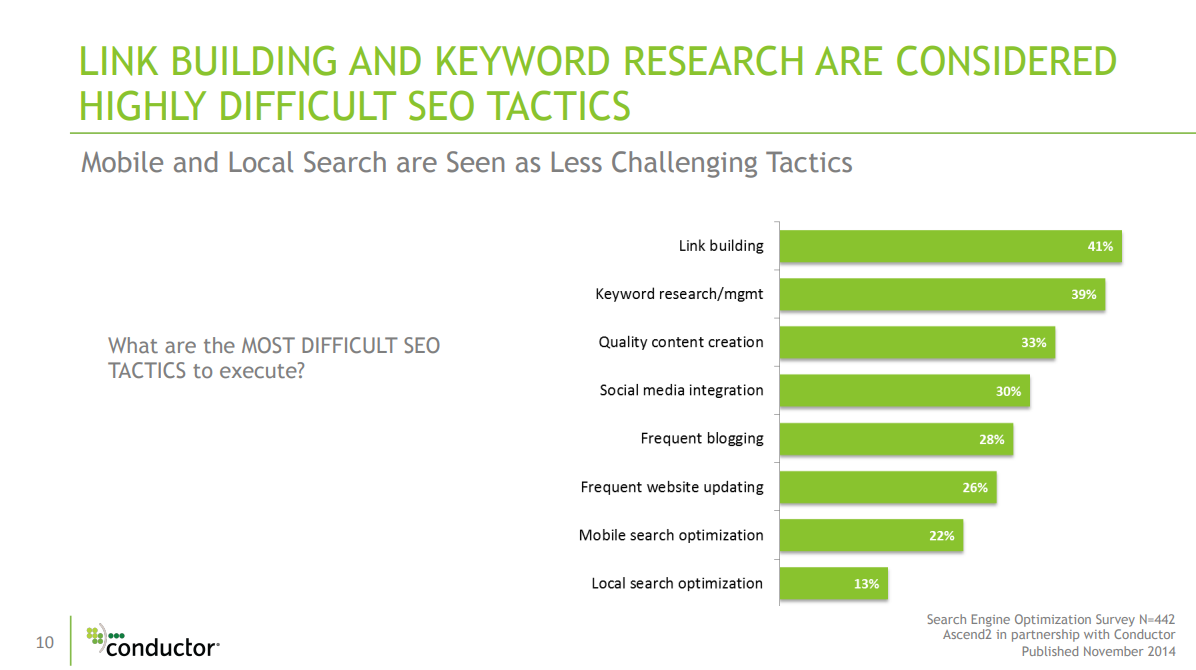 A graph showing which SEO tasks pros believe to be the most challenging.
Link Building Effectiveness Statistics
Now, let's learn what marketers and SEO specialists say about the impact of link building on SEO results. Sure, everybody believes and sees the positive effect on rankings, but let's look at what the numbers tell us.
When SEO experts were asked whether links positively influence rankings, 48% categorically responded that they do. 34% of respondents also said yes, with one caveat: the website has no major SEO issues.

(

Aira

)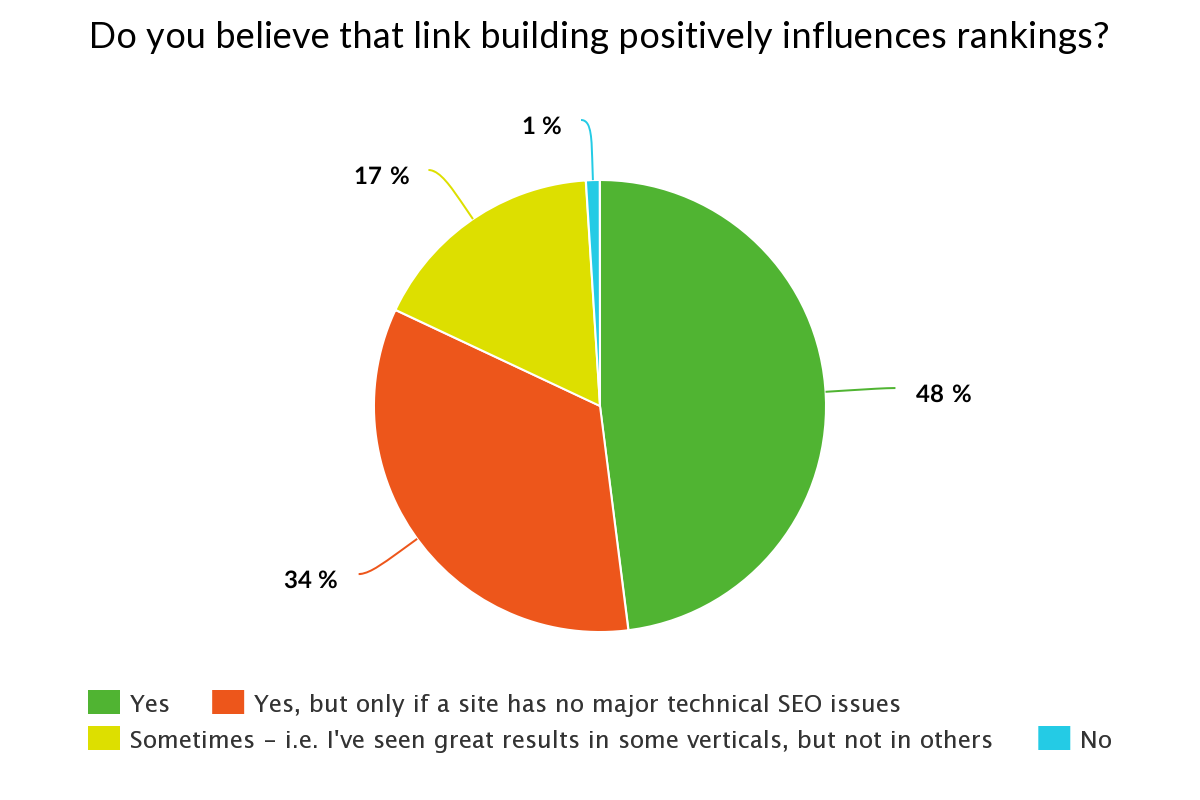 A graph showing the responses to a study's question about link building and its effect on rankings.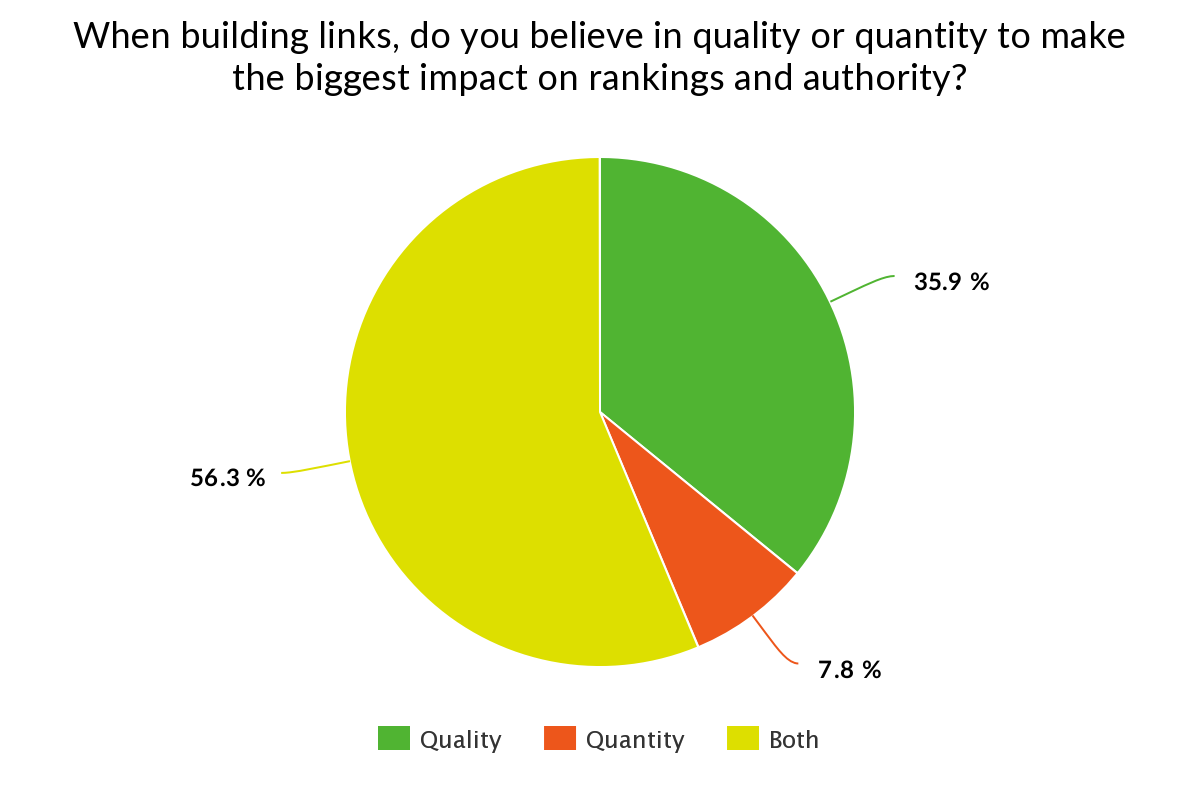 A pie chart is showing answers to whether backlink quality or quantity counts more in link building.
85% of marketers think that link building helps build brand awareness.

(

uSERP

)
Link Building Strategies and Tactics Statistics
Do most companies hire external link building services to handle link building? What % of cold emails result in placing a backlink? What is a new popular tactic to earn links for SaaS?
Let's find the answers below!
Warning: This chapter may affect your strategic decisions on link building.
A third of businesses

(

36%) hire freelancers or experts/agencies to build links.

(

Aira

)
Hiring a link building agency allows companies to acquire backlinks super fast and at scale with low risk. These are the main reasons why businesses prefer outsourcing backlinks. In fact, we at Digital Olympus can deliver up to 50 links from high-quality, relevant domains during the first months of collaboration. We also advocate transparency, so our clients know the outlets we'll target for placing links.
Over 40% of marketers believe content marketing

(

aka linkable assets) is the best way to generate passive links.

(

uSERP

)

The most popular link building tactic in 2021 was linkable asset creation.

(

Aira

)

Only 8.5% of cold emails get results when it comes to link building.

(

Backlinko

)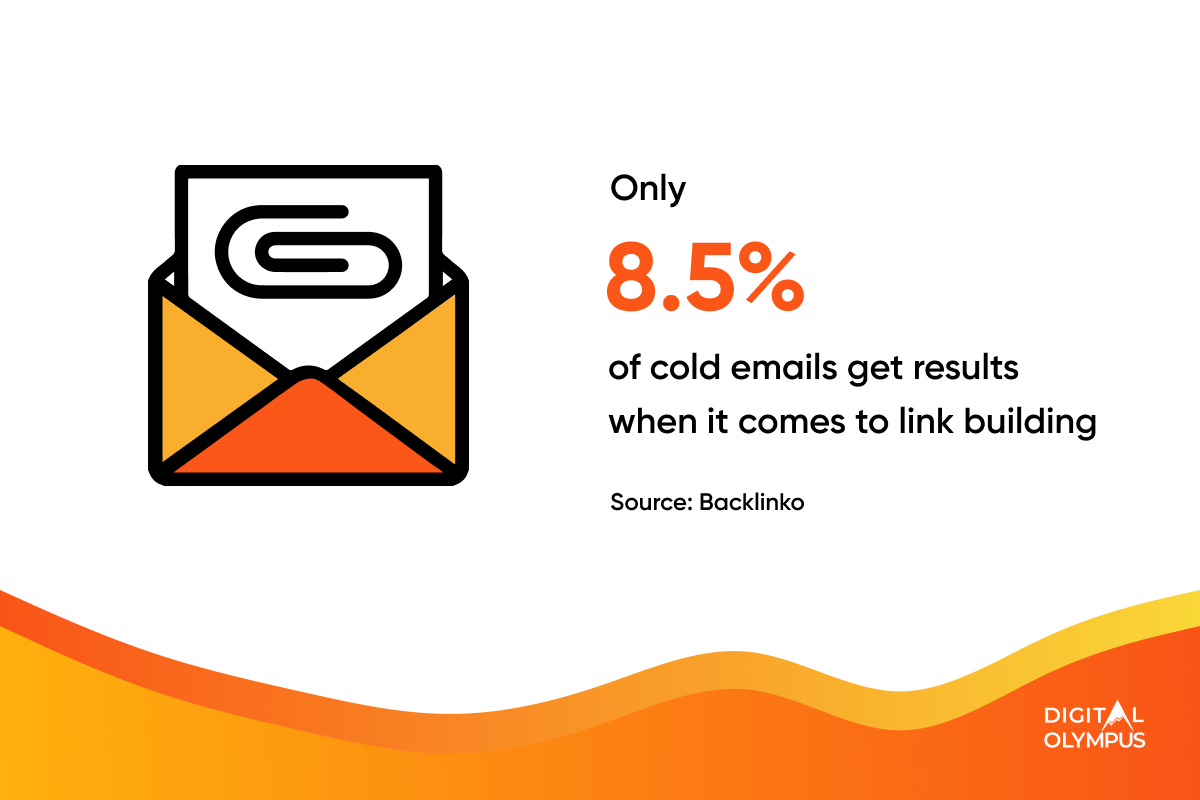 69% of SEOs report on «nofollow» links as part of their link building process.

(

Aira

)
Although «nofollow» links don't pass any link juice (or in very rare cases if Google decides so), SEOs choose to place «nofollow» links to diversify backlink profiles. Having only «dofollow» links seems unnatural to Google and may result in getting a site penalized.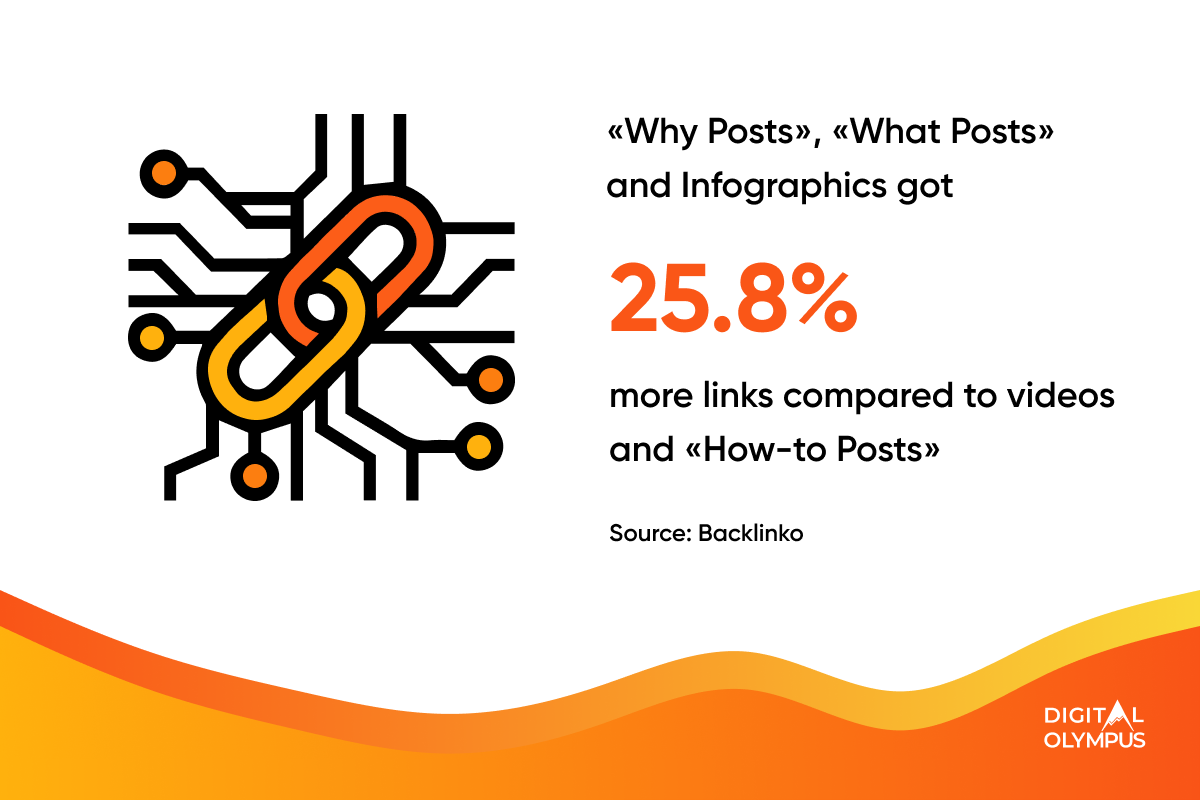 «List Posts» and «Why Posts» amass a higher number of external links than other content formats.

(

Moz

)

Websites with higher domain authority

(

as measured by Ahrefs Domain Rating) strongly correlate with higher rankings. In turn, poor rankings are associated with a low DR.

(

Backlinko

)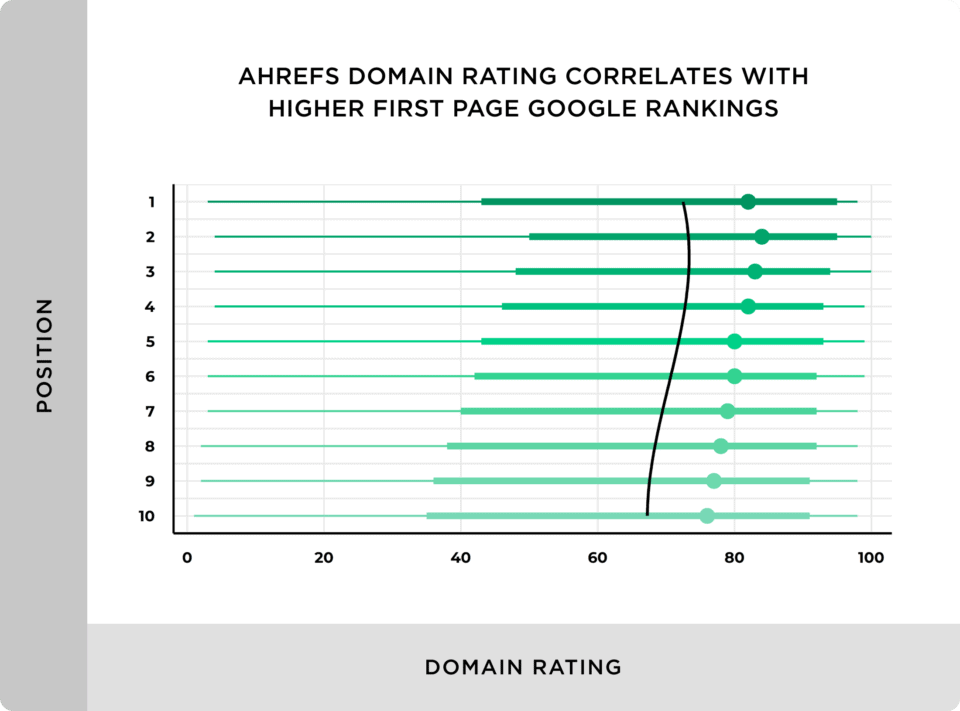 Domains with a high DR have a better chance of ranking #1.
A competitive analysis and link targeting strategy generate 54% of links for businesses

(

Aira

)
Knowing this, you can try to beat your competitors by incorporating new link building tactics. For example, leverage testimonial opportunities and broken links, craft linkable assets, develop a free tool, etc.
Nearly 50% of top-ranking pages utilize reciprocal links.

(

Ahrefs

)
Link Building Costs Statistics
Link building is usually considered expensive, something that eats up a third of your marketing budget with intangible results. Is it so? Let's see what benchmarks tell us.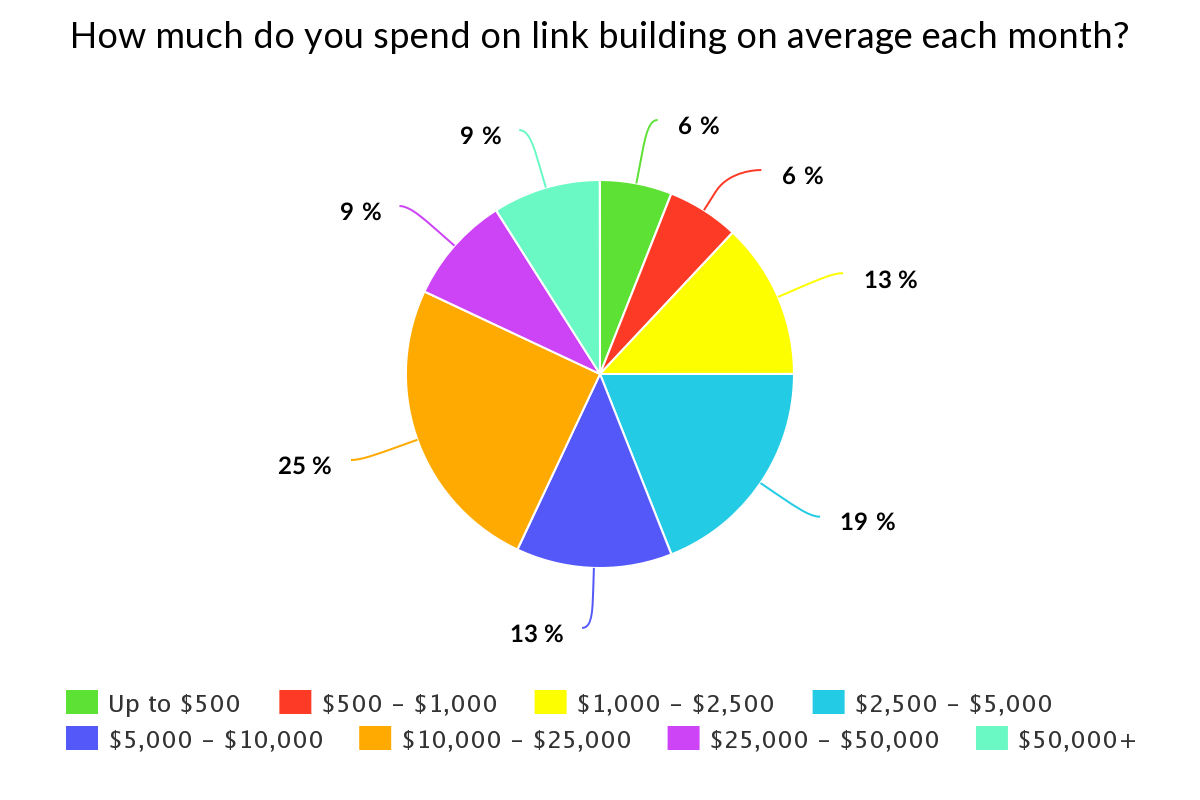 A graph shows the responses to a study's question about monthly expenses for link building.
What We Believe Is the Future of Backlinks in SEO
TL;DR
Guest blogging and outreach

are gradually becoming insufficient link building tactics.

Cold email outreach requires hyper-personalized campaigns to make it an effective channel for getting links.

Link building communities are gold mines for building quality backlinks.
We see a few trends that have been strengthening over the past few years. Guest blogging and cold email outreach are both slowly turning into outdated link building strategies. For sure, both can still generate a good flow of links, but their efficiency is quite questionable.
Google is smart enough to catch on the fly that sites are working on getting links from guest posts at scale. As a result, it can easily give less priority to such sites in the SERPs. But the biggest issue with guest posting is that the quality of content is rather mediocre, consequently affecting the quality of links placed in guest articles.
When it comes to cold email outreach, the issue is that, with the growing spam problem, people are becoming blind to such messages. It's similar to banner blindness when users are not «seeing» banners.
We switched to hyper-personalized email outreach, which means we started to add as many custom fields in our email templates as possible. Moving forward, Pitchbox adds all the info and sends ultra-personalized emails to recipients. Hyper-personalization requires heaps of time, but the ends justify the means.
Lastly, we want to share our most effective way to build links nowadays — to join the communities of like-minded link builders either on Facebook or Slack. That's where people build links.
Conclusion
Link building statistics are more than just fancy numbers. They get you to think differently and look at building links from another perspective.
If you need any help with building links, reach out to our team. Working with us, you'll get links to only sites you've approved. See you soon!