You want editorial links because they appear passively. What a relief for SEO pros! But before it happens, you've got to do the heavy lifting. Establish relationships with editors and come up with unsurpassed content that media outlets would pick up. And many other things.
So, what exactly should you do to earn editorial backlinks?
Read on this guide to learn:
3 Steps to Acquire High-Quality Editorial Links

Real-life Examples of Editorial Links

5 Editorial Links Best Practices
Let's dive deep.
What are Editorial Links?
Editorial links are placed by editors naturally and are a byproduct of great content. Meaning content writers or journalists decide to link back to your company or its content because they like it. You don't know when and where a backlink pops up.
Contrarily, acquired links are pushed by link builders through outreach, link exchange, link intersection, and other link building tactics.
The key difference:
Editorial links appear naturally; you don't have control over them.

For acquired backlinks, you choose websites and URLs to build links to and anchor text.
4 Benefits of Editorial Links to Keep in Mind
Given that you don't know who and when will link to you, are editorial links that important?
Let's figure it out.
Benefit #1: Higher domain authority
Editorial links usually happen when you create breakthrough content like data-driven case studies, research reports, interactive stuff, coined terms, etc. Such content attracts dozens, and sometimes thousands of top-notch, high-DR media outlets to piggyback on your findings or support their points of view.
The domain authority surges because those outlets pass their link equity to your domain.
For example, Aura, a privacy protection solution, has amassed 194+ referring domains with 10 from DR 90+ websites to one single article about how to recover your identity if it was stolen.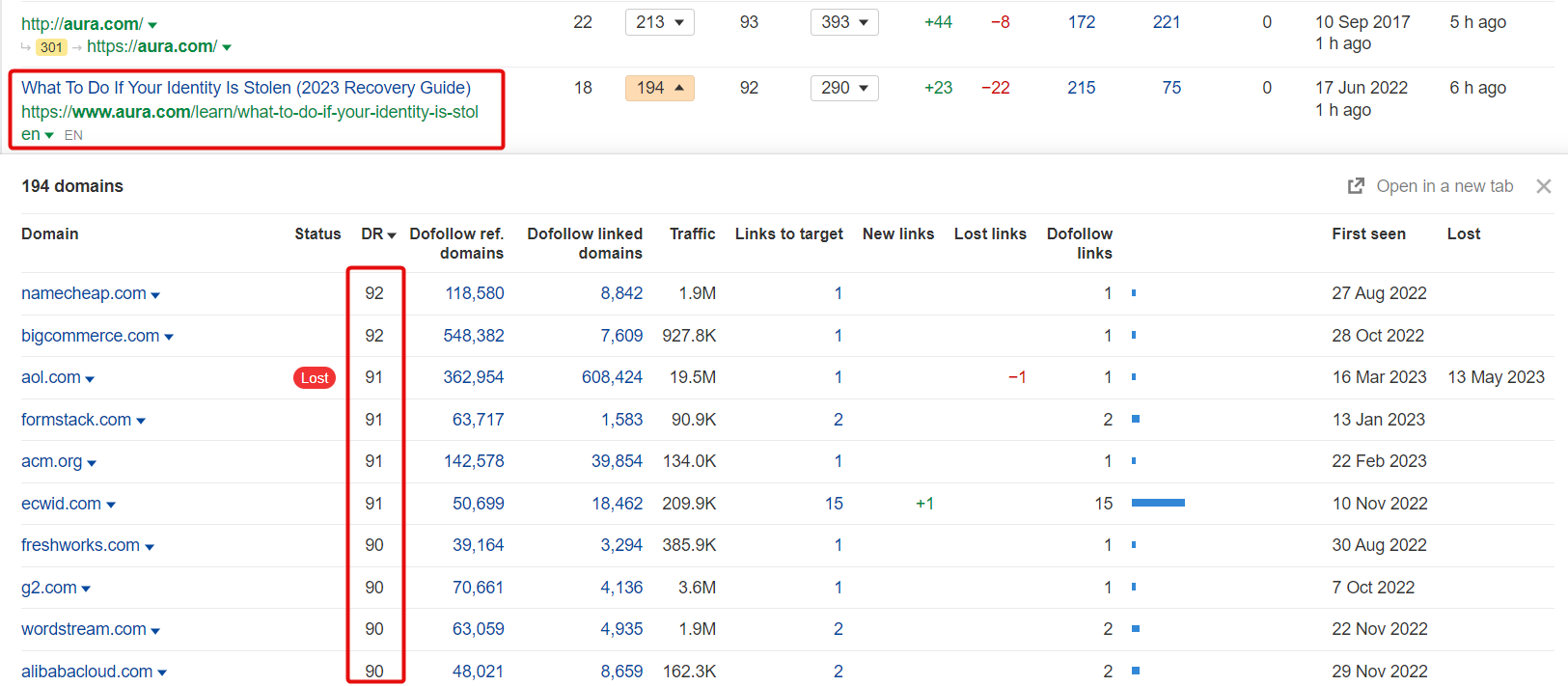 Aura earns editorial links from DR90+ websites to its quality content.
Irina Maltseva from Aura shared how they managed to achieve such a great result:
Many factors helped to get over 200 backlinks to this article, but the most critical ones are content quality and expertise. Editors aren't linking to any content. They are linking to the BEST content that provides value and brings something new to the table. Besides, it's essential for editors to link to the most up-to-date sources. In our article, we shared expert advice on what to do if your identity is stolen, illustrated it with actionable tips and examples, and created a video that helps readers to recover after identity theft. Basically, with this article, we were able to answer the search intent and provide helpful information with no fluff. Content quality and unique research definitely help to get editorial links of the highest quality. — Irina Maltseva, Growth Lead at Aura.
Benefit #2: More backlinks in less time
Brian Dean from Backlinko built 5,660 backlinks in 30 days with a single article. It's a dream come true for any living SEO out there. This piece has earned 10,500+ backlinks with over 3,400 referring domains to date, according to Ahrefs.
Why did it happen?
Dean gave journalists the type of content they are on a hunt for. It's an SEO-optimized listicle with fresh statistics for TikTok. So, when a writer wants to craft a post about TikTok, they Google for some data to support their claims. And they'll likely link to Backlinko's guide, as it ranks by 105 keywords in the top-5 in the SERPs.
Get more editorial links in less time like Backlinko.
Benefit #3: More referral traffic and brand exposure
Editorial backlinks drive a good deal of referral traffic to a website since people get hooked by fascinating statistics/facts and want to explore them further. Next, they're likely to click several more articles/pages on your site, this way learning about your brand.
Also, the more authoritative sites feature you, the stronger your brand becomes. Thus, publishing extremely good content is a sound digital marketing strategy for brand building.
Here are some more thoughts about it:
Good quality editorial links can help boost conversions in three key ways.
Quality Traffic: If the link is from a high-authority website that is already trusted by their audience, users are more inclined to click on the links within their content. This means that the referral traffic coming to your site from these links will be better quality because these users are already interested in your niche and therefore more likely to convert.

Enhanced Trust and Credibility: Links from a reputable website send a signal to visitors that your content is trustworthy and credible. This can impact brand reputation and make users more likely to engage with your site, leading to higher conversion rates.

Targeted Audience: A good editorial link should come from a site that is relevant to your industry or niche. Therefore, the traffic that comes from these links is usually more targeted, and those visitors are more likely to be interested in your products or services, leading to a higher conversion rate. — Jason Morris, Owner Principal at Profit Engine.
Benefit #4: Less link building costs
Editorial links come at a fraction of the cost compared to acquired links. For both tactics, you've got to invest your time and money to design content — a relatively similar amount. But can you land hundreds or even thousands of links with outreach in several months?
We at Digital Olympus can hardly imagine it, given our 9 years of experience in link building and thousands of created backlinks for our clients.
Conversely, one solid piece, cheat sheet, a free tool, etc., can bring you an enormous number of links, making the cost of one link ~$ 0,01.

OrbitMedia has earned over 7,100 links to a survey.
Consider the example above. OrbitMedia, a web design and development company, has got over 7,100 referring domains to a survey-based article. How much would you spend to acquire this number of unique backlinks?
Now, let's go over tactics to earn editorial links.
How to Acquire High-Quality Editorial Links in 3 Steps
Although every piece of content can get mentioned, these 3 tips will guide you on how to speed up editorial links.
1. Create linkable assets.
Link-worthy, high-quality content tends to receive hundreds of backlinks naturally or with a little nudge. Such content can be:
1.1. Statistics: Curated articles or based on surveys or your unique data and usually in the form of a listicle.

Statistics post example.
The easiest and best in therms of ROI linkable assets are statistic posts. If I have a small budget for a website, let's $ 1000 dollars for linkable assets, I would invest it in 10 statistics posts where I'll collect stats from other sources. I'll still get may links naturally. — George Tod, Founder of Thrive My Way.
1.2. Original research: Built on your product data, analytics, or surveys.

SetSail's original data-driven study.
1.3. Interactive or static infographics: Display statistics or unique findings in an entertaining or easy-to-digest way.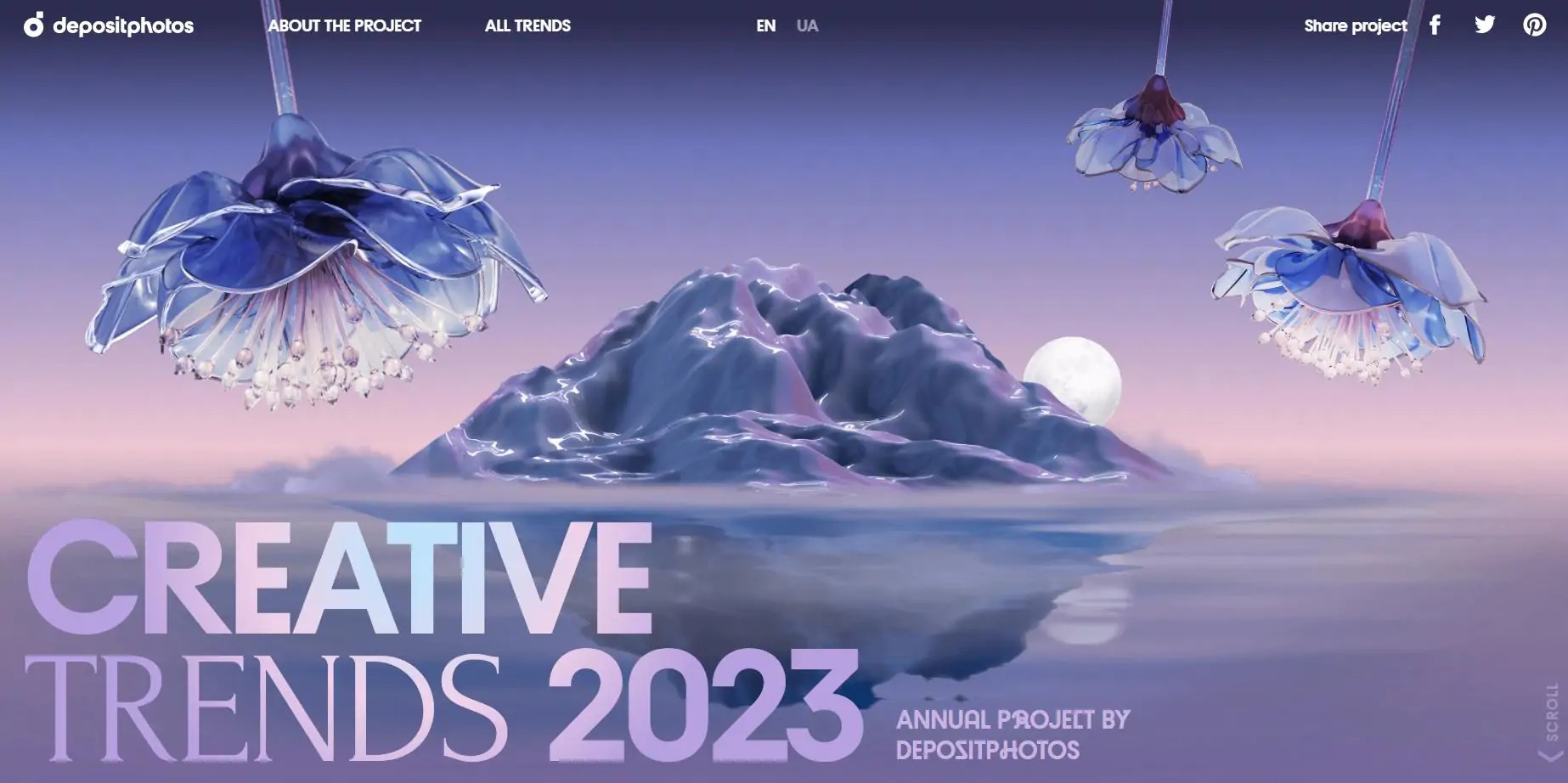 An interactive infographic by Depositphotos.
1.4. Case studies: Publish what you've achieved with your clients, so journalists, bloggers, and other content creators can refer to it as an example to support their thoughts.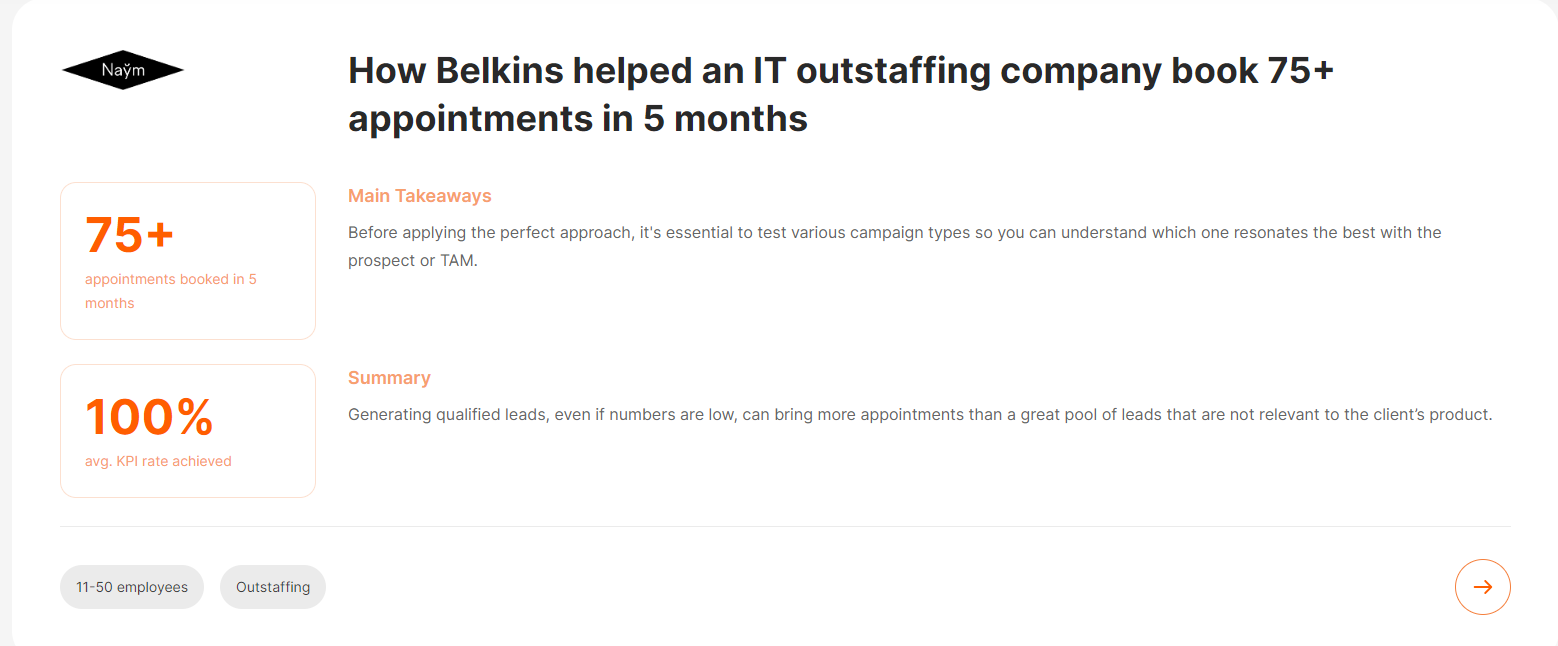 Case study example.
1.5. Free tools, add-ons, and extensions: Develop free tools to get more eyeballs to your product/services and earn editorial links.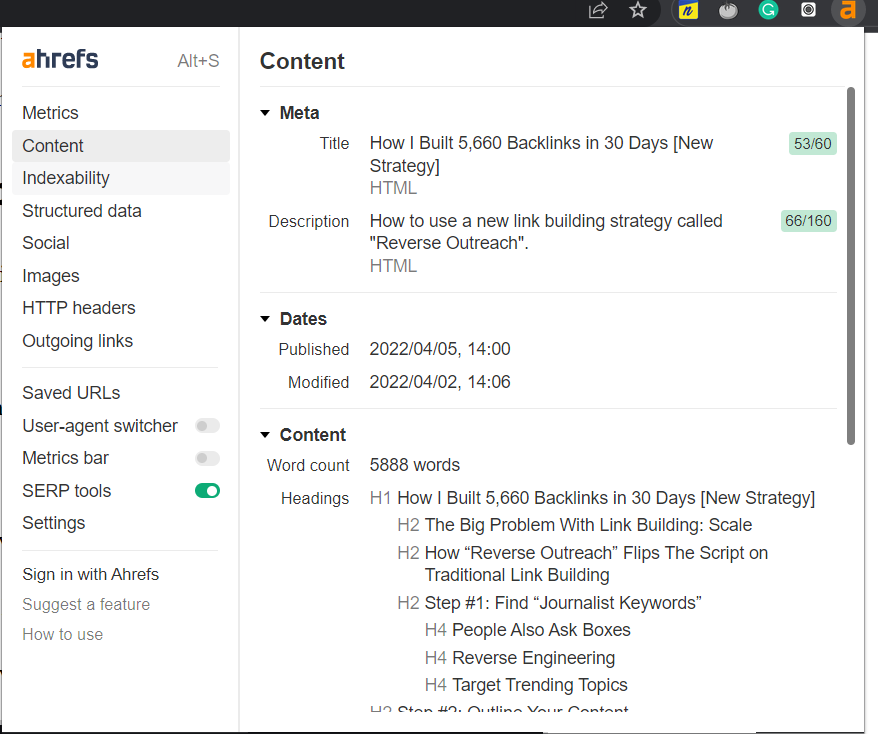 Ahrefs SEO Toolbar — a free browser extension.
1.6. Templates and checklists: Design free templates, calculators, or checklists to get links and become top-of-mind to do XYZ.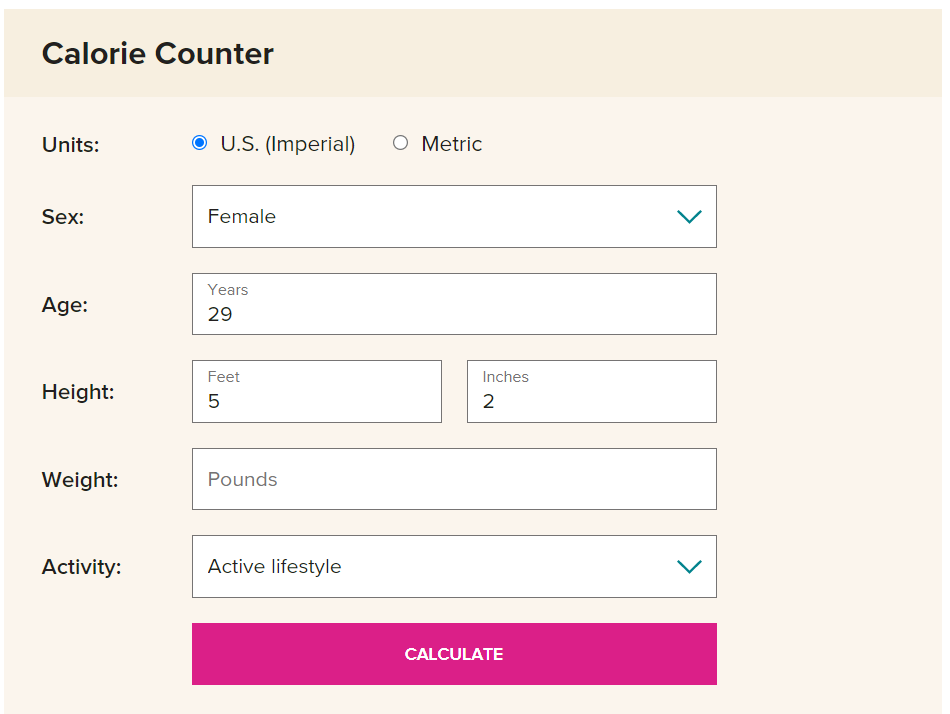 Free calorie calculator.
?Evergreen content and expert roundups also have the potential for editorial link building.
Now that you understand what linkable content looks like, it's time for the next step.
2. Promote your content
To get authority websites to pick up your content, promote it wildly. This includes SEO, social media distribution, pitching to media outlets (aka digital PR), cross-promotions, etc.
2.1 Optimize your piece for search engines.
You want journalists to come to your place, so optimize content for the keywords content creators search for. For example, Link building statistics 2023, B2B content marketing stats, etc.
Follow these 2 steps to find relevant keywords:
1. Analyze the People Also Ask box by a broad keyword. Understand what journalists are interested in.


2. Open up Semrush or Ahrefs to analyze your competitors' keywords for a similar piece. Steal those keywords.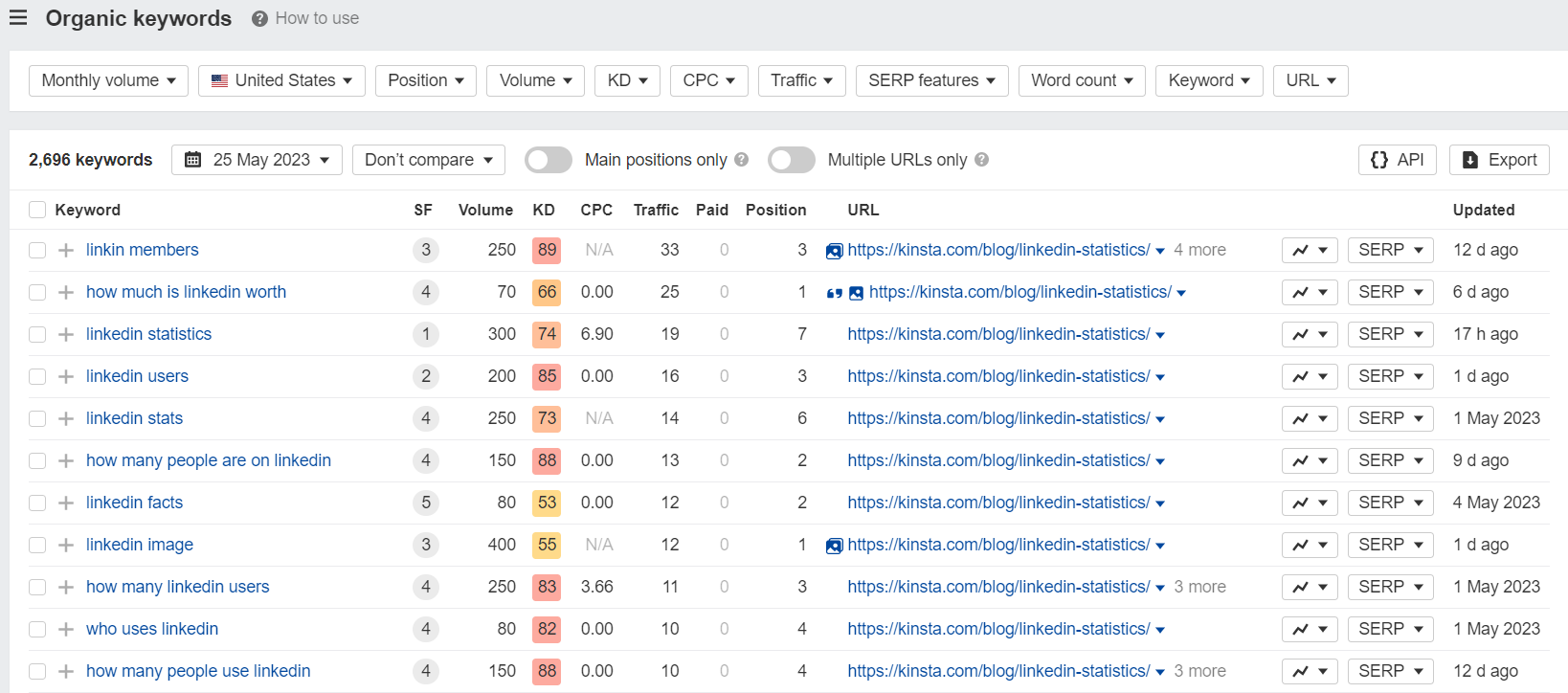 2.2. Distribute your content on social media.
Design a content distribution plan to promote this piece for several months. With several rounds, you won't cover all your subscribers, so make sure to create a sequence of posts.
Next, ask your clients, fellow SEOs, and partners to give a boost to your valuable content on their social media.
?Tip: Source 5−10 quotes from influencers and subject-matter experts to leverage their audiences.
2.3. Pitch to journalists.
Want your content to get featured on Forbes, Inc, CNBC, and other sought-after media? Be proactive. Find their contacts with Hunter, GetProspect, or other tools for prospecting, and craft a personalized email for everyone on the list.
?Tip: Monitor journalists' inquiries on HARO, HAB2BW, and Terkel to promote your piece of content in your answers. Data-driven inputs are more likely to get featured on high-authority sites.
3. Build relationships
Be one step ahead of the game and establish relationships with niche-relevant bloggers, editors, website owners, and journalists upfront. Engage on LinkedIn, Twitter, and Facebook with their posts. Be on their radar.
Comment and repost their thoughts, give a link to their content and let them know about it. Become a valuable connection business-wise.
When the time comes, you reach out to them and ask for a favor.
?Tip: Be constantly present on social media and grow your network. Not only does it help to promote your linkable assets, but it also opens many doors to link building collaborations.
And now, let's move on to best practices to augment your editorial link building.
5 Editorial Links Best Practices to Use in Your Strategy
These 5 tactics are designed to get more eyeballs to your content and promote more high-quality links.
Best Practice #1: Create lots of graphs and charts
Infuse your articles with illustrations to make them a linkable asset, too. When designing content with link building in mind, think of the visualization type your audience and bloggers prefer the most. Numbers are not enough. Some folks borrow images, graphs, and charts to make their pieces more engaging.
For listicles or data-driven articles, design lots of charts and other graphics. If you're cooking up comparison tables, make them in the image format.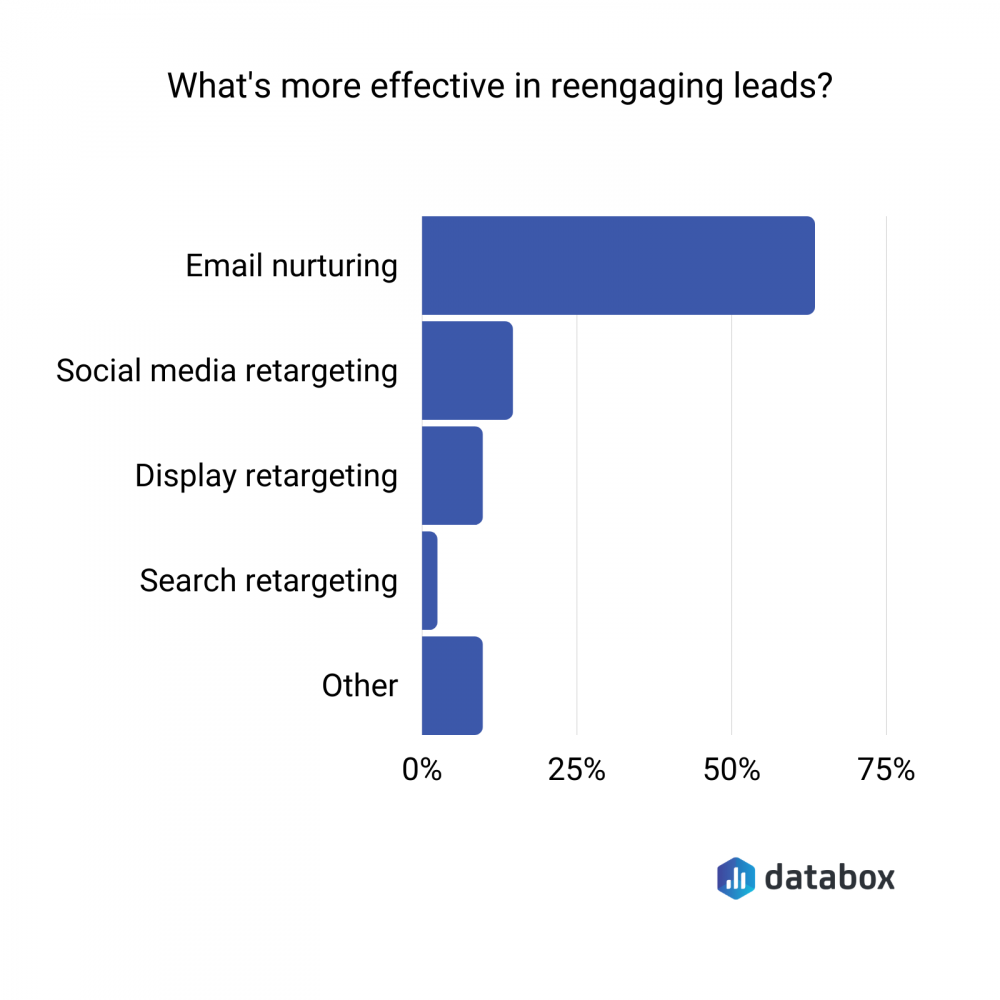 Use graphics to get more links.
Next, monitor what companies borrow your images but don't link to them through Google Lens. Spotted unlinked image usage? Reach out to the site owner/writer, etc., and ask them to add the link, so they don't violate copyrights.
Best Practice #2: Monitor link performance
Monitor editorial links to ensure they are not broken, removed, or replaced. Use Linkody to get daily insights on your backlinks statuses. You can also send reports about broken links or any other statuses with Ahrefs.
Got an alert? Manually check the link and contact the site to address the issue.
Best Practice #3: Direct inbound links
Pass some link juice to your brand-new, link-worthy content to boost its SEO rankings and shorten the time to appear in Google search. The latter happens because Google navigates your site by following links pointing to other pages of your site. No internal links — no quick rankings in the SERPs.
How Google discovers new pages.
Best Practice #4: Fix Broken Links.
Analyze your competitors' backlink profiles and industry-related sites to spot broken pages that can be replaced for your linkable assets. It's a time-consuming tactic but can be massively rewarding.
Here's how to find broken links and understand whether your content is a good fit for replacement.
1. Open up the Best by Links report and set filters «HTTP code: 404 Not found,» «Target URL: Contains blog.»
2. Sort the table by referring domains with the highest number at the top.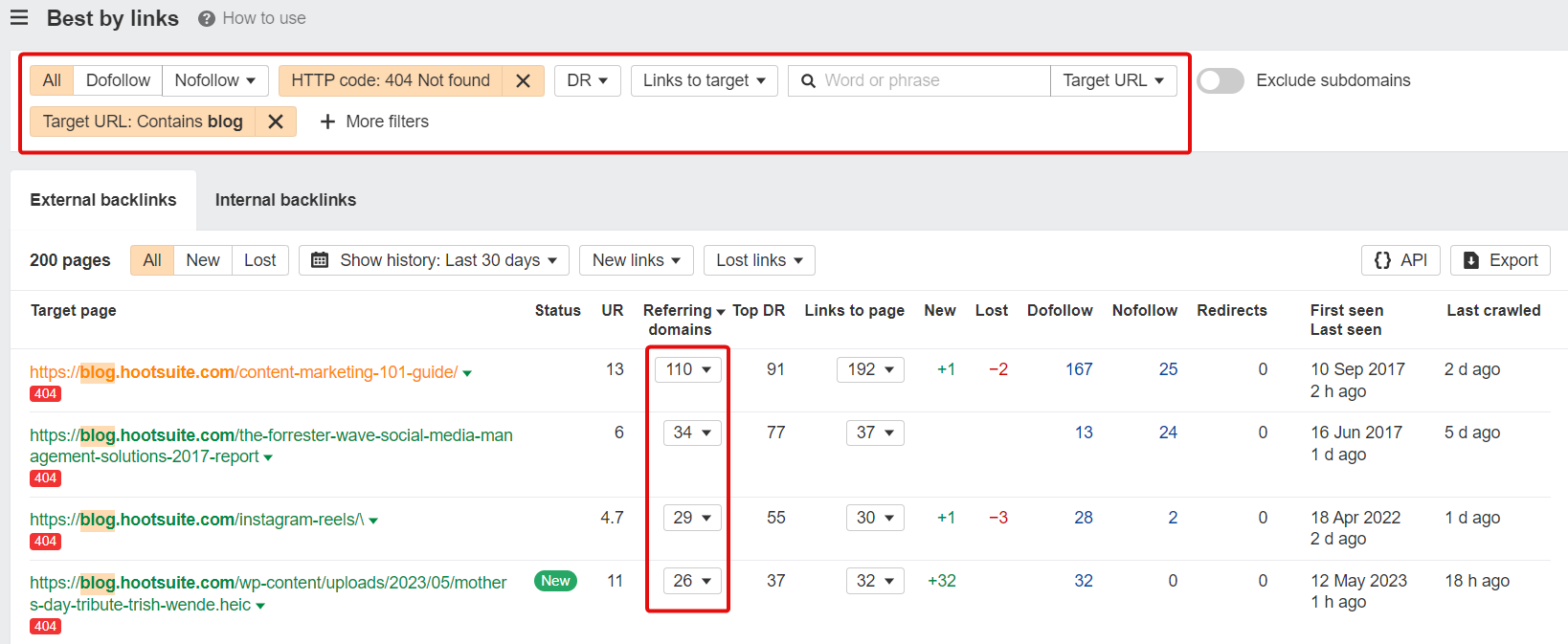 3. Examine the context in which donors have linked to the broken page. Click on the Dofollow button (the numbers). Ahrefs will redirect you to the backlinks report pointing to that page. Read a snippet of the text surrounding it.

4. Explore what the page was about with the Web Archive. You can open up the tool in the new tab or prompt the analysis of the page directly from Ahrefs by clicking the caret symbol.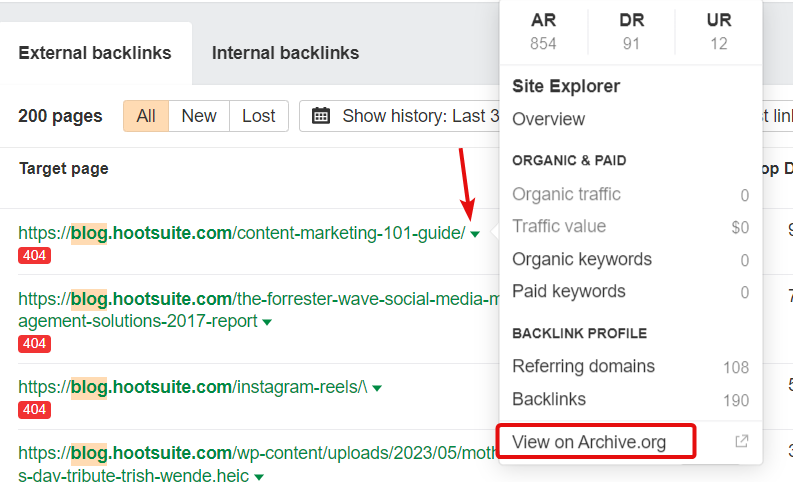 Now, put things together and weigh up whether you can use this opportunity to get a link. Needless to say, your content should be relevant. Next, contact a webmaster of a site that points to a broken page and offer yours for replacement.
Best Practice #5: Build external links to your linkable assets.
To skyrocket the search rankings of your linkable assets, build links to them. Mention that content in your guest posts. Ask fellow link builders to point to this piece in their guest posts.
With a rock-solid link profile, your linkable asset firmly secures top positions in the SERPs.
Now Over to You
Linkable assets are the most powerful tactic in your link building strategy. Join forces with your digital PR team to develop and distribute outstanding content.
As for Digital Olympus, we can help you get backlinks from reputable sources through guest posting, relationship-based link building, and 10 more tactics.
Contact our Senior Link Building Strategist to discuss your project.
Discover more related articles for link building: