Link builders and link building service providers fall into two categories. Those who employ ethical link building strategies (so-called white hat link building). And those who try to manipulate PageRank by using black hat link building tactics.
The white-hat SEOs earn «safe» links that help sites rank higher in search engine results pages (SERP) and contribute to further sites' growth. «Black-hat» SEOs build spammy links to increase search rankings in the short term, but these tactics are usually reversed in the long run.
In this piece, we'll break down the 15 ethical link building techniques and briefly cover black-hat tactics to avoid. Follow our recommendations and build links that move the needle.
Let's get started!
What is Ethical Link Building?
Ethical link building considers all the «white hat» link building techniques that SEO pros can use to get backlinks. This means building links by strictly following Google's guidelines and providing value to readers. And not using any controversial tactics (aka black hat or gray hat methods) that could damage a website's search engine rankings and reputation.
Deborah Norton, Founder at Bravo! Interactive media also reminds us to stick to white hat link building tactics:
"The best links to acquire are organic in nature and are such a good fit that they are a Win-Win for both parties."
With this rule in mind, let's learn the 15 effective ethical link building tactics that help sites conquer search results.
Strategy #1: Build Relationships with Webmasters
We at DigitalOlympus believe and advocate this tactic over everything else. Building relationships with webmasters is one of the best ways to get links by going 100% white hat for any niche and company size.
«What does it look like in practice?» you may ask.
Here are the four approaches for building relationships within your industry:
Leverage link building and niche-specific communities

(

e.g., cold outreach, B2B marketers, travel bloggers, etc.). It seems that every industry has its community nowadays on Slack, LinkedIn, Discord, Facebook, or Telegram. Here's your go-to plan:

Become a member of a closed community.

Analyze its members to find prospects for link exchange

(

it's better to start with active members as they're likely interested in collaboration).
Engage with selected people

(

likes, comments, etc.).

Offer

to collaborate via DM

.

Check out your social connections. It's easier to start building links with someone you've known for some time. It may be your 1st and 2nd connections and followers on LinkedIn. With already connected people you can both discuss link opportunities right off the bat or ask them to introduce you to their circle

(

aka 2nd connections).
Craft hyper-personalized outreach.

Going the extra mile and showing webmasters/editors that you do care about their outlets and potential collaboration is always great for cultivating prolific relationships.

Engage with prospects on social media

to get on their radar and offer link collaboration with time.
Building relationships takes time, but the investment pays off in spades. This is especially true for enterprise link building.
Here, it's important to note that some industries have an easier time building connections with webmasters than others. Debra Mastaler shared her opinion with us on relationship-based link building:
"Competitive areas like insurance, mortgages, and education don't care about creating relationships with you, they don't have to or don't have the time to invest. This is especially true with B2C based sites, sites and/or media outlets in these niches are overwhelmed with requests, sometimes being first to respond is all you need.

Sites in the B2B space trying to build links may have an easier time of it however. Here, who you know usually trumps what you have to offer." — Debra Mastaler, link building expert, Founder at De9eR Media.
Strategy #2: Conduct Original Research
Another great strategy to earn links without stepping into the «dark path» is to conduct original research. Unique content usually attracts lots of attention from the industry. When done right, original research lures journalists, editors, and bloggers to refer back to your post.
Here's a breakdown of how to create enticing original research and get people to link back to it:
Understand what data people look for and what is already on the market. Use Ahrefs and Google. Look for keywords related to your services plus words like

stats, statistics, facts, trend report

. For example, project management statistics, best time to post on social media, etc.

Ask peers on LinkedIn and your colleagues what they would like to learn about considering the data you own.

Find journalists and bloggers who cover similar topics. Make sure your research has linkable potential

(

i.e., there are content creators who would benefit from your data and rely on it when creating content pieces).

Organize research in an easy-to-digest format. List key findings on top of the article. Create charts and visuals for each hot finding so that content creators can pick up one single stat.

See an example

of well-structured research.

Get thought leaders to quote some of your findings to boost your study's reach and engagement

. Why do they think the results showed an X trend? Embed answers contextually throughout the research.

Design distribution strategy: social media, email marketing, get your sales team to spread the news across prospects. Ask your peers to share the study and send it to journalists as a data source they can rely on in upcoming stories.
Following this strategy, you're likely to create amazing research that will become your linkable assets.
The digital marketing agency Aira has got over 550+ links in total from a single study placed onto different landing pages.
Strategy #3: Leverage HARO
Want to get featured in big-name media outlets like The Wall Street Journal, Forbes, and The New York Times? Use HARO (or Help a reporter out), a platform that connects journalists and reporters from different media with people like you and me.
Every day you get journalists' requests right in your inbox. What is left is to submit a meaningful, comprehensive answer to be selected among others. The competition may be fierce, so it's better to strictly follow the recommendations of an inquiry. If you have original data to share (aka original research), leverage it.
HARO may sound like a sweet deal but do not set your hopes too high. Working with HARO doesn't guarantee a steady and controlled link flow. Rather, it's a matter of chance. Nevertheless, HARO helps link builders get juicy links.
Strategy #4: Create Linkable Assets
The term linkable asset refers to the content type that generates passive links. Examples include statistics articles, infographics, free tools, templates, surveys, and original case studies. In other words, linkable assets are viral posts in terms of the number of backlinks.
Like with original research, linkable assets require a thorough pre-planning phase:
What data/template/tool can we represent?

What are use cases?

Who will benefit from it?

What outlets would be interested in covering the learnings?
Linkable assets also serve to increase brand recognition, drive referral traffic and attract new prospects.
For example, CoSchedule creates outstanding linkable assets — four original studies have brought 5,981 referring domains so far! Could you land so many links in a matter of a couple of years using other link building tactics? Definitely not.
CoSchedule's backlink profile
Strategy #5: Claim Unlinked Mentions
Content creators often mention some tools, courses, agencies, and so on in their pieces. But being mentioned doesn't mean getting a backlink by default. Sometimes writers simply mention your brand name without linking back to your site. Those are unlinked brand mentions.
Find your unlinked brand mentions with Ahrefs and then reach out to webmasters via email to claim backlinks.
Open Ahrefs Content Explorer and enter your brand name.

Set up filters: Published

(

e.g., Last 30 days), Language, Only live.

Click on «Highlight unlinked» and type your domain name.

Now, vet the link prospects in terms of domain authority

(

DR), organic traffic, credibility, and relevancy.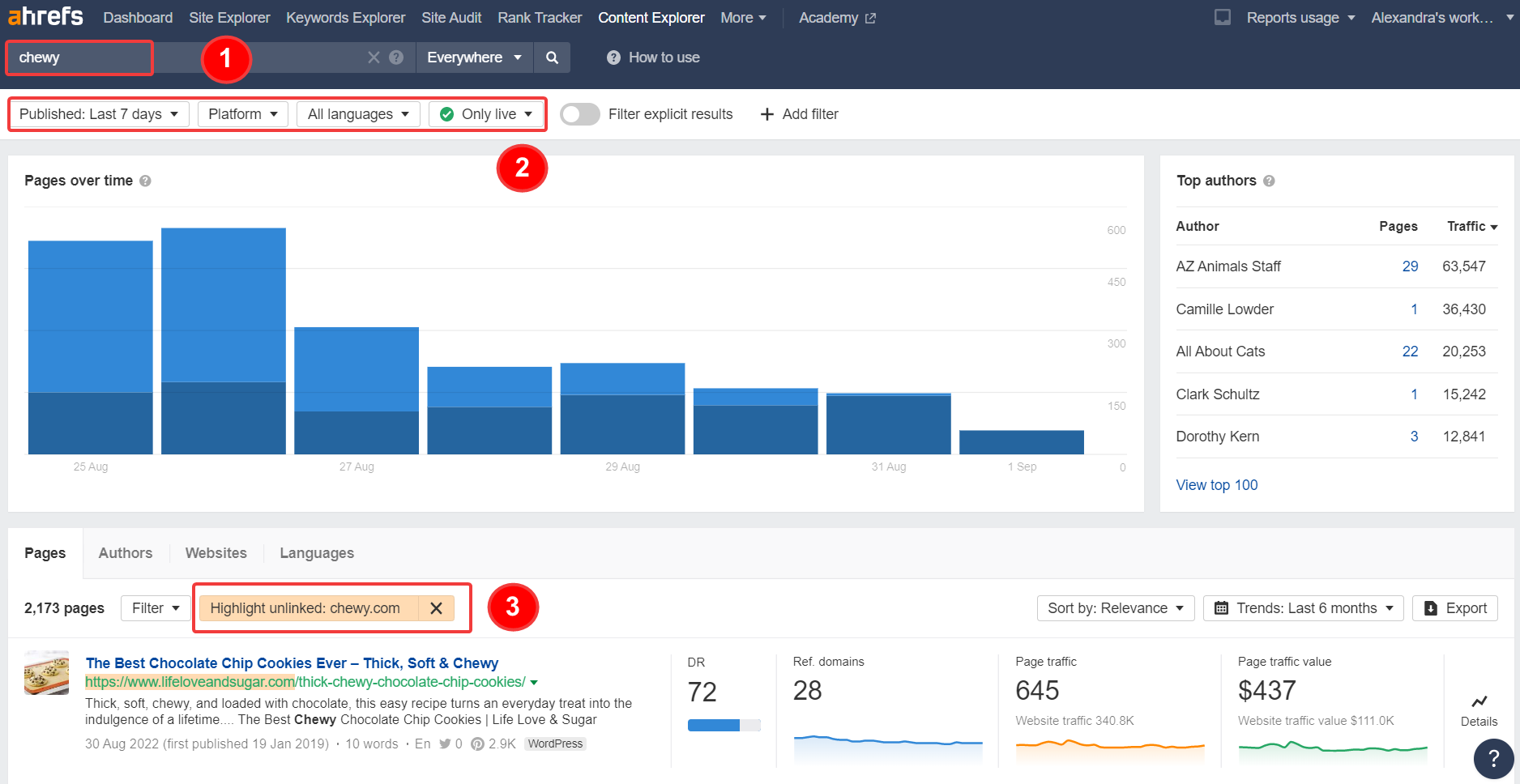 How to find unlinked brand mentions with Ahrefs.
This strategy works especially great for recognizable brands as they get lots of mentions on a daily basis.
Strategy #6: Find Broken Links
Broken link building is not an easy task and doesn't guarantee tons of links, and it will make you sweat a lot in most cases. Yet, SEO professionals still consider replacing dead links to be one of the most effective methods for earning links.
As for DigitalOlympus, we see that broken link building may be effective for some industries and for well-known brands (the latter can leverage their brand name).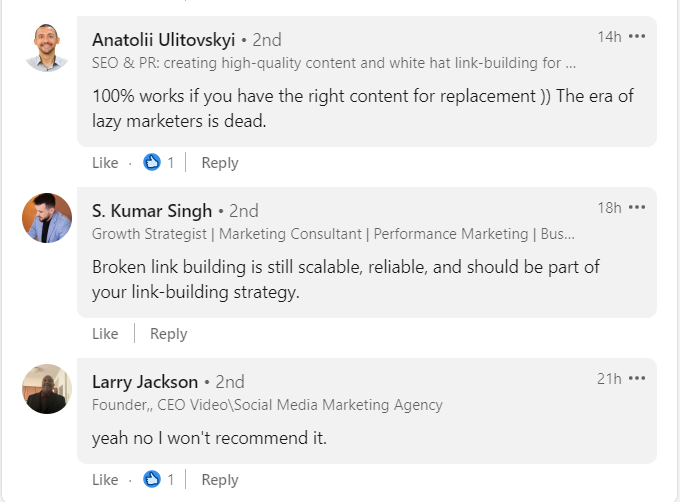 SEO pros share their opinion regarding broken link building
So how does it work?
Select up to 10 relevant sites for your niche at first. These may be competitors, industry-related blogs, or tools. In the next step, you need to find the broken pages of those 10 sites and find out who still links to them (i.e., links to dead pages).
Here's how to do so:
Open Ahrefs's

Best by links

report

Enter a domain name of a site you want to analyze on broken pages

(

the one from the 10 selected)

Apply a «404 not found» filter. You can now see the list of broken pages of the domain that was analyzed.

Click on

Referring domains

, and see what sites pointing to the broken pages.

(

Look at number 2 on the screenshot below).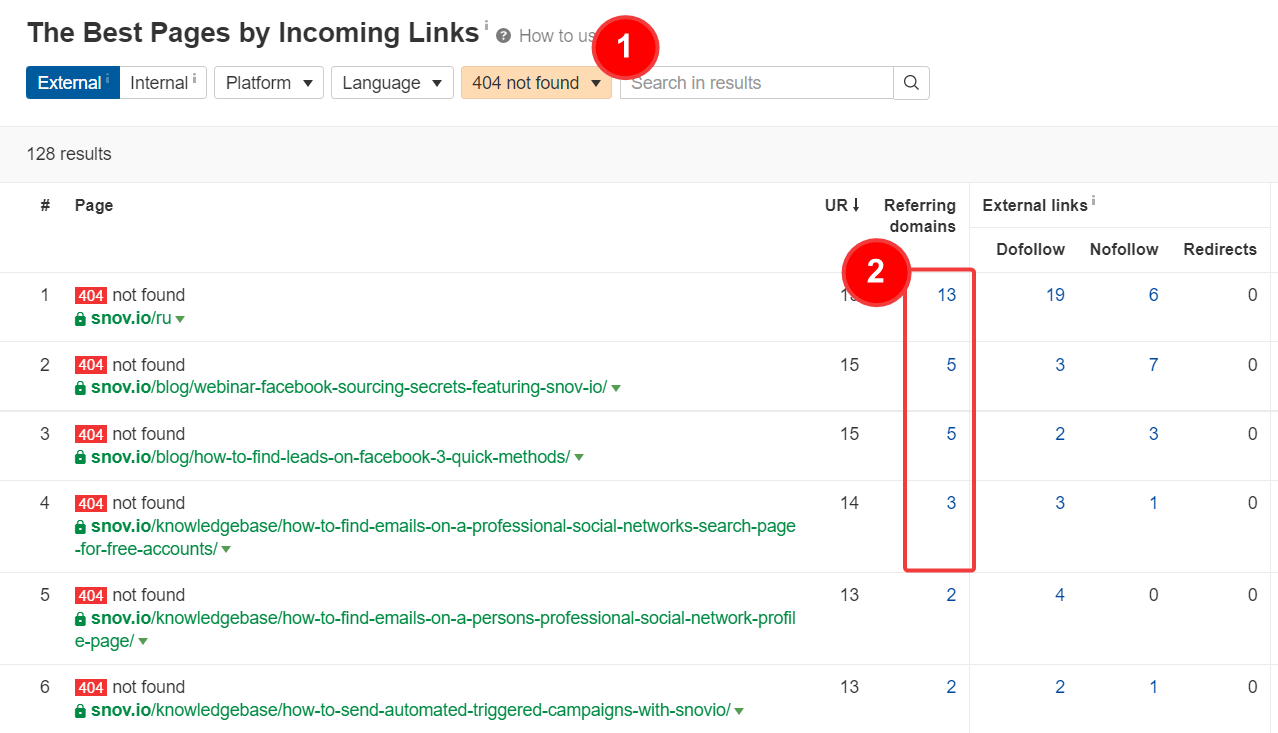 How to find broken links with Ahrefs
The next step is to select sites that are worth the effort. And lastly, analyze what dead pages were about (what their content looked like). It's imperative to follow this step since, eventually, you'll need to have better content to get webmasters to link back to you.
To look back in history, use the Wayback machine. This tool regularly takes snapshots of every web page on the web and stores them for a long time. You can even see what sites looked like 5 years ago.
Now, let's jump to a more creative tactic to get high-quality backlinks.
Strategy #7: Create Unique Infographics
Infographic link building is a solid strategy to get white-hat backlinks passively. Like with any linkable asset, infographics require preliminary steps.
Ideation

Data collection

Content creation and data visualization

(

static or interactive)

Publication

Distribution
For example, an interactive infographic Poppy Field has got 207+ unique referring domains. In turn, Aston Martin Transformation (aka Bond cars) infographic designed by vehicle retailer Evans Halshaw has already acquired 13K backlinks from various domains!
The key to getting links to infographics is to make them engaging and eye-catching. Proper distribution is also crucial.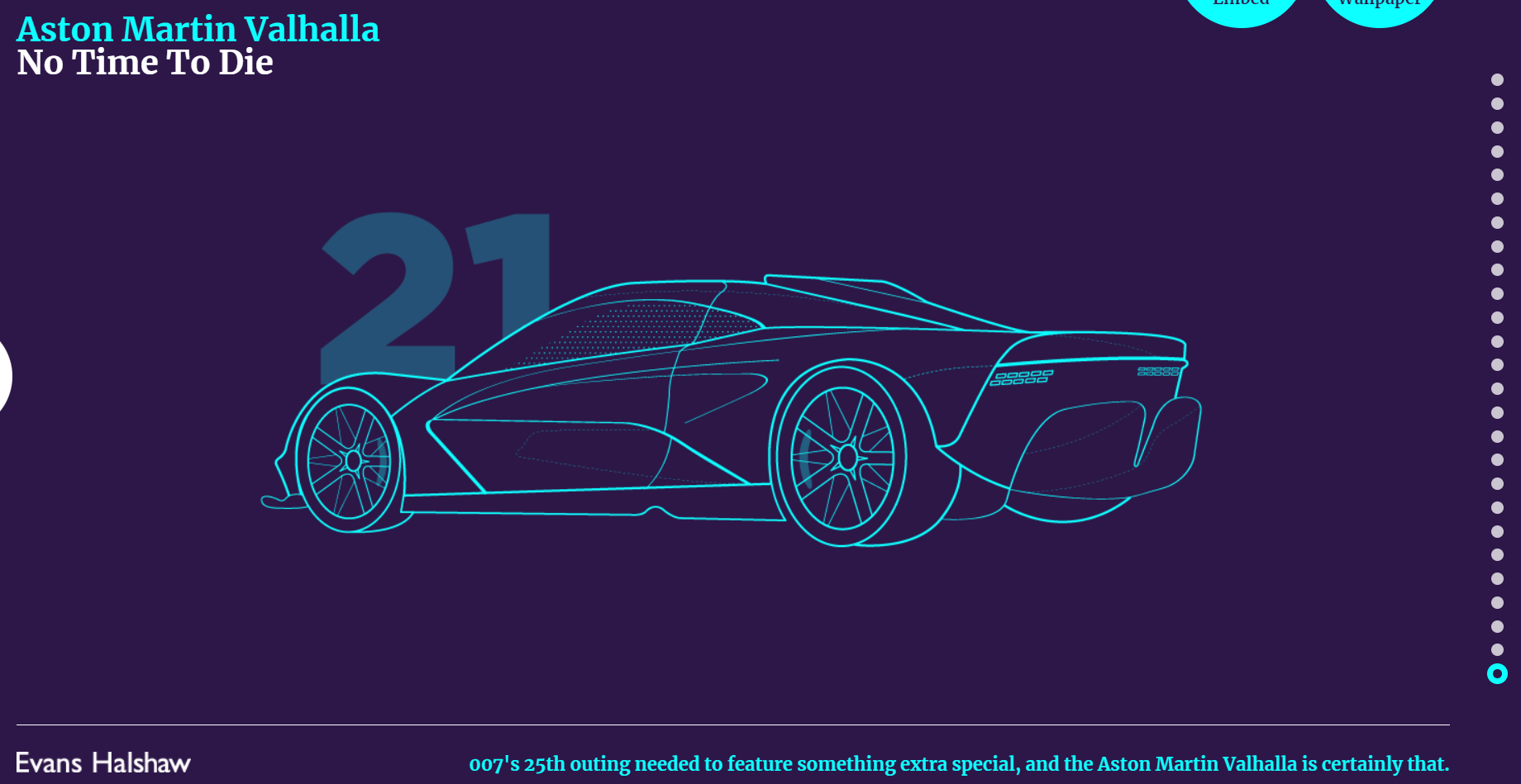 An interactive infographic designed by vehicle retailer Evans Halshaw
Strategy #8: Give Testimonials
This tactic is pretty straightforward and guarantees a handful of high-quality links. All you need to do is to put a list of tools your company uses across different teams and ask colleagues to write feedback for each. (One feedback for one tool).
Then, contact those companies and ask them to place your feedback on the testimonials page. This way, you kill two birds with one stone — you do a good deed and acquire do-follow backlinks 🙂
Strategy #9: Reclaim Lost Links
You can lose links due to many reasons. The most common ones include — a page was removed/ replaced; an owner just decided to delete backlinks, etc.
Link reclamation is when you spot lost backlinks and ask webmasters if they can link back to you again.
Linkody will help you monitor lost/new links 24/7 on autopilot. You can also opt for Ahrefs if you want to monitor link status, say once per week:
Open the

Legacy — Backlinks — Lost

report

Choose the date range for searching lost links

Filter

dofollow

links

(

we suggest doing so as dofollow links are of top priority)

Sort by DR
This gives you a report of lost juicy links you'd like to reclaim.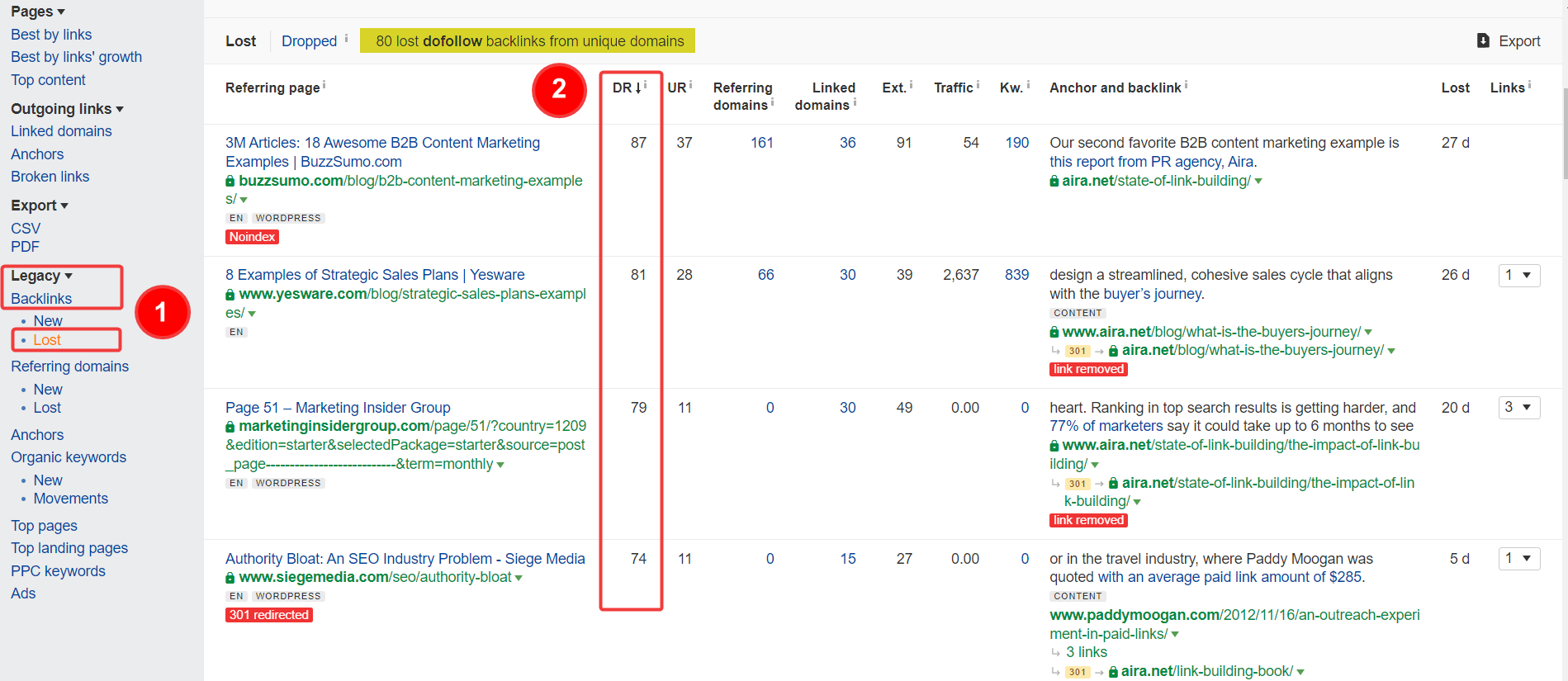 How to find lost backlinks with Ahrefs
Strategy #10: Get Listed on Relevant and Quality Directories
Directory link building can be tricky as there are many spammy and low-quality directories that link builders must ignore. To justify directories, ask yourself:
Does the site have a good reputation?

How long ago was it founded?

How likely is it that your target audience will visit this site?

Do any respected media or industry experts mention this directory?
Strategy #11: Make the Skyscraper Technique your Ally
The Skyscraper technique refers to creating the tallest building in the city. Translated into marketing language, it means to write the best-of-the-best article in the Universe on the topic and have everyone refer to THIS instead of what they currently link to.
Sounds confusing? We know 🙂 Let's see how this strategy works in practice.
First, find high-ranking content with tons of backlinks to it. Spot its weak points (structure, outdated takes, etc). Create a much, much better piece of content, and then inform webmasters about your top-notch content. Say that you intentionally designed this piece to top THAT article. Ask editors to take a look and decide whether your piece is worth linking back to.
In the end, you may or may not gain some links.
Strategy #12: Interview Industry Experts
Another creative way to get white-hat backlinks is to interview industry experts. Create round-ups or opinionated content and quote folks' takes on the subject. Publish it on your blog.
Chances are these people will link back to the interview from their site. If not, they might link back to you in upcoming pieces. This tactic is a great way to forge relationships with influential peers.
Not sure how and where to find the right experts for your content?
Here's a helpful recommendation:
"First of all, look through your Linkedin, Twitter, and Facebook. Is there someone you are connected to that can contribute? If yes, go ahead with it. Once you are done with that, move to your communities and Slack groups. Is there anyone you think has expertise in your topic? If yes, then talk to them? After doing this exercise, you can look into 2nd-degree connections, or connections of connections. Usually, warm intros through email or Linkedin work best.

If you do not have a connection to that person, the best way is to go cold but show them some value from the very beginning; examples of past work would work the best; send them a media kit, show them that you view them as an authority in the field." — Stefan Repin, B2B marketing and link building expert, growth mentor.
Strategy #13: Evaluate Link Prospects
Evaluating link prospects is extremely important because Google assesses every backlink in terms of relevance, domain authority, etc. If a referring domain seems trustworthy to Google, it passes link equity and helps your site/page climb higher in search results. Hence, Google considers such links «white-hat».
Here are some essential metrics to keep in mind when choosing sites to link to:
Domain authority: A high-authority domain

(

DR 40−50+) is

preferred over those with low authority

(

DR 20 and less). Although domain authority is the first metric to rely on, it's not an «end-of-it-all» metric.
Niche relevance:

The

Penguin algorithm

treats non-relevant links as spammy.

Google may penalize your site if lots of irrelevant links point to it.

For example: If you own a website about stock trading, getting a backlink from a finance blog will be more valuable than getting one from news pages or link farms

(

sites that post about everything).
Website traffic:

Websites with decent organic traffic provide good backlinks most of the time as Google finds them to be legit and trusted.
Trust flow and Citation flow: Trust flow and Citation flow are metrics by Majestic that define website quality and determine backlink strength

(

aka what impact it'll bring to rankings). Use these metrics as a ratio of CT/TF. The closer a website's ratio is to 1, the better.
Strategy #14: Keep an Eye on Your Competitors
Keeping an eye on competitors is one of the best practices a link builder can follow. By constantly «spying» on competitors' new links, the link builder can find relevant link prospects and understand what type of content encourages links.
There are three options to monitor competitors' backlinks: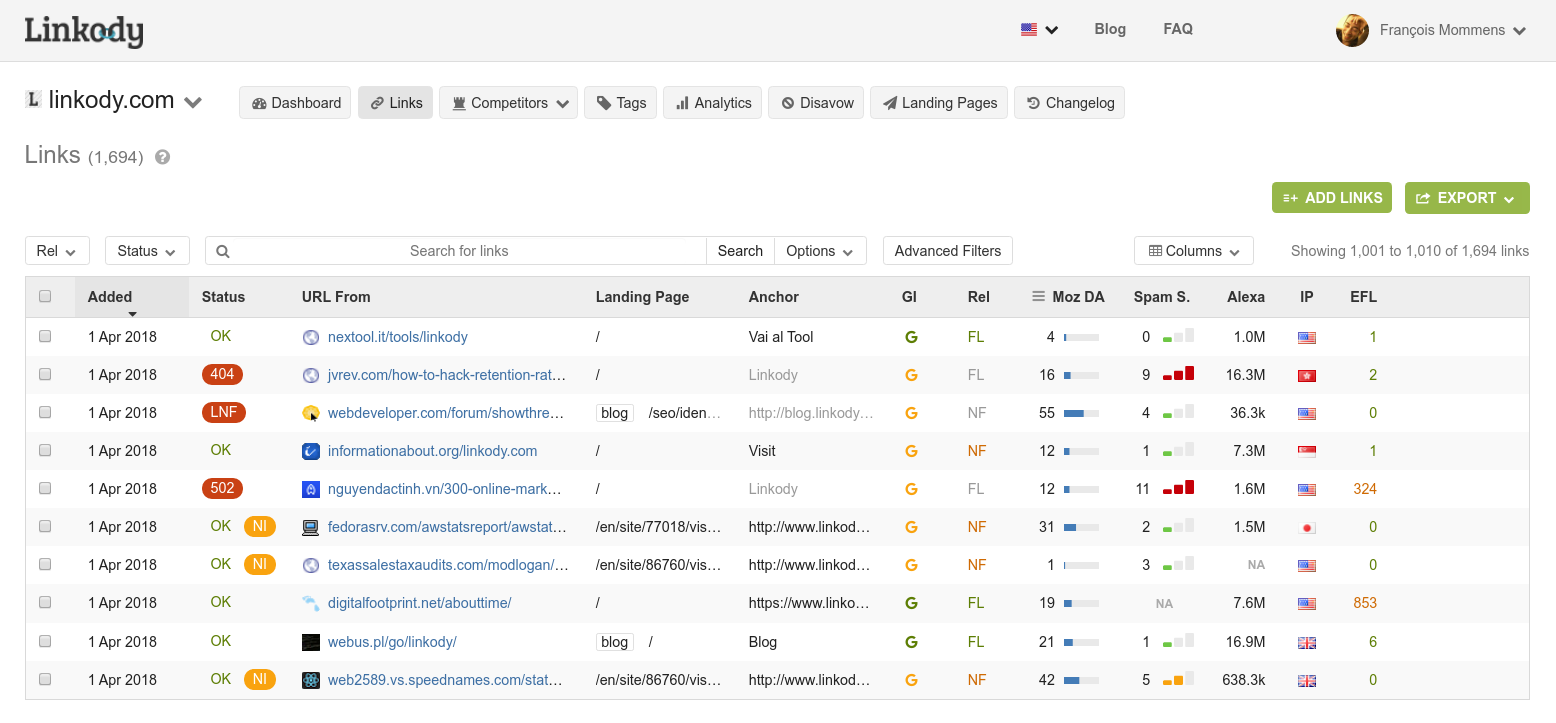 Linkody's interface
Strategy #15: Create Top-Notch Content
Quality content attracts backlinks. Especially long-form content like guides, case studies, and thought leadership pieces. Brands that invest in content marketing can passively acquire backlinks simply by producing top-notch content. By pitching outstanding content to external outlets you also increase your chances of getting published (get links).
As a Backlinko study shows, «When it comes to acquiring backlinks, long-form content significantly outperforms short blog posts and articles.»
OrbitMedia articles get backlinks passively due to extremely quality content.
However, high-quality content is rarely just about text, says Ron Stefanski:
"The content itself should be a well-written post, but ideally, you'd have unique quotes/data included as well as data-centric images. These images don't have to be mind-blowing, but they should be neutral in design and something that other sites would be willing to include in their own posts and link back to your site as a source. This post, for example. You can see that none of the images I've included are spectacular, but the data focus is something other brands writing about Google Adsense may find interesting." — Ron Stefanski, entrepreneur, professor, and creator of OneHourProfessor.com
The Other Side of the Coin: Black Hat Link Building
Building white hat links is time-consuming. Black hat SEO strategies entice link builders due to the speed of acquiring links. But is the juice worth the squeeze? Black- and grey-hat strategies are all about deliberate cap since link builders try to manipulate PageRank, which abuses Google Webmaster Guidelines.
What is black hat link building?
In a nutshell, black hat link building is any link building tactic that is banned by Google. Examples include excessive link exchange, buying or selling links, PBNs, guest posting campaigns with keyword-rich anchor text links, using automated programs to create links, etc.
Let's briefly walk through the most popular ones.
Black hat link building techniques to avoid
Paid links: Paying for links

(

any form of paid links) is against Google's guidelines and is risky as it can get your website penalized.
PBNs

(

Private Blog Networks):

PBNs are a network of niche-identical sites built by one webmaster to link to the main commercial site that generates profit.
Link exchanges:

Exchanging links at scale is hazardous and must be avoided by white hat link builders since too many reciprocal links seem unnatural for backlink profiles and can be easily detected by Google.
Now Over to You
Ethical link building requires extensive knowledge, a creative approach, and patience. If you need to streamline the process but are not ready to hire and onboard a couple of link builders, consider outsourcing link building to an agency.
We at DigitalOlympus have been using a relationship-based approach to link building for over 6 years. Want to know more and get a reliable partner who knows every aspect of SEO? Let's get acquainted! Contact our team and let's see what we can do for you.