Enterprise has a budget, brand recognition, reach, and inherited domain authority. They seem to have nailed it, so there's no need to invest heavily in SEO or link building. Media outlets will gladly cover their stories. But is it so?
As with every business, enterprises have great competition. If they stop working on SEO, they will gradually lose their rankings. So, enterprise companies still have lots to do with SEO and link building.
This article will walk you through the 8 enterprise link-building tactics.
What is Enterprise Link Building?
Enterprise link building is the process of building backlink profiles for sites with complex, massive structures and hundreds of landing pages (aka categories that drive conversions). To be successful, enterprises must place a lot of inbound links each month from high authority domains and from educational, government sites.
In short, enterprise link building is about operating large budgets, creating fancy link-building strategies, and placing tons of links in order to beat the extreme competition in search results.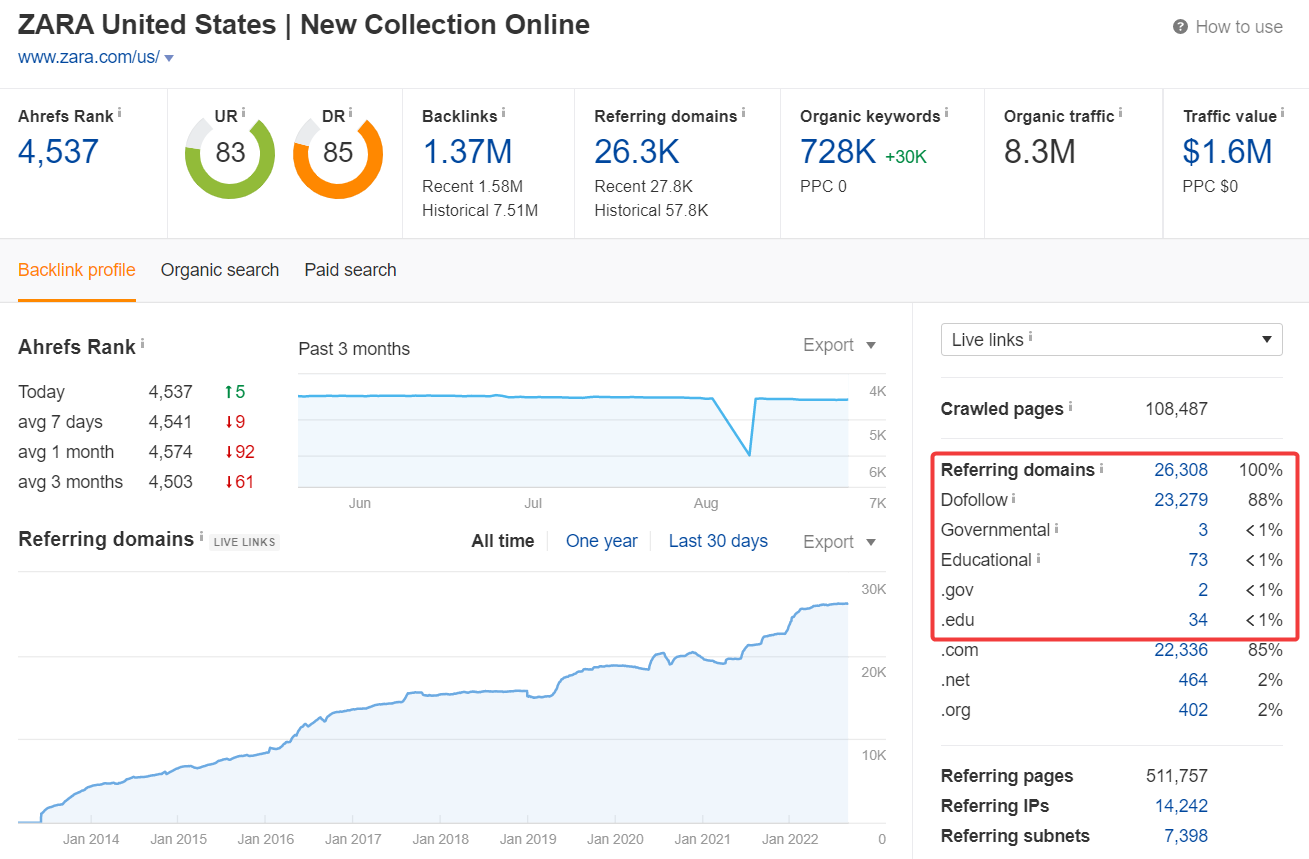 Zara's backlofileink pr
Enterprise Link Building: 4 Traits
There's a difference between enterprise link building and earning backlinks for small businesses. This is reflected in the number of links and the speed of acquiring them. Budgets, methods, and four more traits inherent in enterprise link building. Let's break them down.
1. There are specific guidelines about brand image
Enterprise-level companies care a lot about how they look on the web. What articles they post, what message they include in every piece, in what context they put anchor text, and the overall quality of content. The latter should be exceptional because it directly factors into general brand perception.
Building links for enterprise means following a great deal of brand image recommendations written by the digital PR team (the ones above are just a drop in the ocean).
All that makes earning links at scale quite challenging with typical link-building tactics.
The best way to approach link acquisition for big companies is to create non-controversial (unless agreed upon), laser-focused pieces with thought leaders' quotes (i.e., get internal SMEs to share an opinion and tweak it to contextually place a link to the destination page). We will discuss more tactics later on.
2. It's mostly about increasing rankings on multiple pages
Most small or medium businesses want to target a handful of pages to increase their rankings (or even only one or two — homepage, pricing page, and some landing pages).
Enterprise websites, on the other hand, have a lot of web pages and categories they need to promote in search engines. And most of the time, these pages have already cracked positions #1−10 due to high domain authority. But to hold these positions in the SERPs and compete with other giants, enterprises need to land even more links to multiple pages.
Thus, enterprise-level link building is mostly about further scaling a lot of pages in an already competitive market.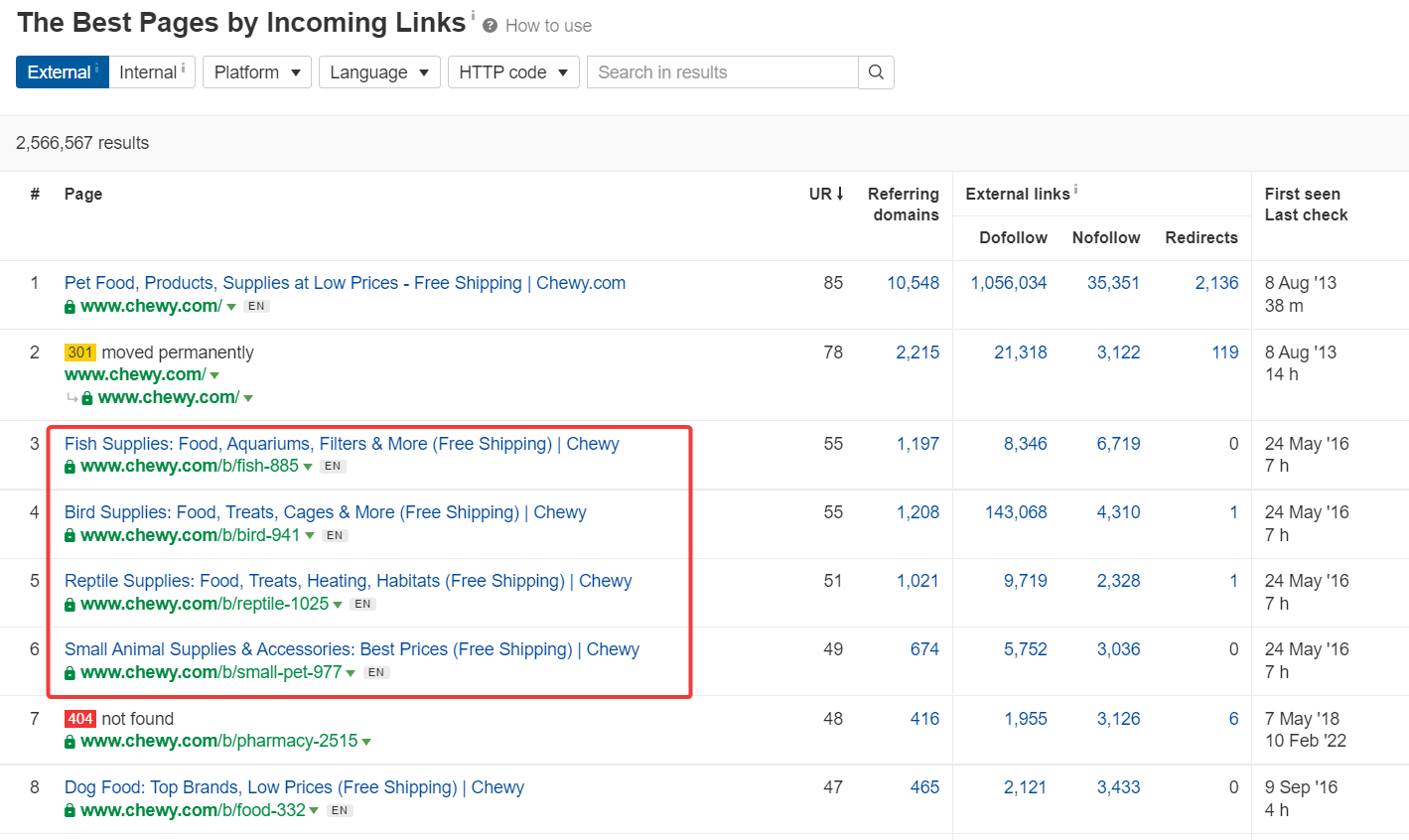 Chewy, a market leader in pet supplies, is building links to the main categories.
3. There's a big competition
It was mentioned before, but we want to highlight it again. Enterprises have big budgets for SEO and link building, which makes it a highly competitive link-building niche. There are hundreds of thousands of dollars for a single keyword. It's something that is unavailable to SMBs and requires particular skills and knowledge to manage.
Link builders have to be extra savvy and careful when designing link-building strategies for enterprises because the competition can simply out-budget them.
4. Quality matters the most
We definitely don't imply that it's appropriate to create low-quality content for mid-size businesses, but enterprises require special treatment. You've already learned about brand image regulations. On top of that, quality means acquiring links from industry-leading bloggers, corporate blogs, and media outlets. So to succeed with enterprises, you should build quality links at scale. That means landing 20−50+ high-quality backlinks per destination page per month. Quite a task, huh?
With that, let's move to the next chapter and learn effective methods for getting links for big companies.
8 Effective Enterprise Link Building Strategies
Some strategies are known to you from building links for SMBs, but for enterprises, they need a little tweak. Let's dig down!
Strategy #1: Claim unlinked brand mentions
Big name companies get a lot of mentions. Link builders have to leverage this by monitoring every mention on the web and filtering them out to find hidden gems. They should make this activity a daily/weekly routine.
Brand24 or Mention help automate tracking new mentions. The tools explore social media and the web 24/7 and match keywords you specified for search with the text in new documents (the text on new pages in the SERPs).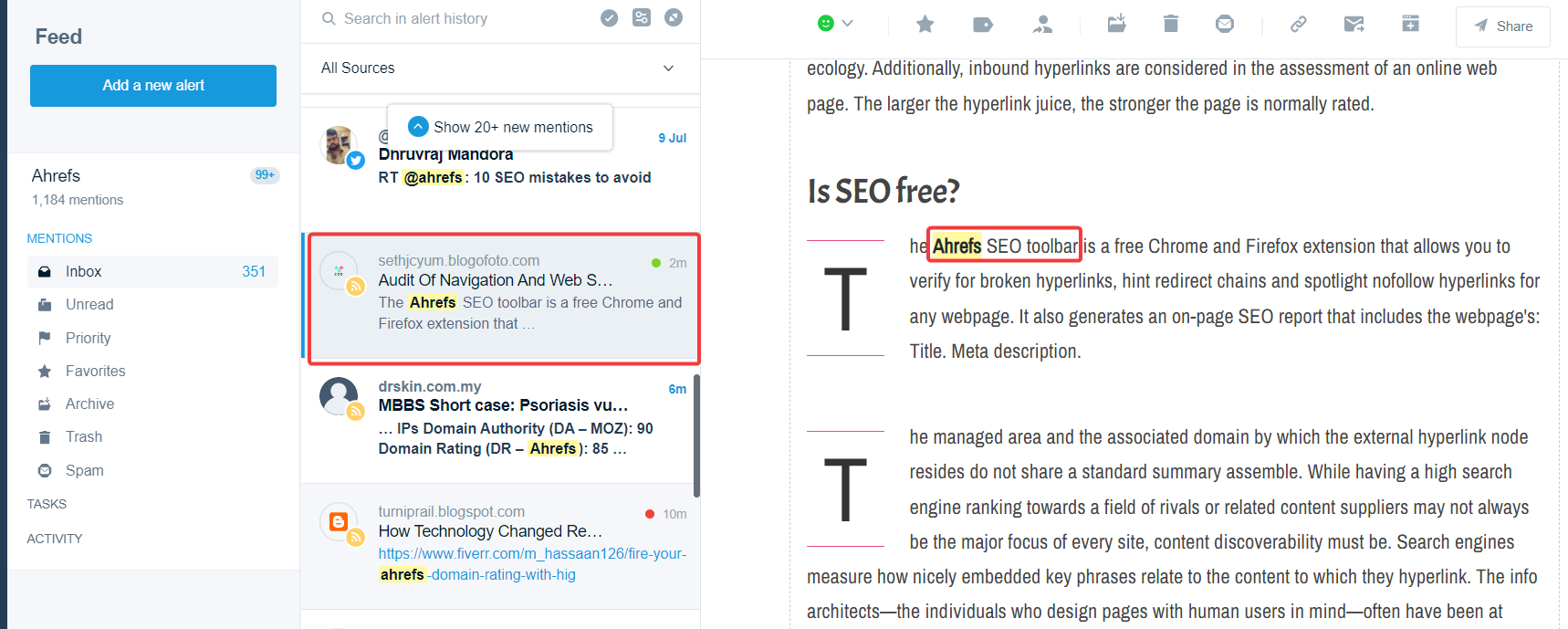 Unlinked brand mentions
The next step is to distill relevant sites with a high domain authority (DR/DA). This part is meant for manual work, but it can be partially automated. For instance, you can either export new reports and upload them to Ahrefs to check the DR of each site. Or use API to fetch mentions to Google Sheets and retrieve DR for each site with Ahrefs API.
OR
You can do pretty much the same in one place without coding a line! Let's see how:
Open Ahrefs Content Explorer and type your brand name.

Set up filters: Published

(

e.g., Last 7 days), Language, Only live.

Click on «Highlight unlinked» and enter your domain name.

Enjoy! All the metrics are in one place in a matter of a minute.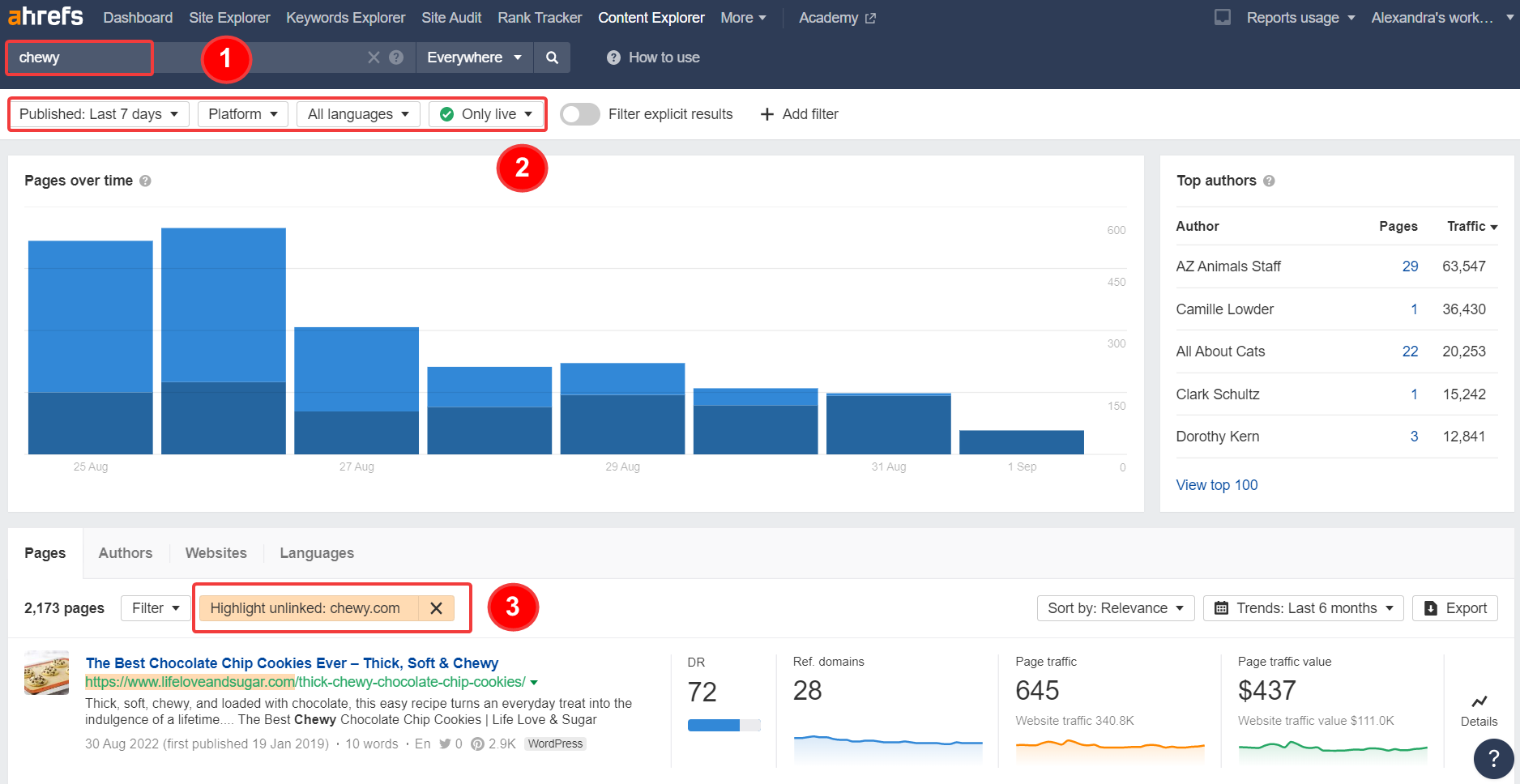 How to find unlinked brand mentions with Ahrefs.
What tool to use is up to you. We recommend checking three of them and seeing which one gets more mentions for your brand. If the difference is insignificant against the total number of mentions, stick with Ahrefs. This way you will save heaps of time.
Thus, the only manual part left is validating website relevancy.
Strategy #2: Leverage your clientele
Enterprises have a lot of different clients. As such, a good way to get backlinks is to leverage the existing clientele. How?
#1: Use resource pages
For B2B SaaS enterprises, it's simple. Check your client base and find customers who are also in this space (B2B SaaS). Check their website for a resource page where they gather products they use or recommend.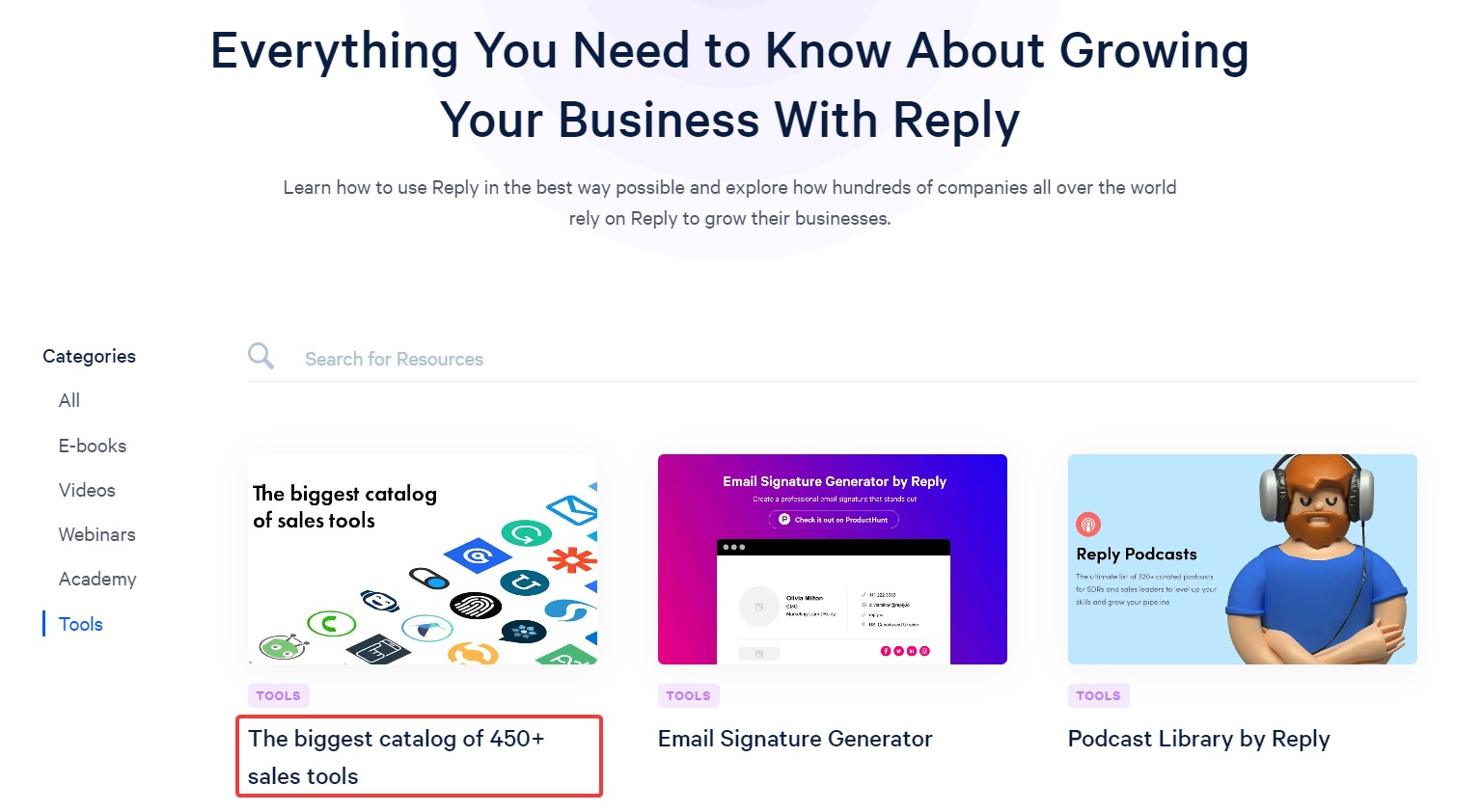 Resource Library by Reply.io
#2: Leave testimonials
Big companies usually have plenty of tools to automate tasks and build workflows across different teams. So you can use it for link-building purposes. No one will refuse to place a review with a do-follow link from a big-name company. This tactic suits any industry.
#3: Reciprocal links
Okay, excessive reciprocal links are bad. It's unnatural for a backlink profile, and Google may flag you as a rule-breaker. But we don't talk about violating the link exchange policy. Helping your peers is a natural behavior.
You both gain value if you reach out to relevant sites among your customers and offer them a link partnership.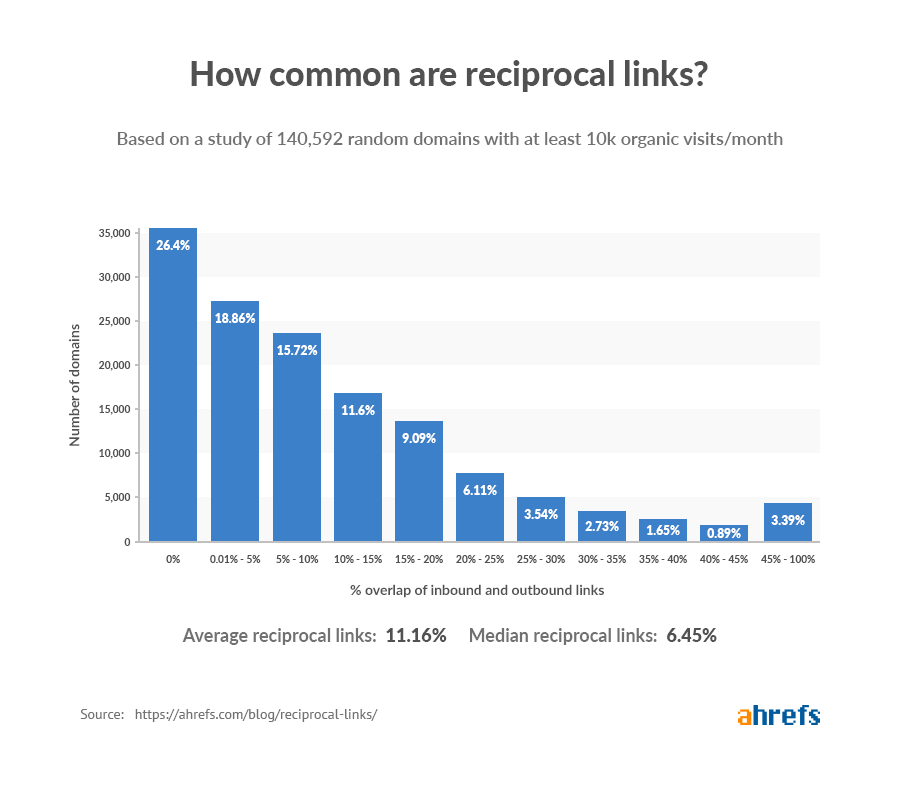 On average, reciprocal links take up 11.16% of backlink profiles.
Strategy #3: Give interviews
This tactic is pretty straightforward. Want to get your brand featured on big fat media outlets and get juicy links? Arrange interviews with your execs. Or create articles based on top-management opinions (with quotes) to make pieces desirable for journalists and bloggers.
Enterprises can also be guests on podcasts, webinars, and conferences and have their moments of glory on TV. This way, you will get even more links than from one domain.
Note: Being featured on TV is especially great for local SEO, as local online magazines and media are likely to pick up your story.
HubSpot's CEO gives an interview with other market leaders
Strategy #4: Offer sponsorships
Enterprises are well-known in their industry and, most of the time, in their local communities and cities. So, a good way to acquire backlinks is to offer sponsorships across the country or online.
For example, you can get a fat link from the .edu domain name by giving scholarships. You can also become a sponsor of online/offline professional meetups, conferences, podcasts, etc. Not only does it bring you links, it also gives brand exposure and new leads to your sales pipeline.
Strategy #5: Promote content
You may want to publish promotional content on a popular blog or media. Not for the sake of a link because it'll be marked as Sponsored, and it won't pass any link equity. This is a way to promote some of your products (brand exposure) or form relationships with editorial teams.
The latter may open a door for further free content collaborations with juicy links.
Strategy #6: Create linkable assets
Linkable assets are pieces of content with original data (of any type) that shed light on the nooks and crannies of industry beliefs, theories, etc. It usually gathers tons of links from various sources and becomes one of the most linked-to pages on websites.
This works so well because linkable assets give audiences unique statistics and knowledge. Journalists, bloggers, and content marketers use this data to back up their points of view.
Here's a list of linkable assets:
Original study/research based on product data/analytics, etc.

Surveys — when digital PRs run a poll and use the collected data to craft a unique piece.

Templates — downloadable or online

cheat sheets

for any tasks

(

analytics, SEO, budgeting, etc.).

Infographics with unique data or

interactive infographics

(

this piece acquired 1.5K+ referring domains).
Free online tools — calculators, add-ons, or free tools

(

check out Ahrefs'

free Webmaster tools

)
An interactive infographic designed by vehicle retailer Evans Halshaw
Strategy #7: Help a reporter out
Help a reporter out (or HARO) is an online service for connecting journalists from all over the world with people like you and me. Journalists from media outlets are constantly in search of fresh opinions and personal stories to spice up their pieces. Using HARO is a surefire way to get cited in major outlets like Forbes, Business Insider, CNN, The Wall Street Journal, etc.
Christopher Panteli shared some instances where his company helped different businesses enrich their backlinks profiles with quality links:
«I can confidently say that our use of HARO has led to a significant increase in the quantity and quality of backlinks for our clients. In one notable example, we assisted a leading software company in securing a backlink from a top-tier tech publication, resulting in a notable boost in website traffic and search engine rankings.

But our success is not just restricted to technology companies, we have achieved similar results across different industries. We assisted a large healthcare company in securing a link from a top-tier publication in their industry. This not only helped them improve their search engine rankings, but it also helped them to establish themselves as thought leaders in their field." - Christopher Panteli, Founder at Linkifi.io.
Big-name companies attract more journalists' eyeballs by default. So leverage HARO to pitch industry-specific studies or opinions on industry-related topics.
This works great because the number of daily requests from journalists is enormous. You can get 20−50−100 requests every day within your industry. If you invest time in preparing quality content that completely addresses the request, you're likely to build a steady stream of high-quality links.
And here's a little tip from Viola Eva on how to get this strategy to bring more results:
«One of the crucial factors to win at HARO is the turnaround time on your response. Typically, you will want to be one of the first to supply a quote.

We accomplish this by answering on the client's behalf. We have a list of selected topics that we want to discuss as well as point of views/ angles of the story. From that and all existing client content, we can craft a unique — and fast — answer to each appropriate query. HARO likes quotes from people — not brands. So make sure to pitch as an individual subject matter expert." - Viola Eva, Founder and SEO Consultant, Flow SEO.
Strategy #8: Outreach to relevant websites
Guest blogging outreach is a hackneyed tactic, but it still works even for enterprise link-building campaigns. If you are familiar with or use this tactic for earning links to SMBs, it will work differently for enterprises.
#1: Think twice before choosing websites for link placement
First, you should be very picky when it comes to link prospecting. Select only well-known, high-authority websites you want your brand to be associated with. Examples include influencers, corporate blogs of leading service providers, etc.
However, you can also work with small bloggers with growing audiences and organic traffic if your goods fit their target audience. For instance, links for Chewy, for example, can be built on any pet-related blog with a DR of 40−50+.
Use tools like BuzzSumo or Pitchbox to find relevant bloggers in your industry.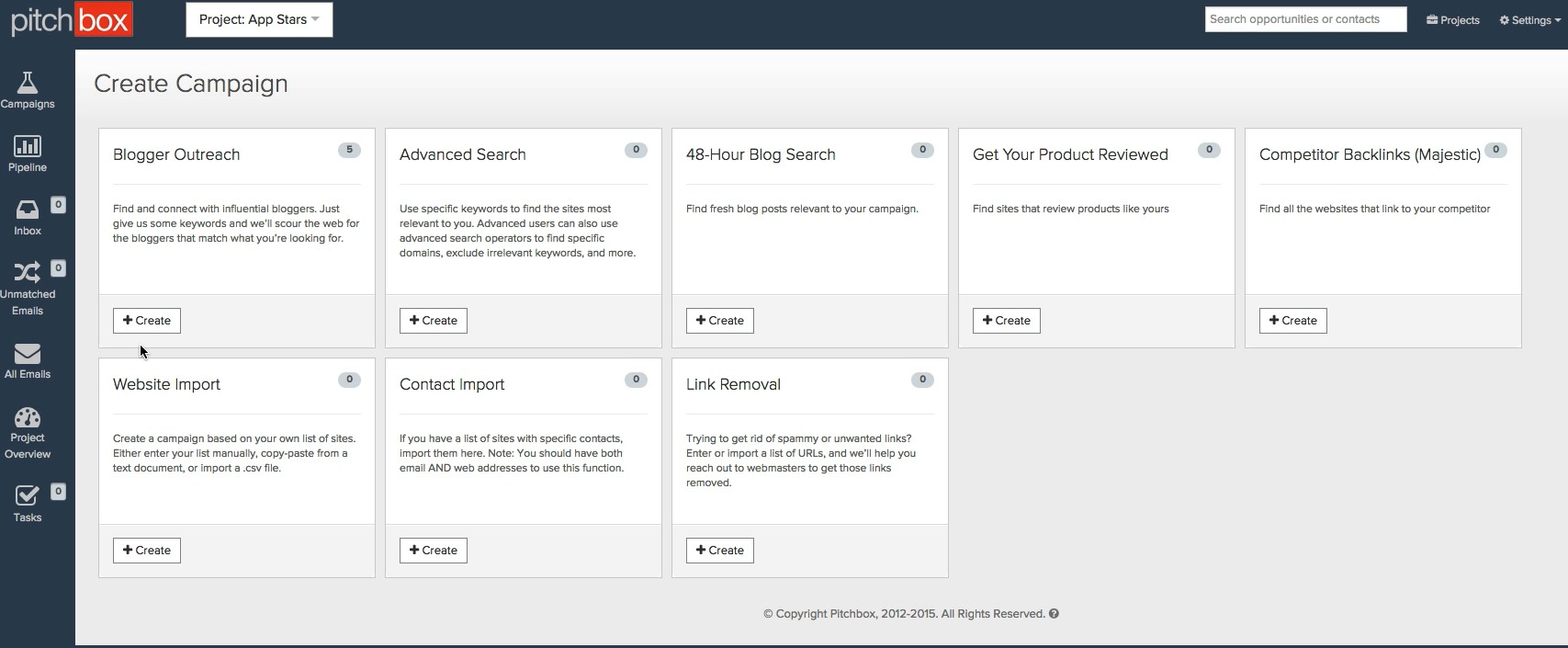 PitchBox's prospecting options by default
#2: Craft very personalized pitches
First, canned emails ruin your reputation. Second, they get an extremely low response rate. Nowadays, templated email outreach doesn't work. At Digital Olympus, we switched to hyper-personalized email outreach, which means we started to add as many custom fields in our email templates as possible.
Moving forward, Pitchbox adds all the info and sends ultra-personalized emails to recipients. Hyper-personalization requires heaps of time, but the end justifies the means — such pitches are noticed and lead to guest posts.
#3: Don't expose your brand until publication
This is a ground rule for all enterprise link-building service providers and in-house teams. You mustn't outreach from the corporate domain in order to not jeopardize brand reputation. Usually, link builders use no domain-specific email addresses. And unveil a brand name only when sending a piece.
With that, let's discuss tips & tricks to make enterprise link building even more effective.
3 Tips for Effective Enterprise-Level Link Building
Here, we've highlighted the three crucial backlink-related items that contribute to the entire enterprise SEO strategy.
1. Focus on category pages
Think of search intent. If potential customers search for an exact model of a watch or laptop, this type of product page is calculated in thousands on your website. So you won't build backlinks to all of them. You can improve the search rankings of those pages with internal linking and by working on topic relevancy.
But when it comes to category pages, the game changes. Categories tend to attract a large volume of traffic. The majority of people google «buy laptop» more often than «buy apple macbook pro.» So it's better to promote category pages to rank for the Top 3 in Google search.
Note: Under the keyword «MacBook pro» can also be a category page. Build links to it if it generates great revenue and ROI.

Search volume
2. Relevance is key
You'll inevitably face the moment when there are no high-DR websites left. Plus, some industries are hard to build links to because there are not that many bloggers out there. At that moment, you might start to consider getting links from irrelevant domains or crafting PBNs or using other crafty «grey hat» tactics.
We don't advocate any of these.
If you lack high-DR websites, mix them with highly relevant DR 30−50 sites. Search engine algorithms consider relevancy as one of the key factors in linking. Hence, relevant links from smaller sites pump your domain authority. On the other hand, irrelevant links from high-DR sites can lead to a site being penalized by the Penguin algorithm.
3. Don't forget about related brands and websites
Enterprise companies often operate multiple brands and have their own online identities and websites. Each brand usually has its own blog and/or independent media. If it's relevant to your site, don't hesitate to link back.

Four companies under one roof
Why Should Enterprises Invest in Link Building?
Let's recap why enterprises should continue working on search engine optimization:
Stay ahead of the competition:

The enterprise landscape is a very competitive one due to a colossal marketing budget under operation. So, having high Google rankings and stealing organic traffic from competitors can create an edge for enterprises.

Boost organic and referral traffic:

Link building increases traffic, which means new potential clients and increased sales.

Increase domain authority:

Getting quality backlinks can help a brand feel more trusted in Google's eyes. This factors into stable rankings and better positions in the SERPs for all pages.
How Digital Olympus helped an enterprise-level company acquire 314 links
Among its customers, Digital Olympus has a well-known software review platform G2, for which we've been building high-quality links since August 2020. G2 came with a request to boost the performance of specific category pages, and so far, Digital Olympus has helped them acquire 314 links (as of 2 March 2023) and boosted overall organic traffic by 70%.
Let's review a couple of pages we've been working with.
The first category page had minimal traffic at the very beginning of our cooperation with G2. It also ranks for a rather competitive keyword that, however, doesn't get much search volume from the U.S.
So, our goal was to boost this page's visibility in SERPs by its main keywords. The first link to this page was acquired in August 2020, and in three months, we've been able to triple its initial traffic.
As of February 2023, the average monthly organic traffic climbed over 3,5K: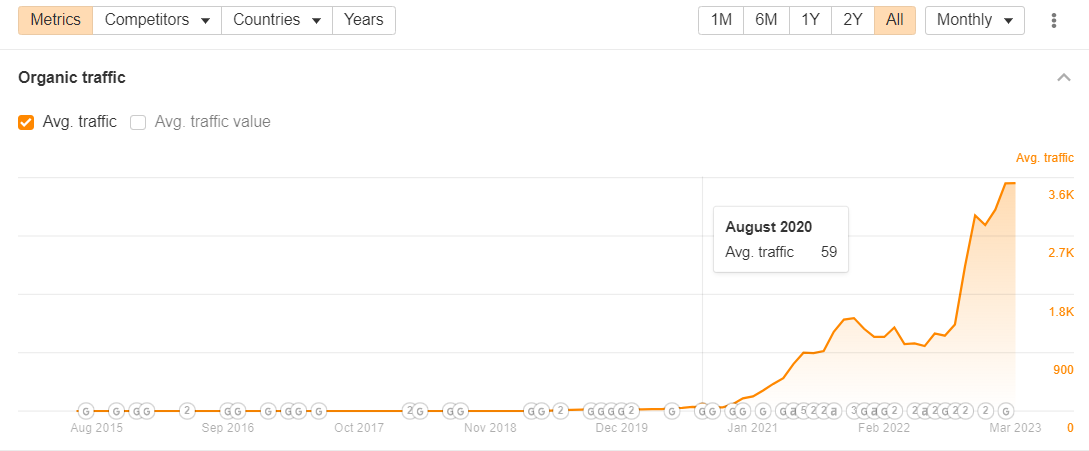 Average organic traffic growth for a G2's category page from the beginning of cooperation.
As a result, the page, which initially ranked for 209 keywords, is now visible by 332 keywords, all of which are relevant to the page's search intent.
Here's another example of a glossary page, which we started working with fairly recently. The first link to it was acquired in January 2022.

Organic traffic growth for a G2's glossary page from the beginning of cooperation.
Initially, the page was barely bringing any traffic and was ranking only for two keywords (it is now visible by 67 search terms). As of February 2023, it brings 13,5K organic traffic.
The catch?
So far, we have only built 7 links to it, but all of them come from websites belonging to real brands.
The key role here belongs to the analysis of target pages that we do for all our clients.
This report includes thorough, in-depth research of competition for the search terms the client wants each page to rank for, plus an overview of the content's quality. After all, the effectiveness of a link building campaign comes down to the brand's content strategy (not to mention the quality of the product), which should be consistent and follow quality standards.
Now Over to You
Building links takes heaps of time for companies of any size, but especially for enterprises because link builders must be extra careful about brand image and tactics they use.
At Digital Olympus, we build links for mid-size and large companies. If you want to outsource link building or seek advice for enterprise link-building strategies, book a personal meeting with our team.
Let's take your site to new heights on Google!